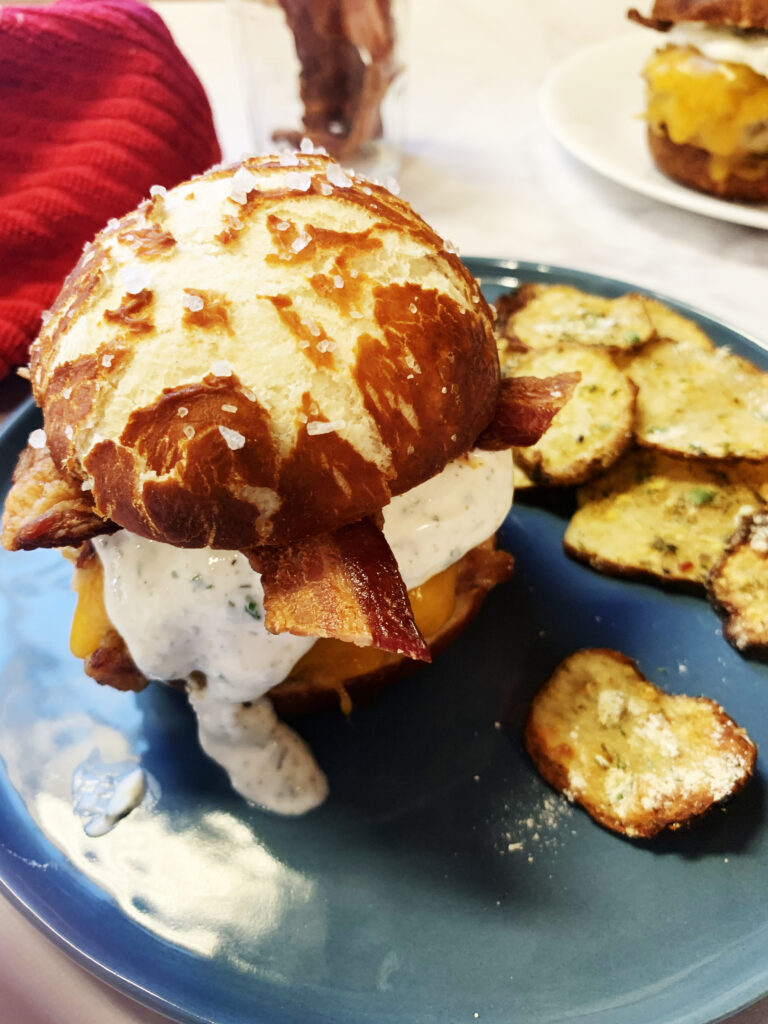 So I'm just going to get right to it, these burgers are a game changer. I personally love chicken burgers, I think they're such a great alternative from beef, and then combining it with ranch and bacon?! Like, doesn't get much better than that.
These burgers are really great as is, but topping them with extra bacon, a homemade ranch sauce which is just 2 ingredients, and the pretzel buns from yesterday just bring these to the next level.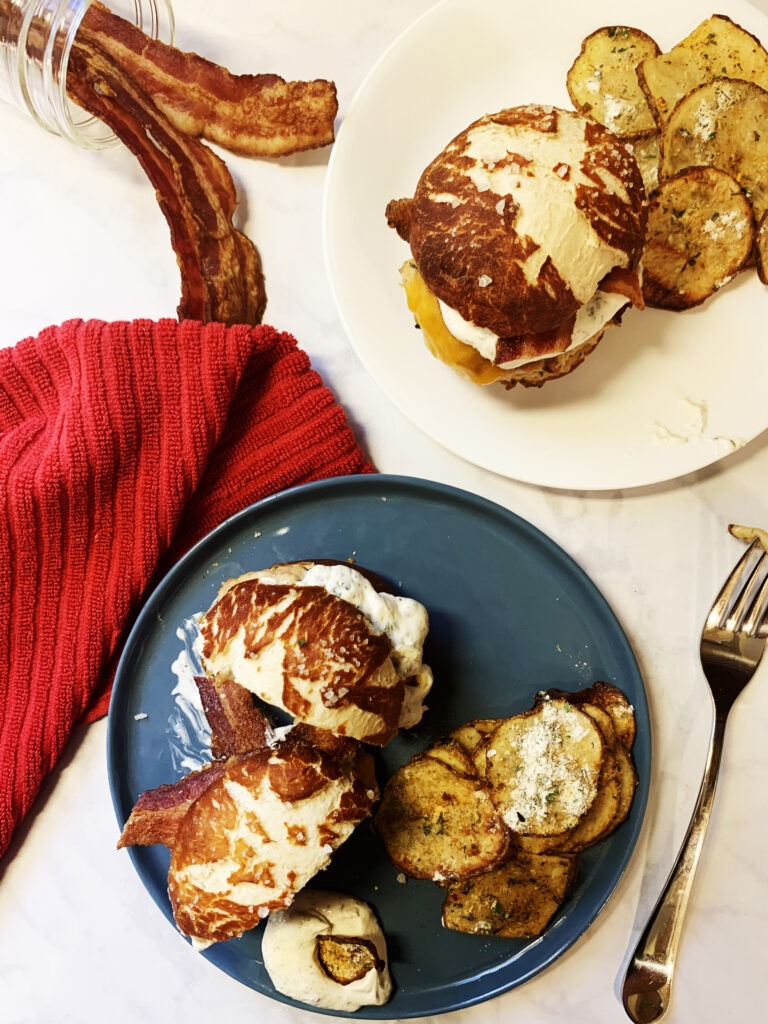 So to make the burgers, you're first going to need to make your own ranch seasoning mix. I mean, you don't need to, but I personally love it better than the store bought version. All you need for that is buttermilk power and some dried/ fresh herbs. I used dried for mine and I throw everything in a mason jar & shake it up! And there you go, you have ranch mix! Perfect for all sorts of things like potatoes, making homemade dip, pretzels, you name it. I mean, who doesn't love ranch am I right?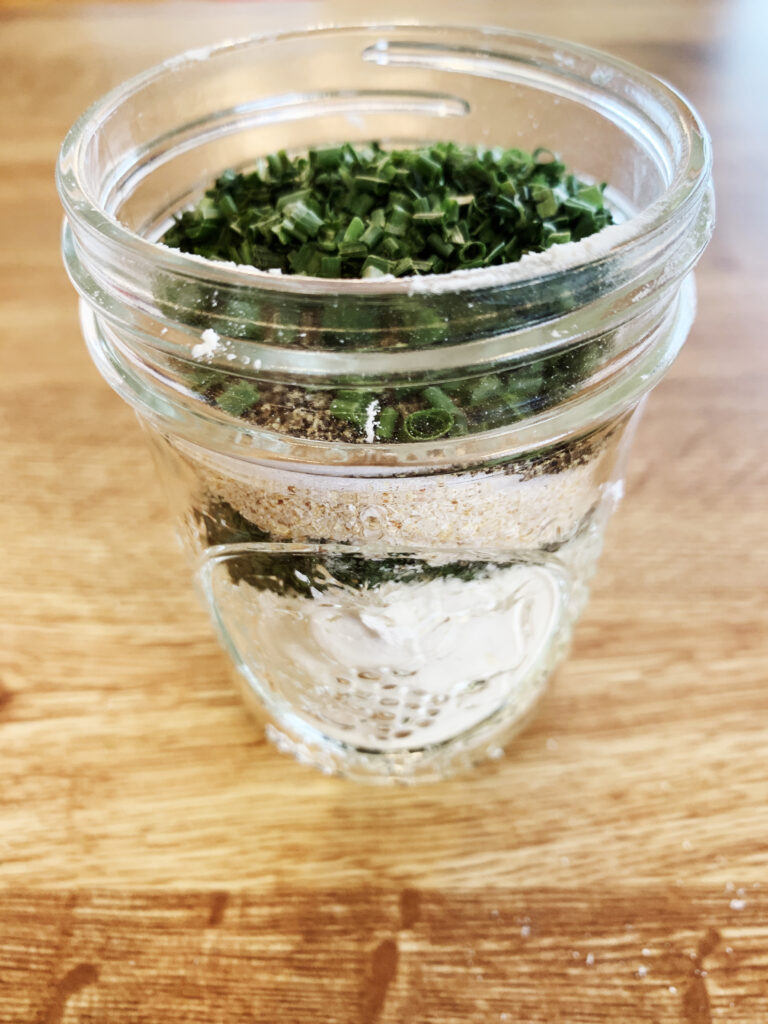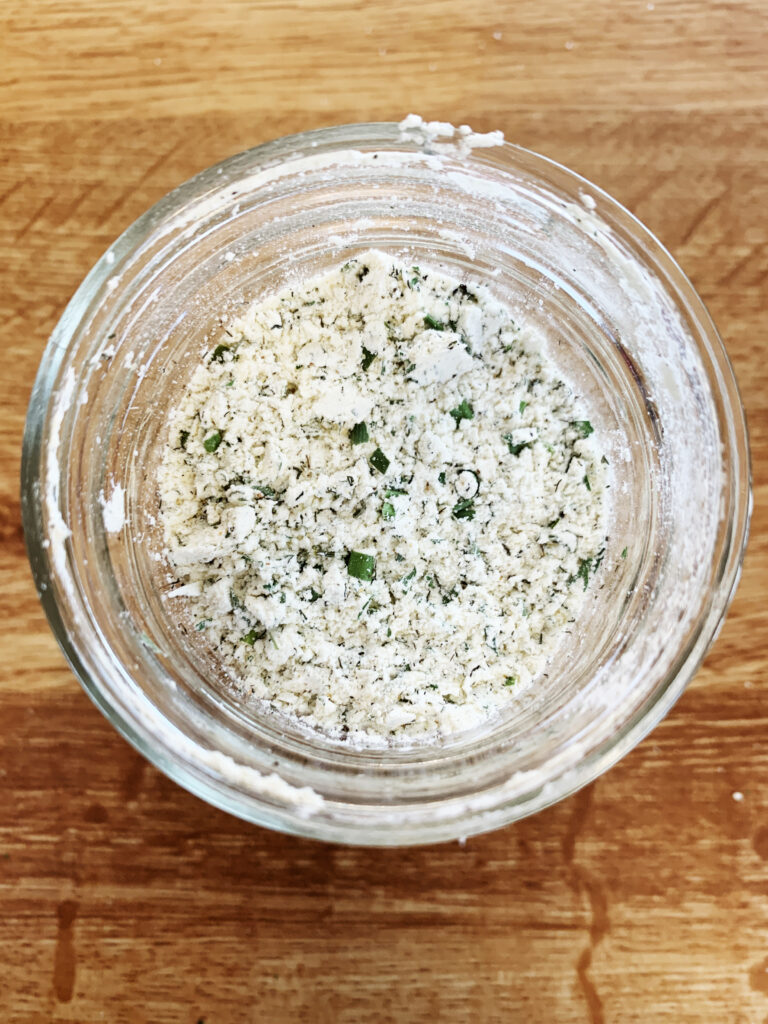 Assembling the burgers
So like I said, these burgers are super easy to make! First you're going to mix the bread and milk together with a fork until the bread becomes drenched in the milk. Add garlic, salt, pepper, worcestershire, and ranch seasoning to it and mix it all together! At this point you're going to have a thick puree kind of thing. It's going to look a little something like this, and although it's not the prettiest looking I promise it adds a lot of moisture to the burgers!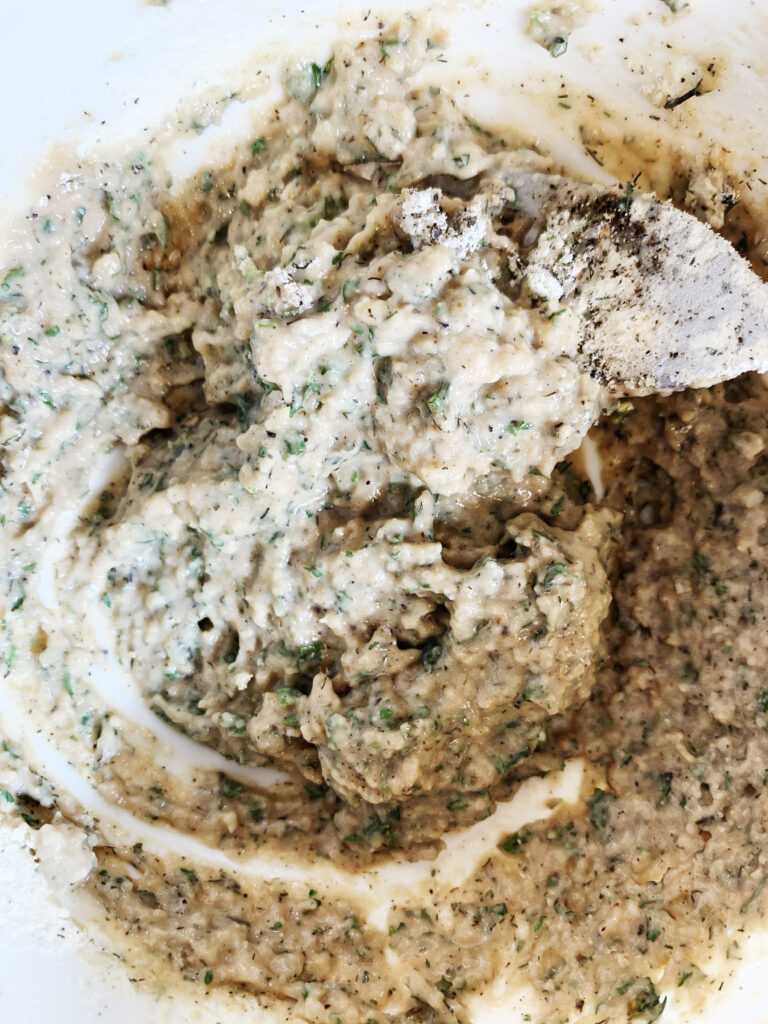 Now, it's time to mix everything together. I add the ground chicken, shredded cheddar, and bacon bits (I made my own bacon but you can totally buy the premade bacon bits also!) to the bread/milk mixture and just mix it all up! It might seem a little sticky the mix, but that's ok! These guys are super moist and flavorful once cooked! This amount makes 4 good sized burgers!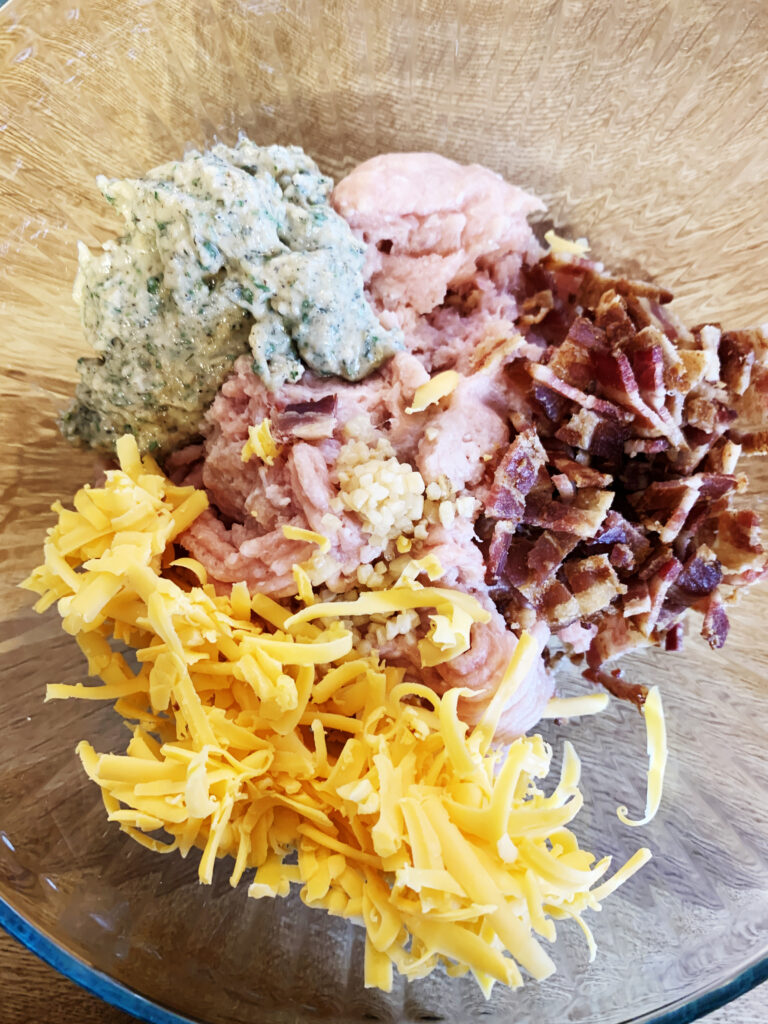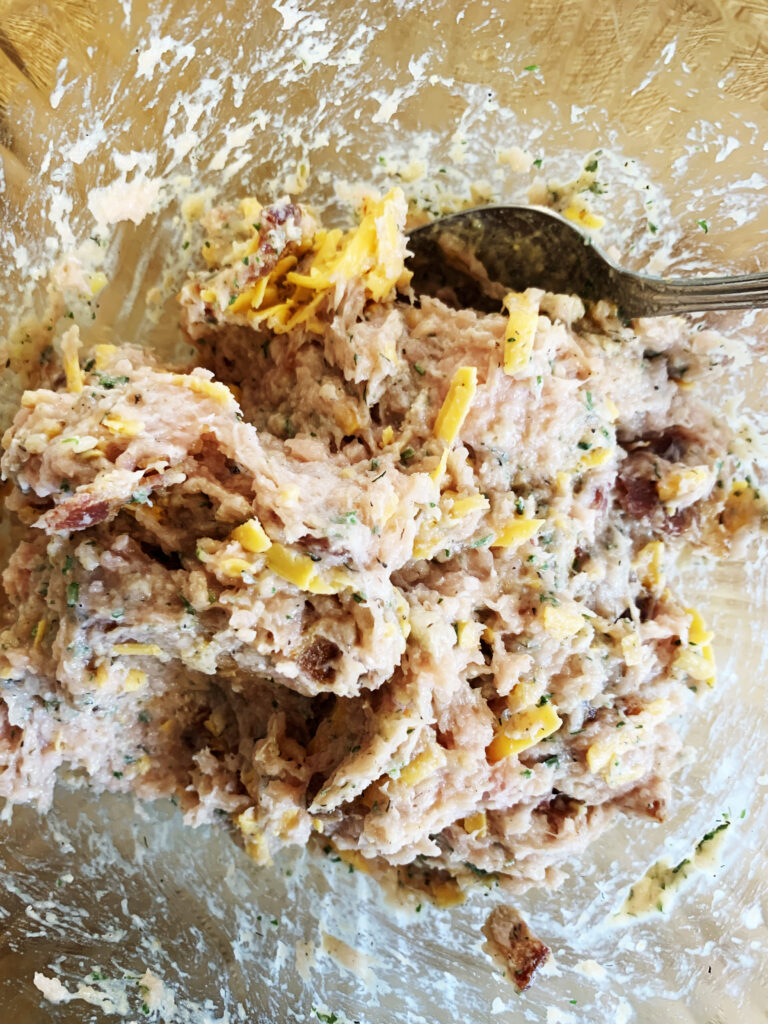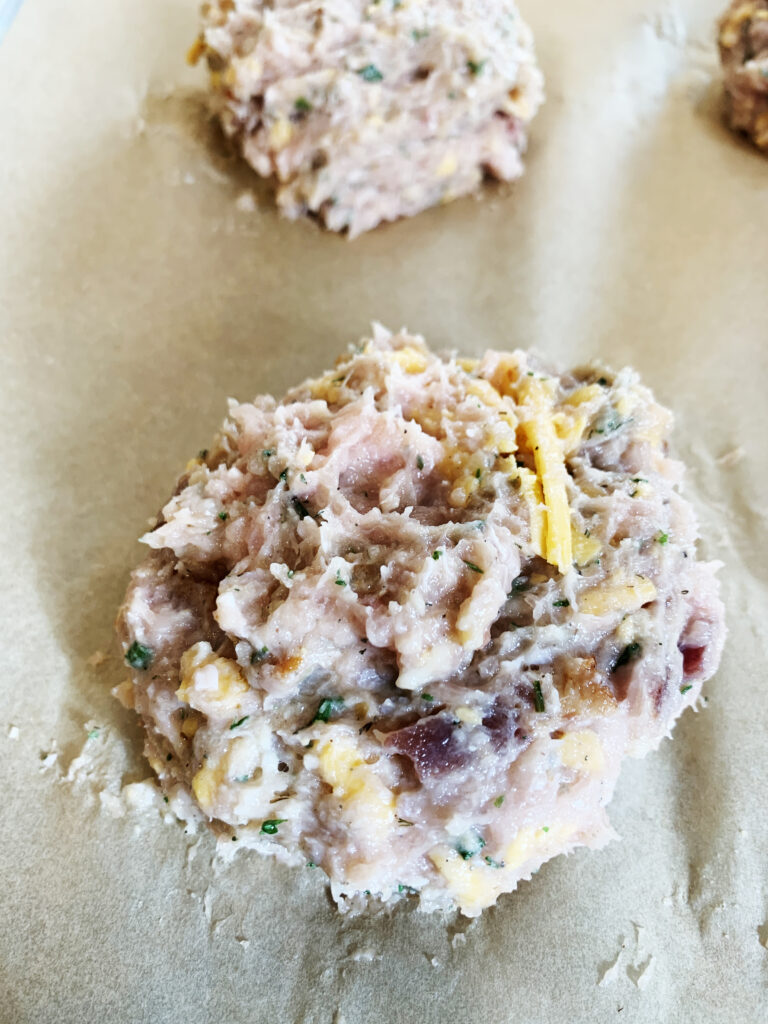 Fry em up!
Now, we're going to cook the burgers! I made them in a cast iron and cooked them until they reached an internal temp of 165°F, but these would turn out great baked in the oven or grilled too!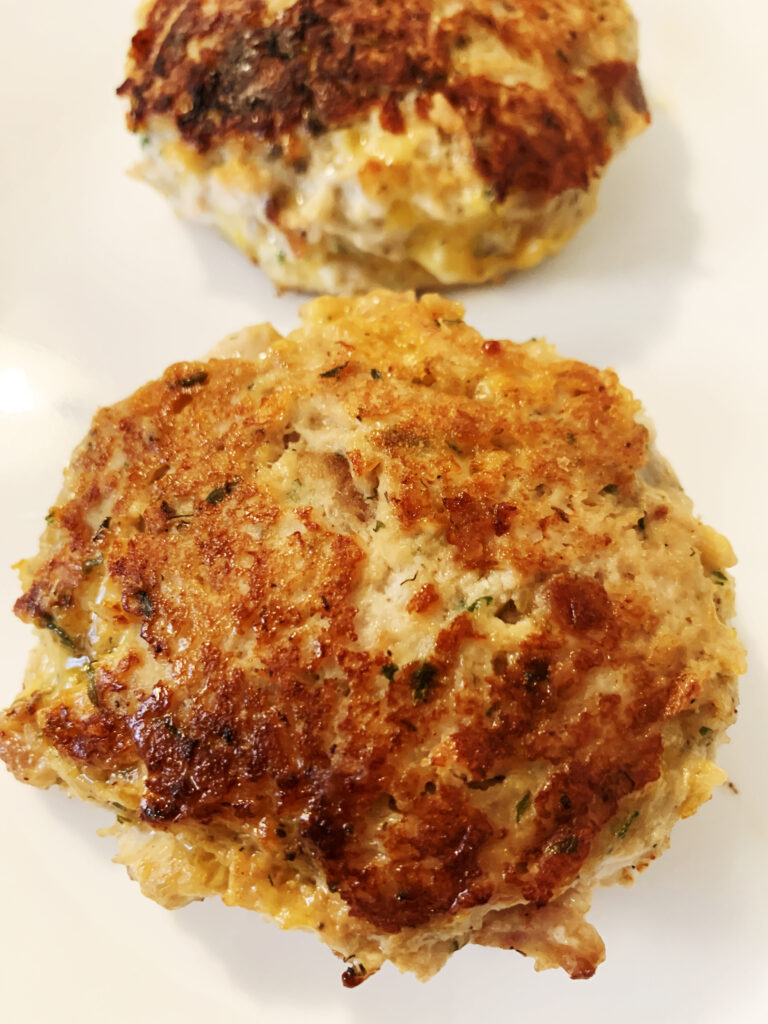 Time to plate
To get the burgers dinner ready, I placed them on the pretzel buns, added some extra bacon, and topped them with some ranch sauce!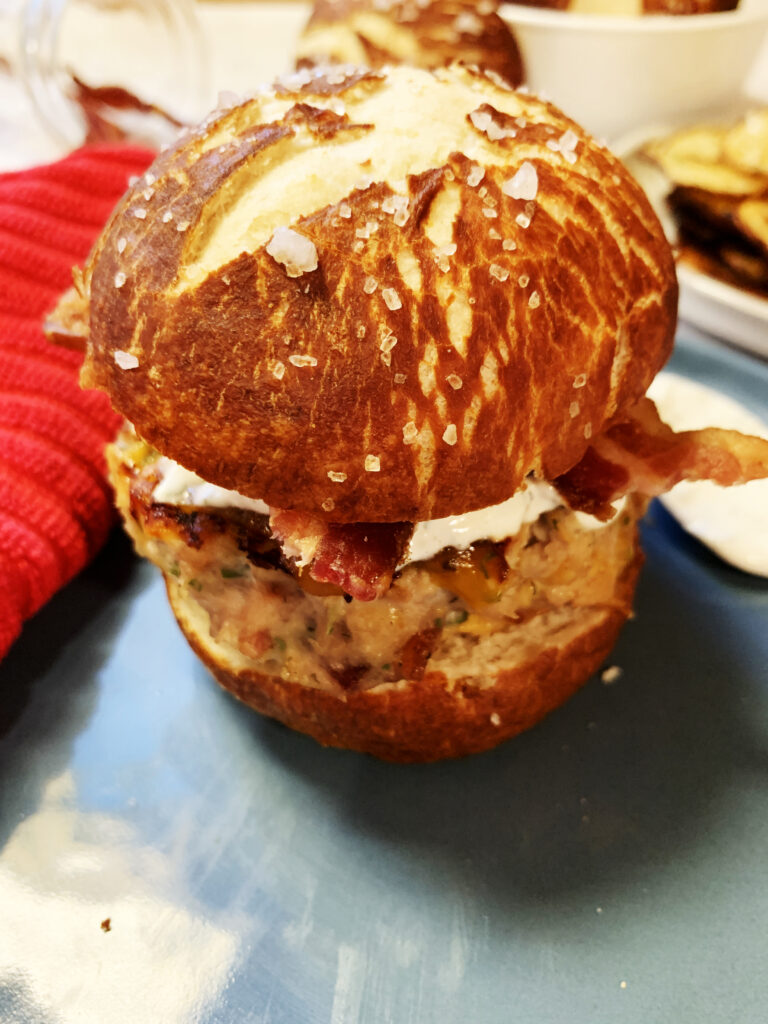 Recipe Below!
Chicken Bacon Ranch Burgers
Course: Lunch, Dinner
Cuisine: American
A tasty combo of bacon, ranch, and cheddar in a chicken burger
Ingredients
Burgers

1 LB ground chicken

1/3 cup ranch seasoning

6 pieces of cooked bacon, chopped up into bits

1/3 cup shredded cheddar cheese

1 slice white bread

2 1/2 tbsp milk

1 tbsp worcestershire sauce

2 cloves garlic

salt and pepper to taste

Ranch Seasoning

1/2 cup buttermilk powder

2 tbsp parsley

1 tbsp onion powder

1 tbsp dried chives

2 tsp garlic powder

1 1/2 tsp dried dill

1/2 tsp salt

1/2 tsp pepper

Ranch Sauce

1/2 cup sour cream

3 tbsp ranch seasoning
Directions
First make the ranch seasoning mix. Combine all ingredients and mix. If using store bought ranch seasoning, skip this step.
Next, prepare ranch sauce for finished burgers. Combine sour cream with ranch seasoning, and set aside.
After, make the burgers. First, take the slice of bread, remove crusts, and add milk to large bowl with bread. Use a fork to incorporate the milk and bread together until all combined. Add ranch seasoning, garlic, worcestershire, salt, and pepper to milk/bread and mix until combined with fork. Add ground chicken, bacon, and cheddar and incorporate all together. Form 4 burgers with this mix.
Cook the burgers on stove until they reach an internal temperature of 165°F.
To assemble burgers, top with extra bacon and ranch sauce. Enjoy!