This is THE pasta of all pastas… it's super creamy, cheesy, full of flavor, and light & fresh for summer
Let's break it down
So this pasta is super easy & quick to make, it's ready in about 20 minutes. It's that simple but literally one of my favorite dishes ever because it packs so much flavor. For those of you that don't know what a caprese salad is, it's basically just fresh mozz, tomatoes, basil, EVOO (extra virgin olive oil), and seasoning, so this is it in pasta form. Any kind of pasta will work for this recipe but I really love bucatini. It's like a super thick spaghetti but it has a tiny hole it it, which lets all the yummy juices and flavor seep through, literally giving you the perfect bite every. single. time. It's dishes like this that make me super excited to be italian, a.k.a. my excuse to make me feel better about all the pasta I eat.
And speaking of eating pasta, my mom's birthday is coming up and she requested this meal. Birthdays are another great excuse to consume pasta, just saying…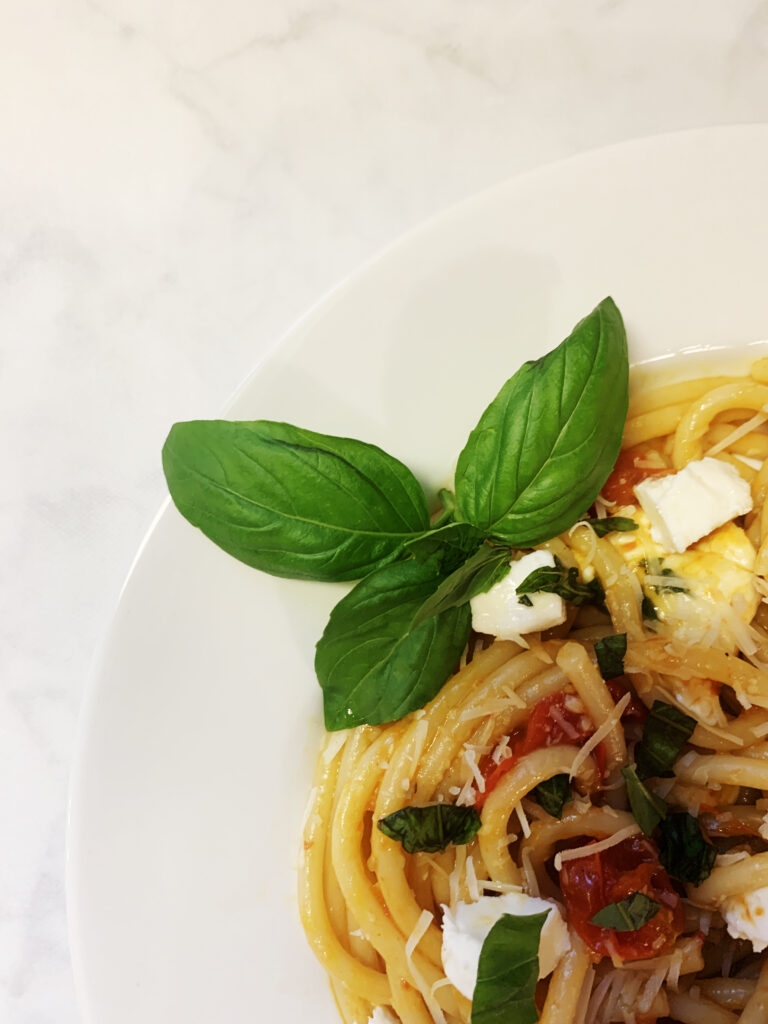 So like I said, this pasta is made in no time. To start, I put on a pot of water and let it go until it starts boiling. Bucatini in particular takes around 10-12 minutes until it becomes "al dente", which means the pasta will still be firm when you take a bite (follow box directions for the particular bucatini brand you use though for suggested al dente time). Also, ALWAYS save your pasta water. Right before you drain the pasta, take a mug or whatever you have handy and reserve the water. Cooking the pasta in it makes the water starchy & the water is great for thickening up the sauce you're making.
So once I have the water going, I start with the tomato "sauce". It's not really a sauce but basically we want the tomatoes to burst open & when mixed with the olive oil, seasoning, and cheese, its creates something like a sauce. So I take the cherry tomatoes, I used a tomato medley blend but regular cherry or grape ones work just fine, and cut about half of them open and keep the other ones whole. In a pan, heat up the olive oil, add the garlic, and after just a few seconds because you don't want the garlic to burn because it can burn super quick, I throw in all the tomatoes, cut and whole ones. I stir and let this cook down for about 10 minutes with the lid on and then another 5 with the lid off until the tomatoes burst open and the juices and oil/garlic mesh together. I also season with salt, pepper, and crushed red pepper to taste. After about 5 minutes of cooking the tomatoes down, I'll start cooking the bucatini so everything can be ready at the same time.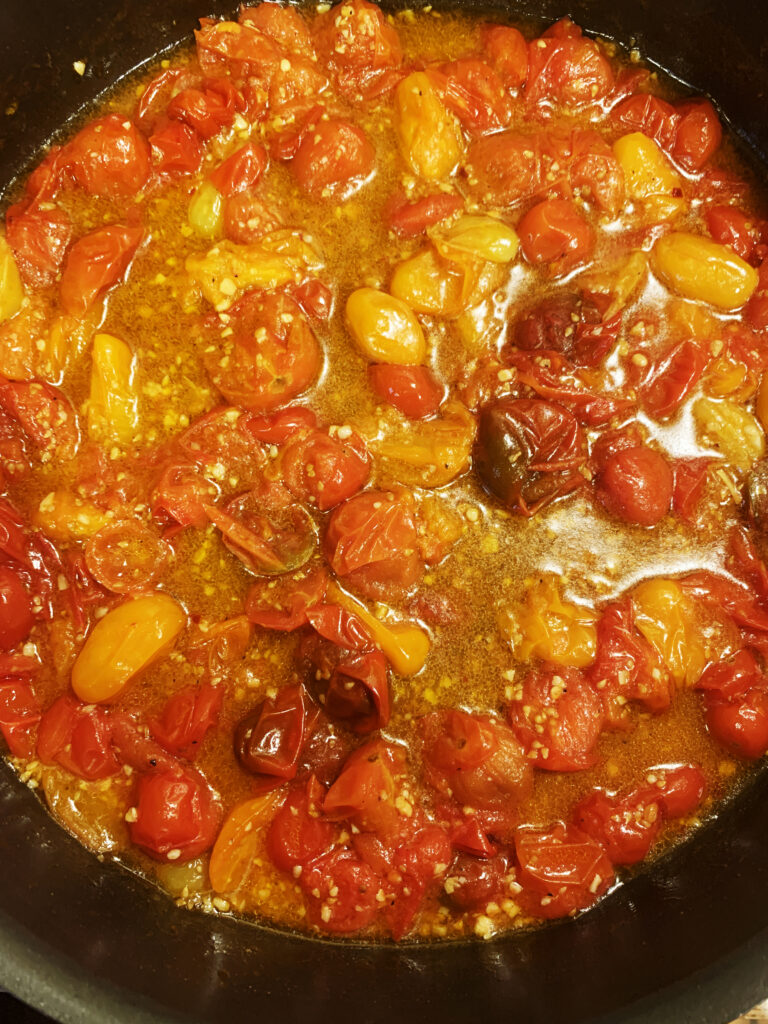 Once the bucatini is al dente, I'll save some pasta water, drain the pasta, and add the bucatini right to the tomato sauce. After giving it a good stir, add some pasta water, the parmesan, half of the mozz, and the basil. When using fresh herbs, I usually add them last. If you add them in too early while cooking, they'll get kind of lost and mush down too much from the heat. This helps keep them tasting fresh in the dish! Dried basil is another great option for this if you don't have fresh- a good note is to use half the suggested measurement of fresh because dried herbs are much stronger!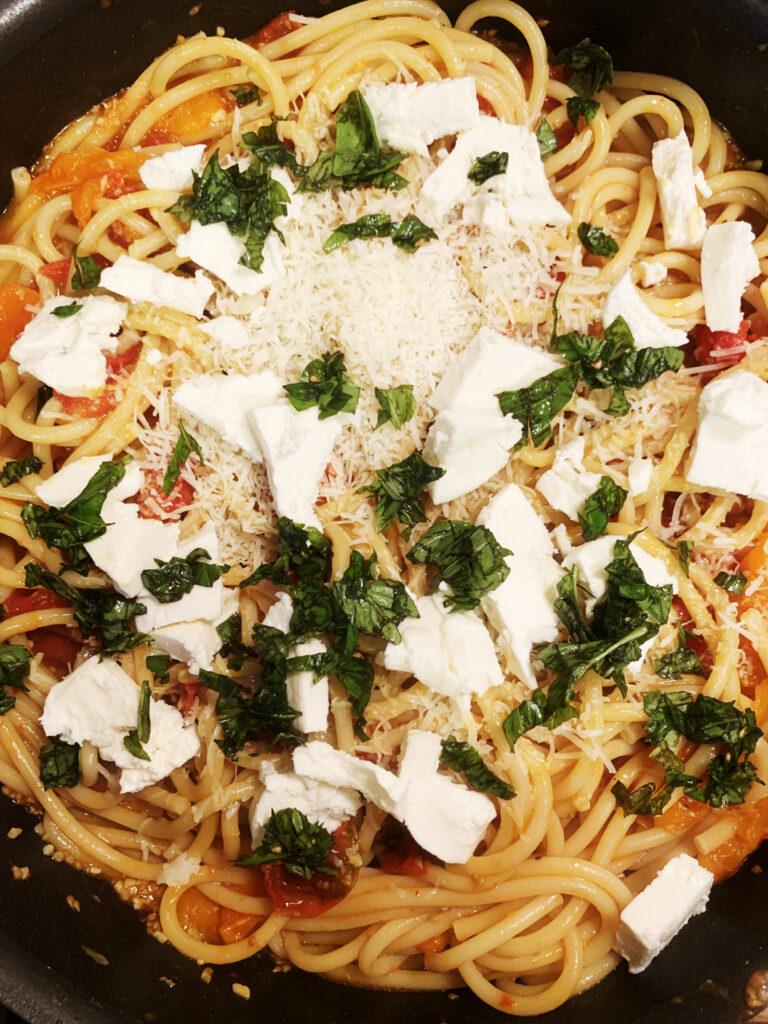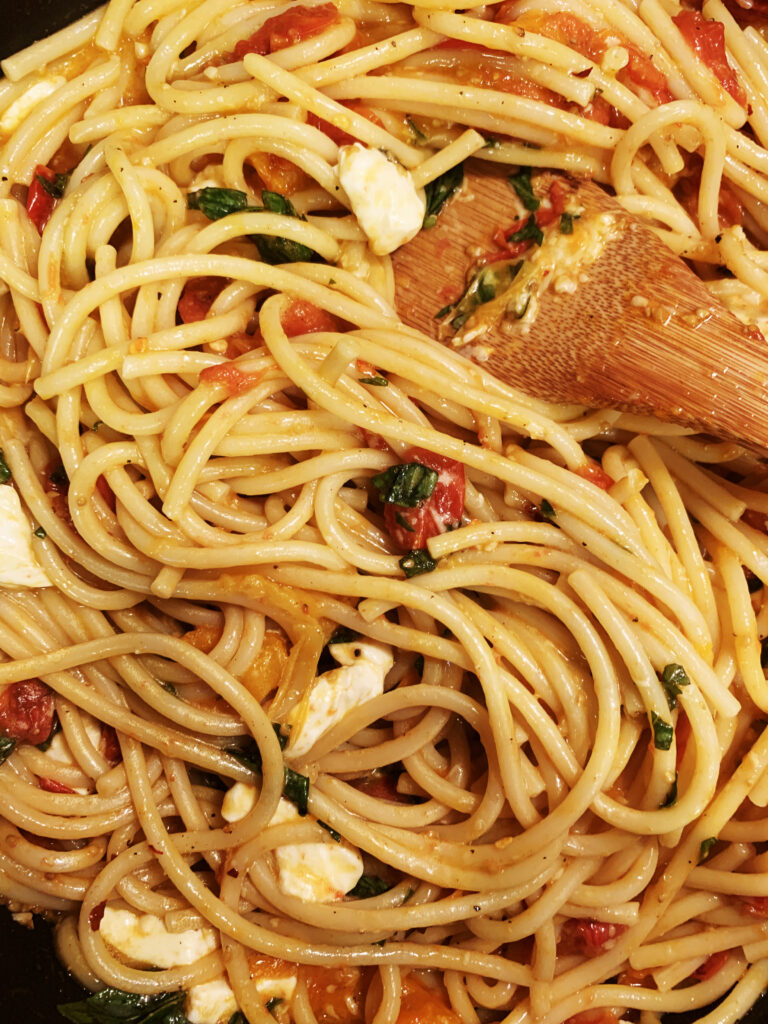 When you're ready to serve, plate the pasta and top with some of the mozz you put aside, some extra parm, and basil.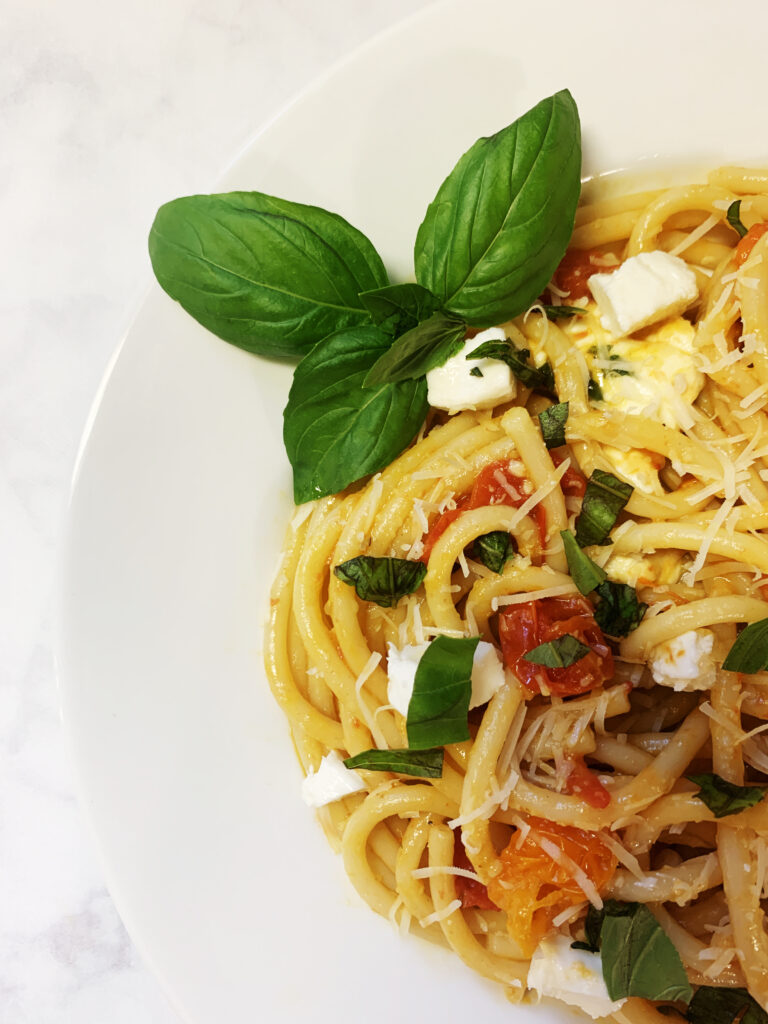 Sooo good, creamy, and a delicious blend of EVOO, tomatos, cheese, & basil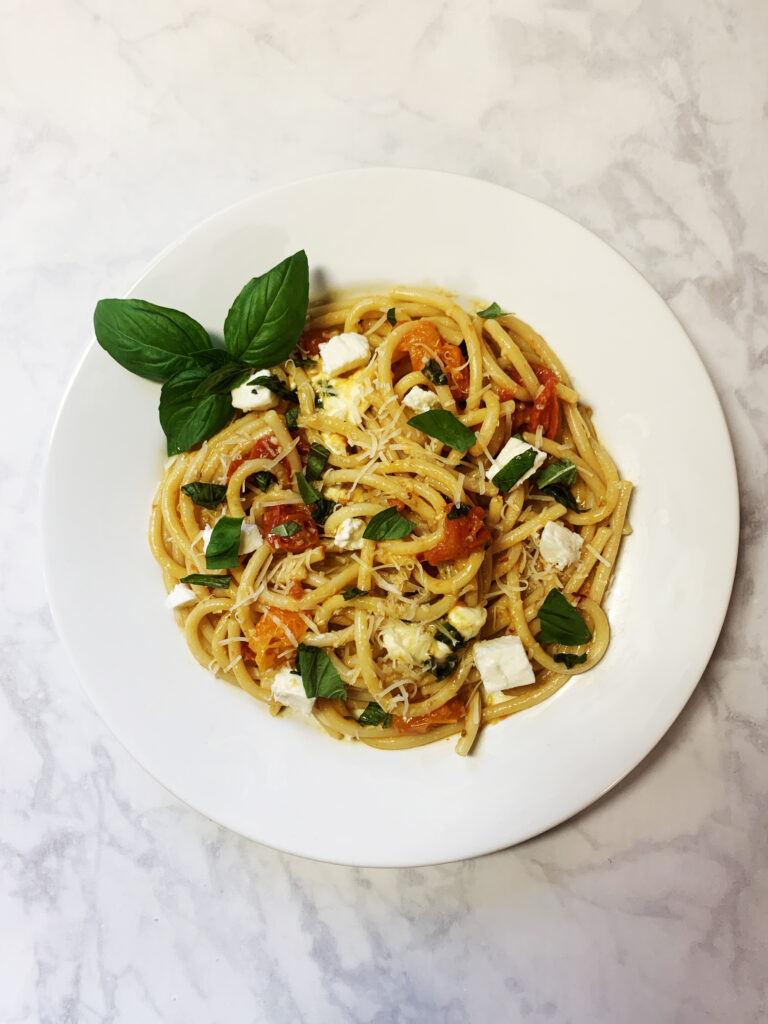 Bon appetit!
Recipe below!
Caprese Bucatini
Course: Dinner, Lunch
Cuisine: Italian
Fresh tomatoes, basil, and mozzarella make this a pasta staple
Ingredients
1 lb bucatini, but any pasta works

5 cups cherry or grape tomatoes

1/2 cup olive oil

4 cloves garlic

1 cup fresh mozzarella

1/2 cup parmesan, plus more for topping

1/4 cup fresh basil, plus more for topping

1/4- 1/2 cup of pasta water

Salt to taste

Pepper to taste

Crushed red pepper to taste, optional
Directions
Start by boiling the water for the bucatini.
While water is heating up, mince the garlic, chop the basil, and cut about half of the tomatoes in half.
In a pan on medium low, heat up oil and add garlic. Quickly add the tomatoes, salt, pepper, and crushed red pepper. Let this cook down with lid on for about 10 minutes and then another 5 minutes without lid.
While tomatoes are cooking down, add salt to boiling water and then pasta. Cook pasta until al dente.
Drain the pasta when ready (remember to save some water) and after 10-15 minutes of cooking the tomatoes down, add the pasta directly to tomatoes. Add pasta water, parmesan, half of the mozzarella, and basil, and stir until combined. Plate and top with the rest of the mozzarella, more basil, and extra parmesan.