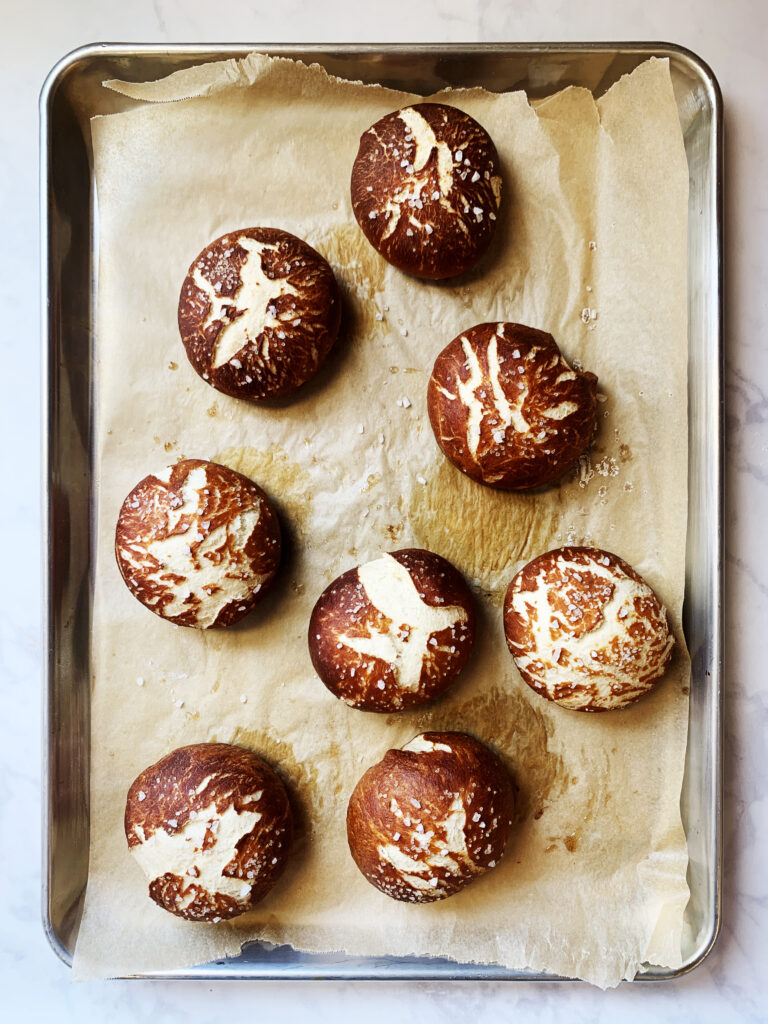 So I was testing Chicken Bacon Ranch burgers out (recipe tomorrow!) but I felt like they needed a lil something something extra to make them pop even more, so I figured pretzel buns were the perfect way. I've only made pretzel buns a few times, but I've definitely eaten them way more times than necessary and they definitely elevate an already great burger or sandwich to the next level. They're also just a super fun way to eat a pretzel!
Making these guys are super quick and pretty comparable to making almost any kind of bread dough, in case you haven't tried pretzels yet! Like normal, you're going to let warm water and yeast sit in a bowl until the yeast is activated, around 5 minutes (it starts to get a little bubbly on top). While that's doing its thing, mix together the flour and salt. In another bowl, whisk together the melted butter, milk and brown sugar!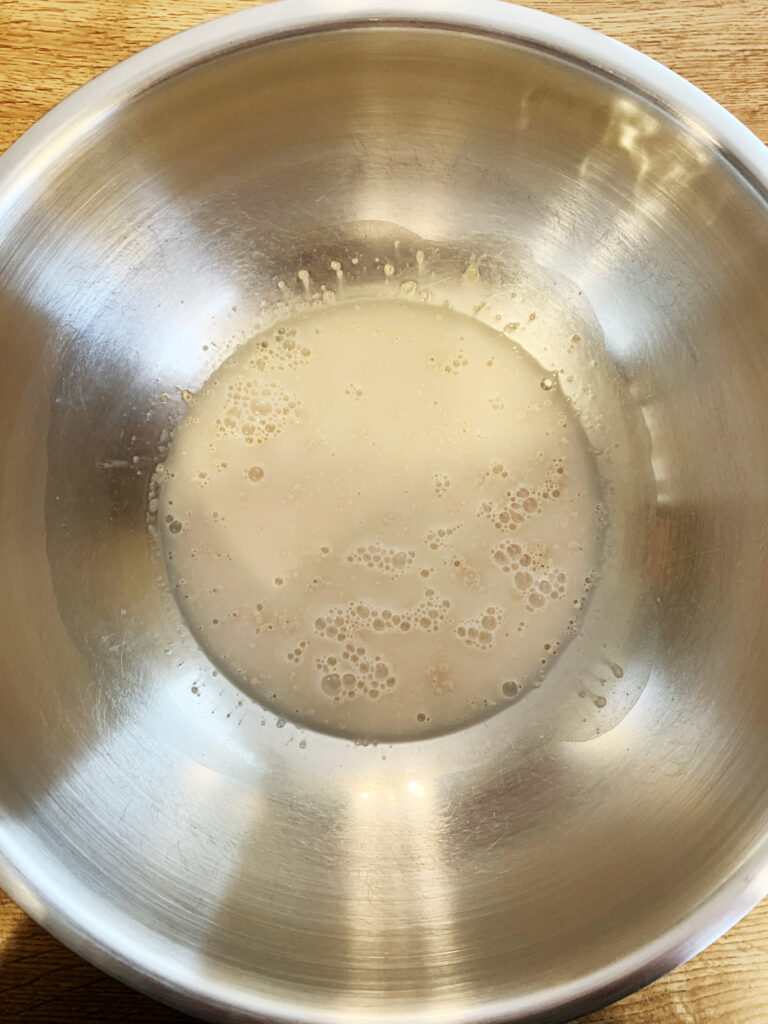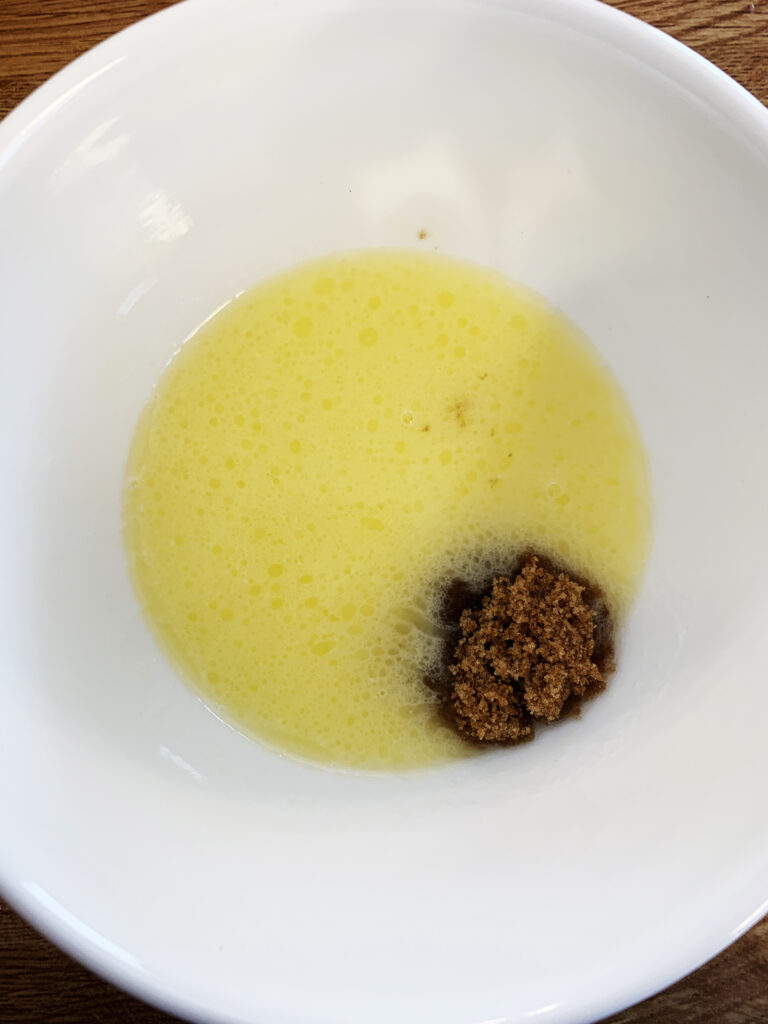 Next, we're going to combine it all. Add the butter/milk/brown sugar to the yeast, whisk, and then little by little add in the dry mix. I start with a wooden spoon to slowly incorporate it and once it's roughly mixed, I use my hands to combine the rest. Once all combined, knead the dough on a floured surface for 5 minutes. Let it rest in the bowl for an hour (until doubled in size) with a kitchen towel or plastic wrap on top.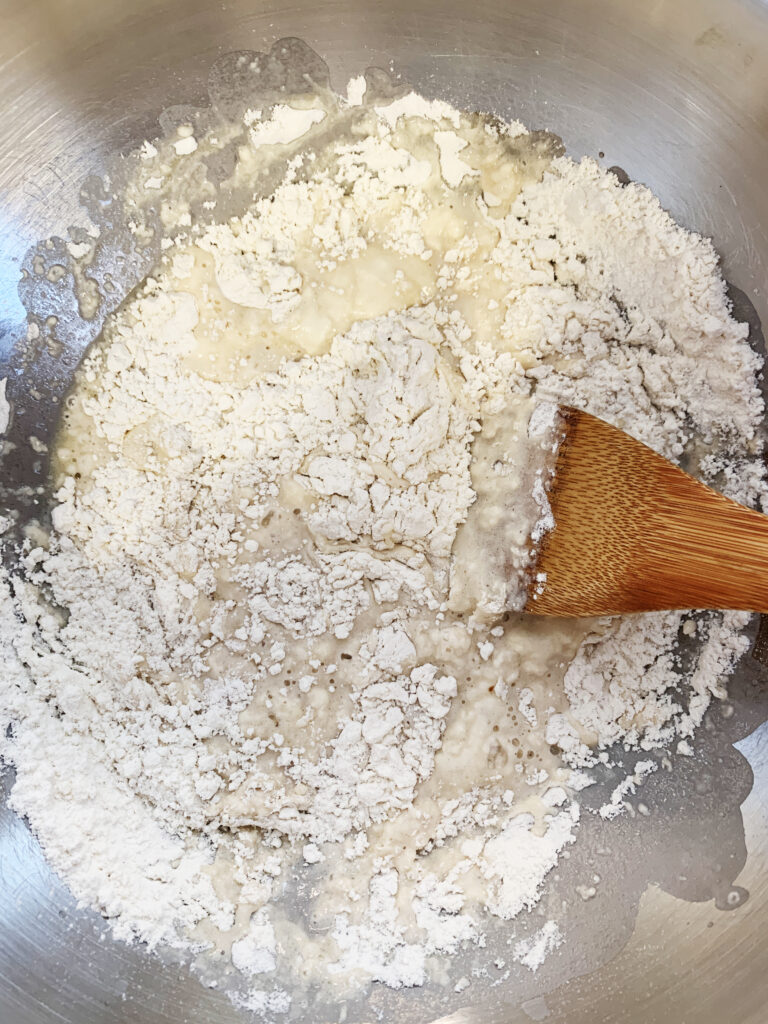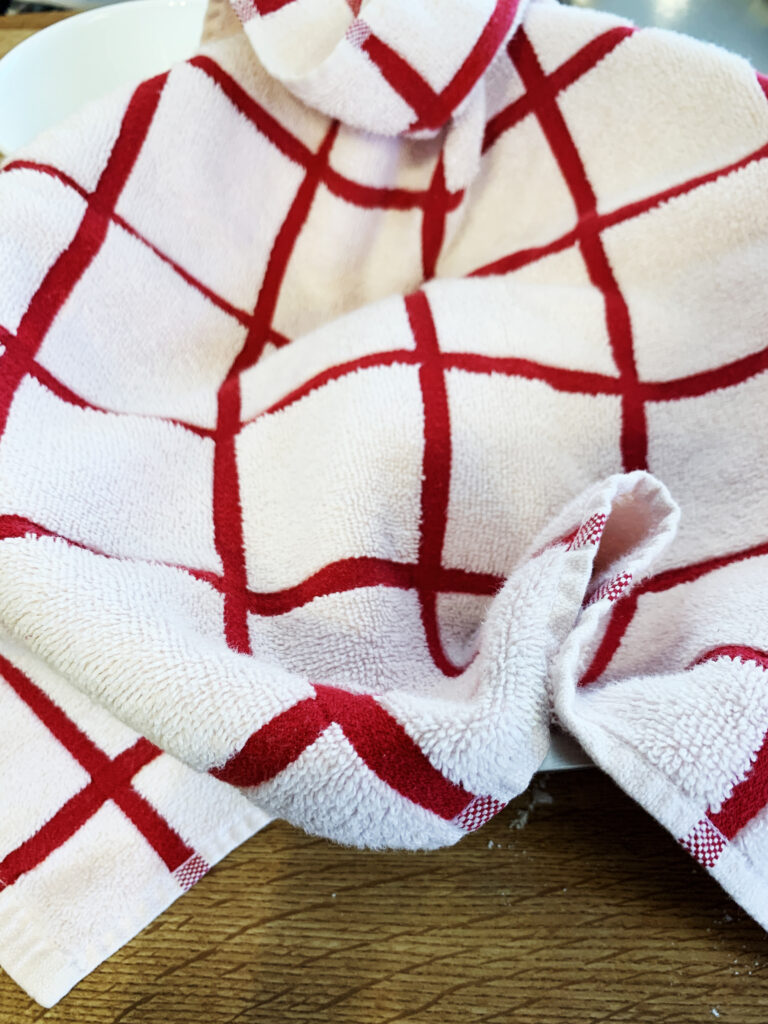 Once the dough is done resting, take it out and knead it for about a minute to make sure all the air bubbles are out. Cut into 10 pieces and use your hands to form a ball and round them out. Put the rolls on a baking sheet with parchment paper and let them sit for 15 minutes with a towel/plastic wrap on top.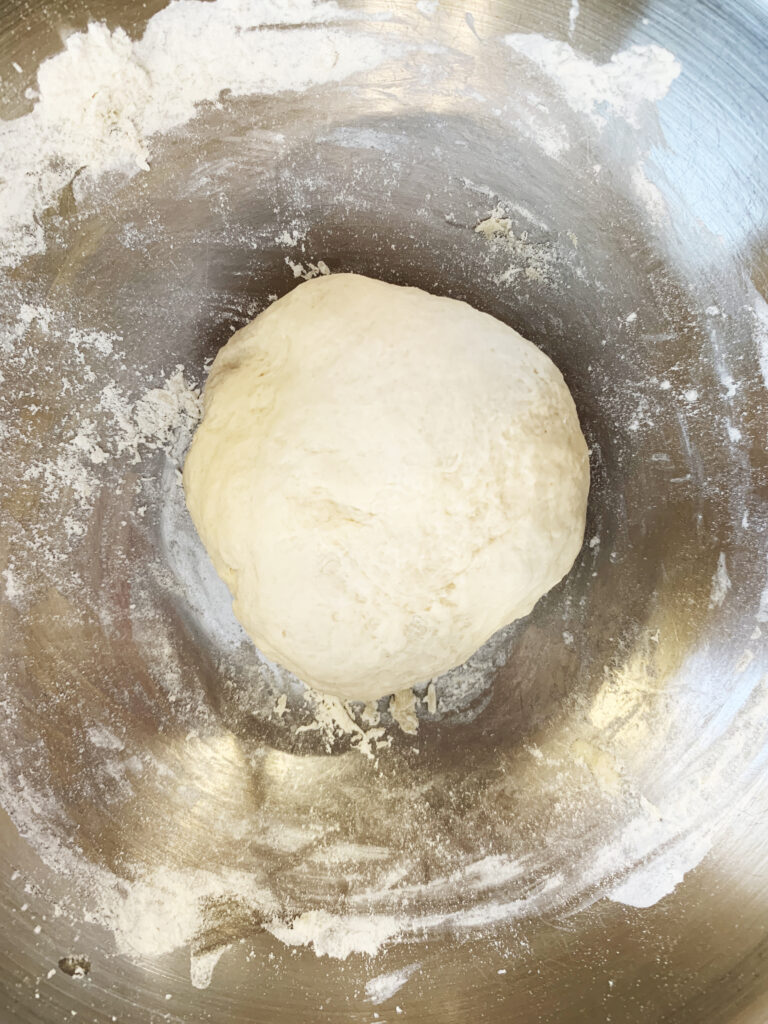 While the rolls are resting…
While the rolls are resting, preheat the oven and boil the water. Once it is done boiling and it's been 15 minutes, add the baking soda. One at a time, drop the rolls into the boiling water/baking soda and take them out after 30 seconds with a slotted spoon/spatula.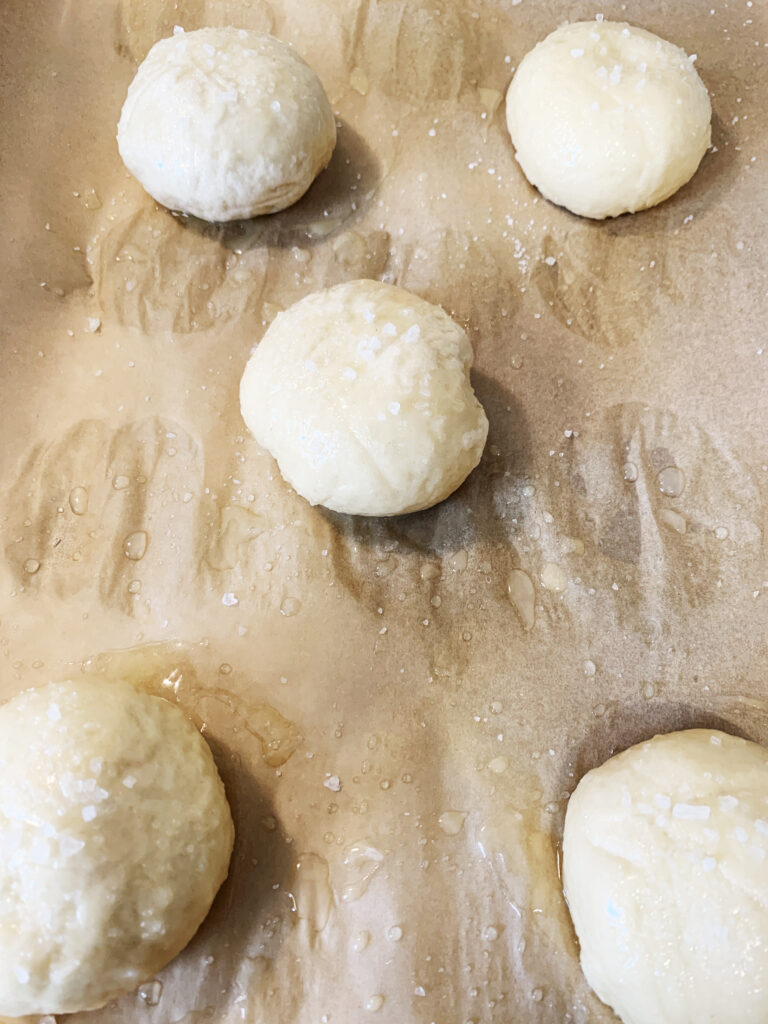 At this point you're almost done, so place the pretzel rolls on a baking sheet, top with some coarse salt, and pop them in the oven! You can totally take a knife and cut slits at the top but I chose not to and let the top of the rolls crack open naturally while baking.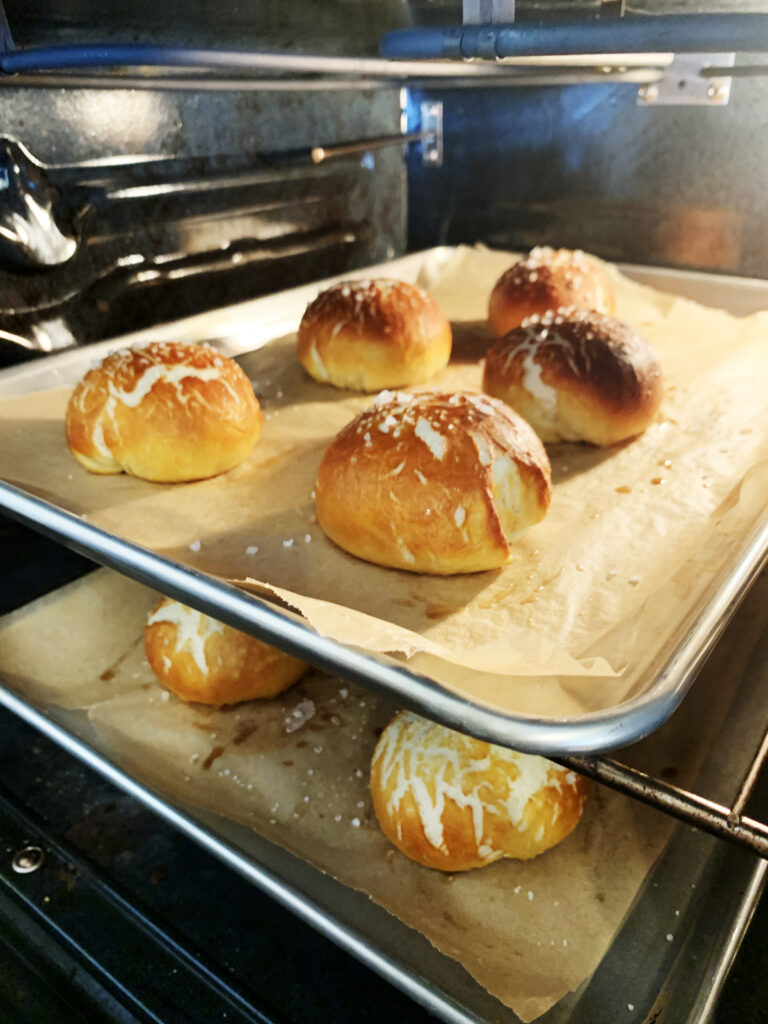 Bake until the rolls are golden brown, about 20 minutes.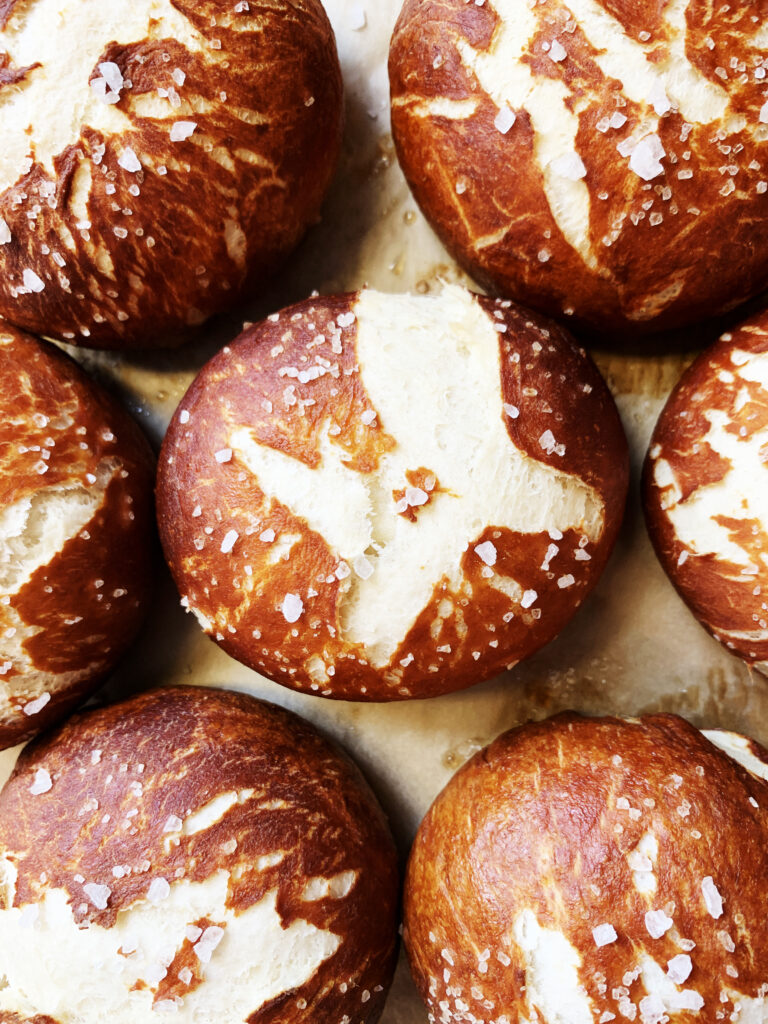 Recipe Below!
10Pretzel Buns
Course: Snack, Lunch, Dinner
Cuisine: American
Ingredients
Pretzel Buns

3 cups flour

1 tsp salt

1 cup warm water

2 1/4 tsp yeast (or 1 packet)

4 tbsp melted butter

1 tbsp milk

1 tbsp brown sugar

Coarse salt or pretzel salt for topping pretzel

Baking Soda and Water for Pretzels

10 cups water

1/2 cup baking soda
Directions
Combine the warm water and yeast in a bowl. Let it sit until activated and water bubbles, about 5 minutes. Set aside.
Whisk together the flour with salt, set aside. Whisk together melted butter, milk, and brown sugar, set aside.
Start to combine everything by first adding the butter/milk/brown sugar mixture to the yeast/water. Once combined, slowly add in flour mixture and stir to combine with hands or wooden spoon. Start incorporating dough together with hands and move dough to counter top. Knead dough for 5 minutes. Place back in the bowl and cover with kitchen towel or plastic wrap and let rise for 1 hour (until dough is doubled in size).
When dough is ready, take out and knead for 1 minute to get out air pockets. Cut dough into 10 pieces and roll into balls. Place on baking sheet with parchment paper and cover again. Let this rest for 15 minutes.
In the meantime, preheat the oven to 400° F.
Prepare baking soda/water bath. Let the 10 cups of water come to a boil and add baking soda right before you are ready to drop the pretzel buns in. When the rolls are done resting, add rolls one by one to the water and let each sit in bath for 30 seconds. Place buns on parchment paper lined baking sheet, top with coarse salt, and bake for 20 minutes, or until golden brown.