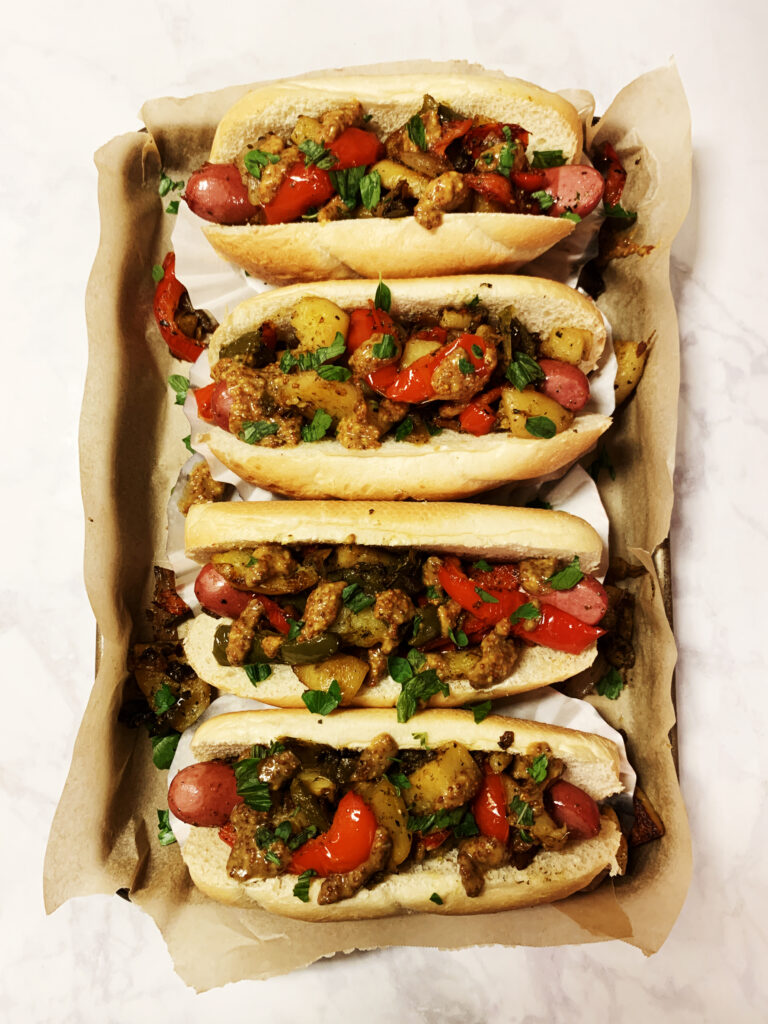 A Jersey staple, Italian hot dogs are one thing you need to try if you've never have before or if you ever visit Jersey! But, there's a few things that make a great italian hot dog. One, obviously being the hot dog. For this hot dog dish, to all my NJ natives reading this, you HAVE to go to Continental Homemade Provision's in East Brunswick. It's a Polish deli, but they have the best homemade hot dogs, and not to mention their kielbasy and sauerkraut is amazing too! Second, is the roll. Italian hot dogs are typically served on a hoagie roll or really good italian bread. Either way's delish, but I opted for some hoagie rolls!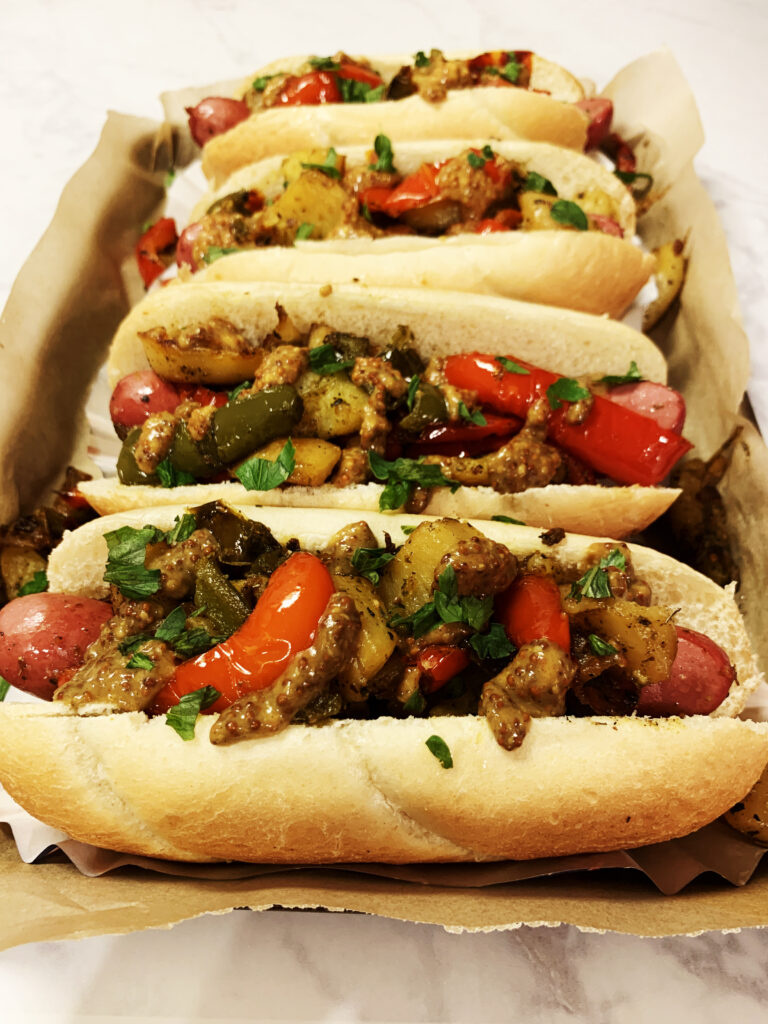 So italian hot dogs are really simple to make! All you need are onions, peppers, potatoes, some seasoning, rolls, and mustard!
Let's start cooking!
Start by chopping up your onions, peppers, and potatoes! Add a couple tablespoons of olive oil in a pan, let it heat up, and add the potatoes! The potatoes are going to take the longest to cook, so let that go for about 20 minutes or so, letting them get a nice crust to them!
After 20 minutes, add in the onions and peppers. You're going to let this keep going until the potatoes are cooked through! At this point, add italian seasoning, crushed red pepper if you like a little spice, and mix it all up!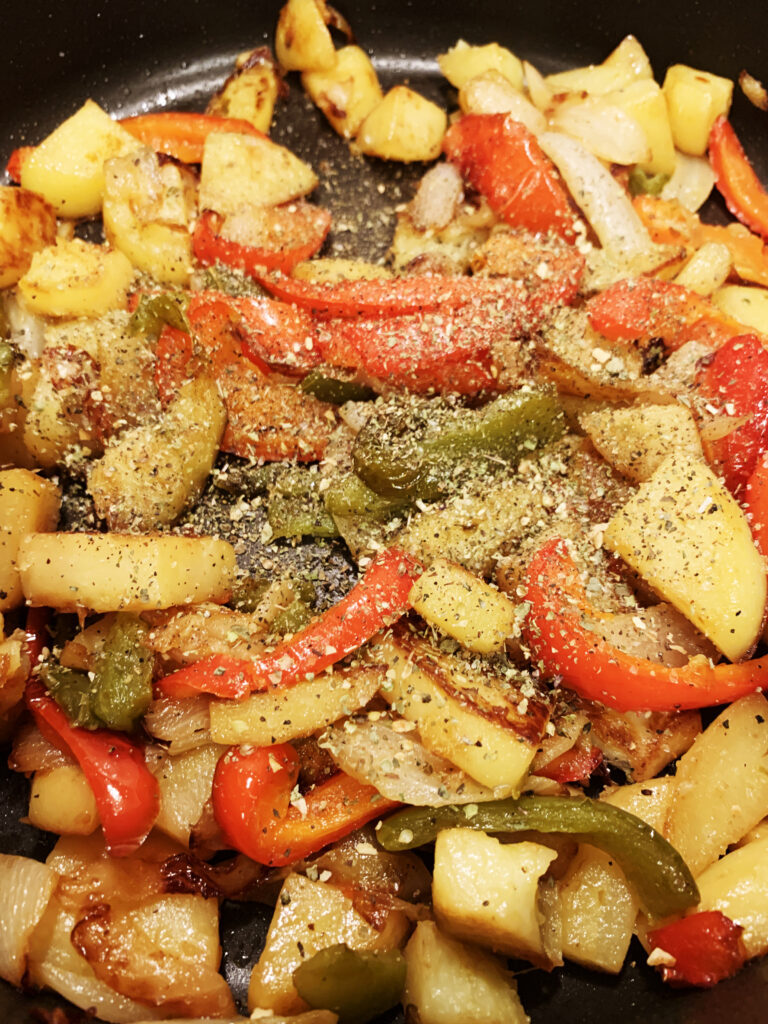 Now, add the hot dogs right to the pan and cook until they're browned.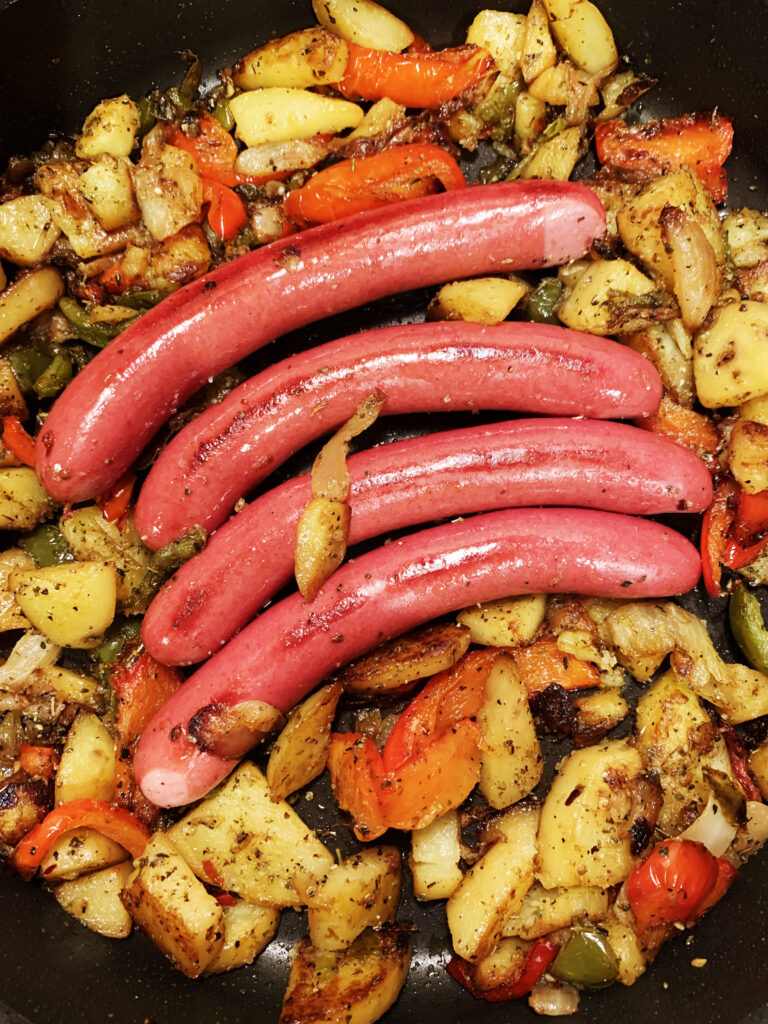 Let's assemble!
Now, it's time to get the hot dogs together! Get the hot dogs in the buns, top with the potatoes, peppers, and onions, and finish them off with some mustard! My favorite is stone ground because the mustard seeds are really coarse and add a nice bite to it!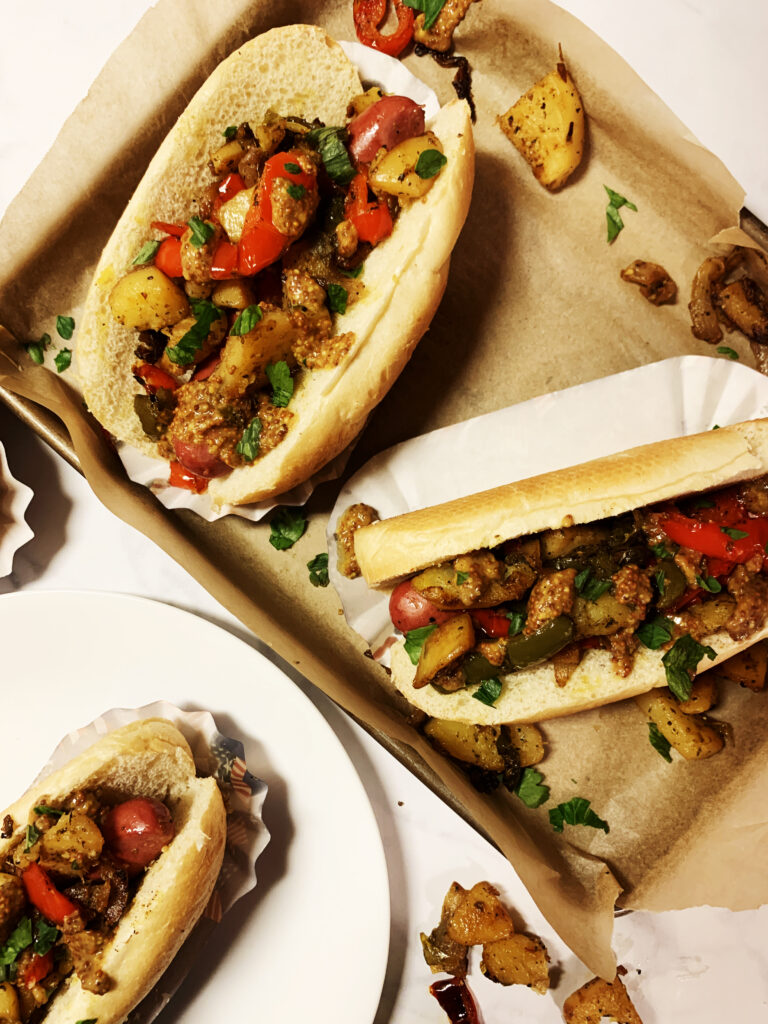 Such a fun and tasty way to step up your hot dog game this summer, am I right?!
Recipe Below!
Italian Hot Dogs
Course: Lunch, Dinner
Cuisine: American
Italian style hot dogs
Ingredients
4 hot dogs

4 hoagie rolls

3 potatoes, peeled and chopped into small chunks (roughly 1″)

2 peppers, any color, cut into strips

1 yellow onion, cut into strips

2 tbsp olive oil

2 tbsp italian seasoning

Salt and pepper, to taste

Mustard, I recommend stone ground
Directions
Heat a large pan with olive oil. Add in chopped potatoes and cook for 20 minutes.
When potatoes are close to being cooked through and browned, add in the chopped onions and peppers. Cook for roughly another 10 minutes, or until cooked through.
Add in italian seasoning, salt, pepper, and stir together.
Add hot dogs to the same pan and cook until browned.
Assemble hot dogs with the hoagie rolls, hot dog, onions/peppers/potatoes, and then mustard.