Shrimp, lemon, couscous, & squash plated over a bed of arugula… perfect healthy & simple dish for those busy summer nights!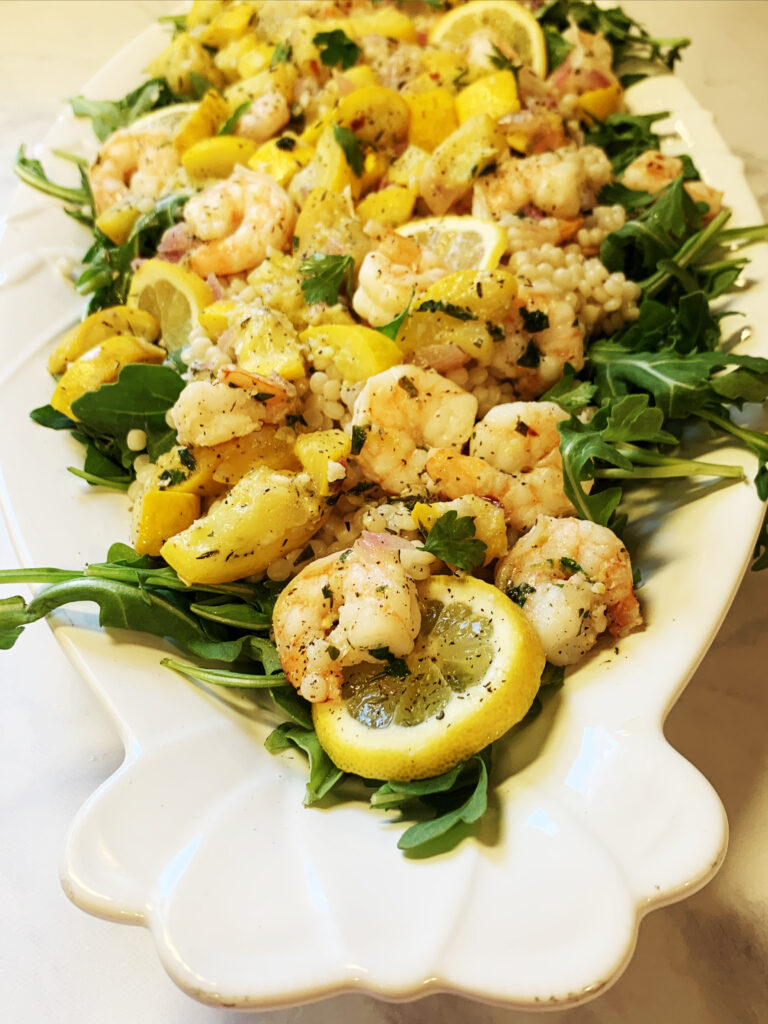 Shrimp is one of those things I definitely don't make enough of. Mainly because it's not something I really ate much of. I've always been one of those "fish are friends not food" kind of people, but I'm slowly learning to love fish, especially shrimp. It's so good for you & there are sooo many different flavor profiles shrimp can take on. This dish in particular is filled with lots of lemon, fresh herbs, and a little spice if you like!
Let's Prep
So before I start cooking, I thaw my shrimp out. No need to do so if you're using fresh but mine was frozen wild caught large shrimp! A quick tip for thawing out shrimp is to place it in a colander and under cold water for about 10 minutes, let it thaw. Make sure to dry some of the water out of the shrimp before cooking!
So to prepare this dish, I start by laying out all my ingredients. I have squash (zucchini would be great here also but the store was out), red onion, garlic, fresh oregano, fresh parsley, lemon zest, & dried thyme with salt, pepper, and crushed red chili flakes to taste.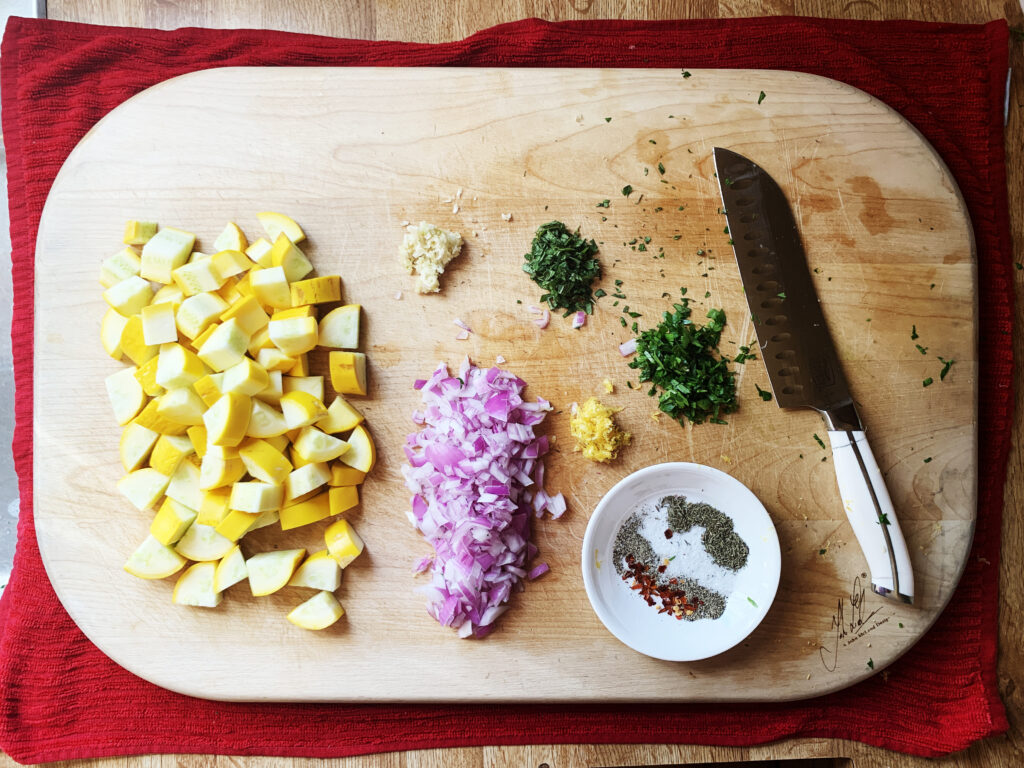 Once everything's chopped up and ready to go, prep your couscous and cook based on the box directions. I used Israeli couscous for this dish but any type works! Quinoa, rice, or pasta are other great alternatives if you don't have couscous handy! Then in a frying pan, you're going to add some oil (I usually cook with EVOO) and once that is heated up, add the onion and squash. I season with salt (just a little because shrimp is super salty as is), pepper, and crushed red pepper! (You might notice moving forward I tend to add spice to a lot of things LOL). That's going to cook down for roughly ten minutes.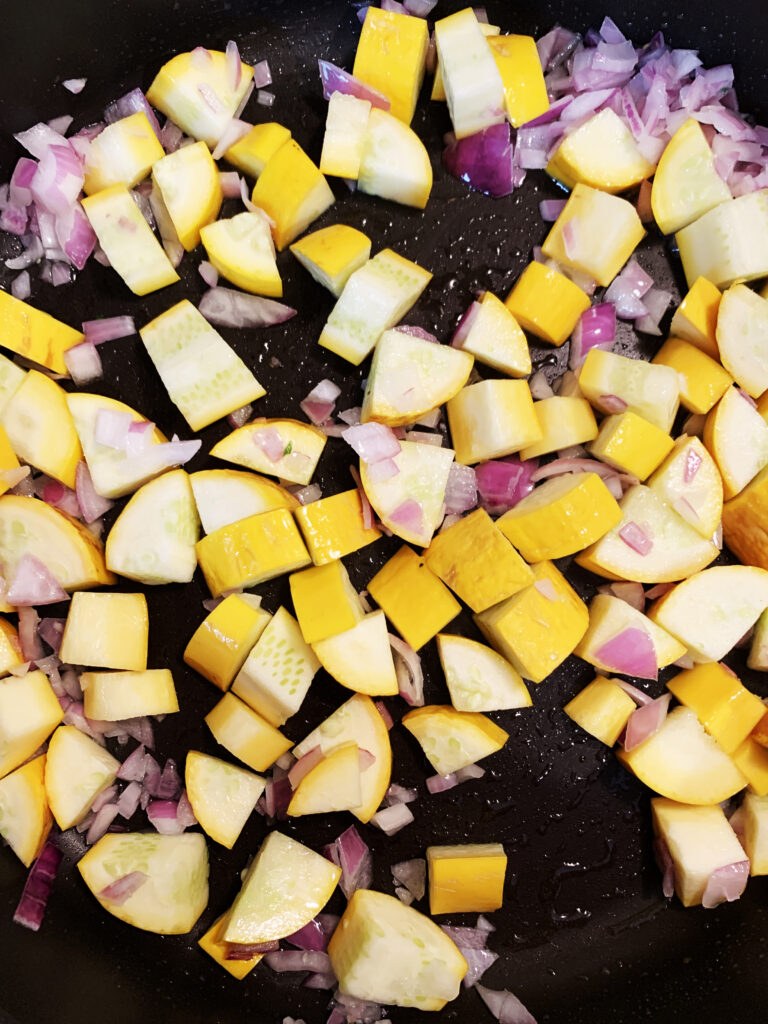 Once that's ready (and you'll know when the squash is tender and a fork pierces it easily) add the shrimp! This process is going to happen super quick because shrimp only takes about 2-3 minutes per side to cook.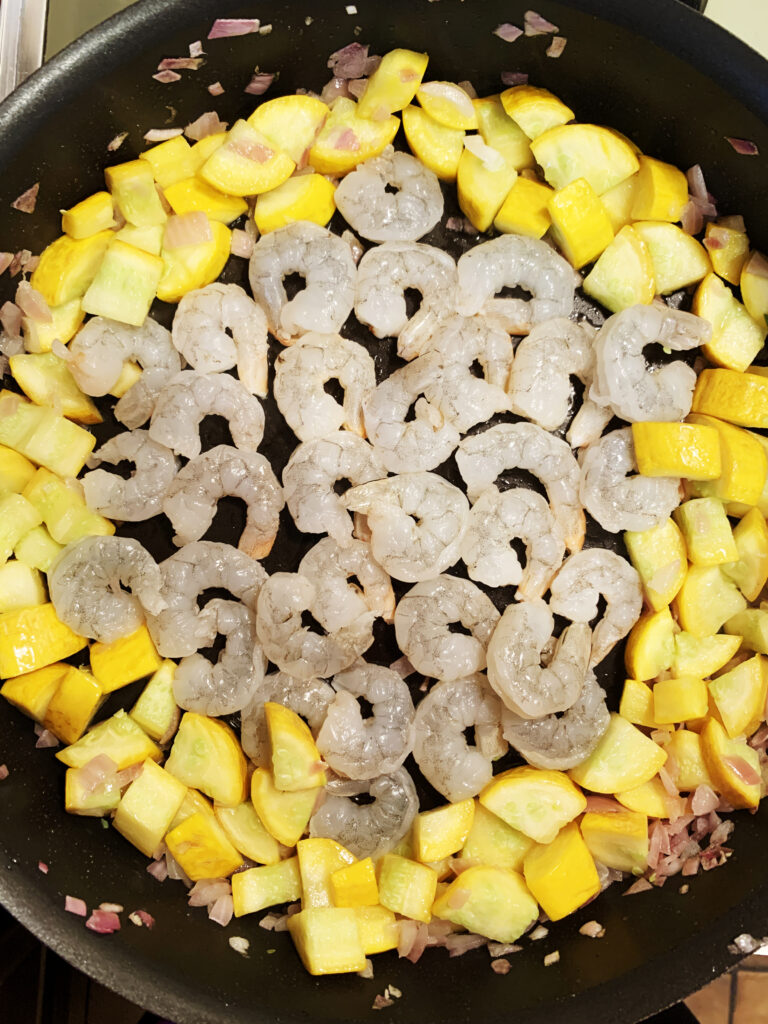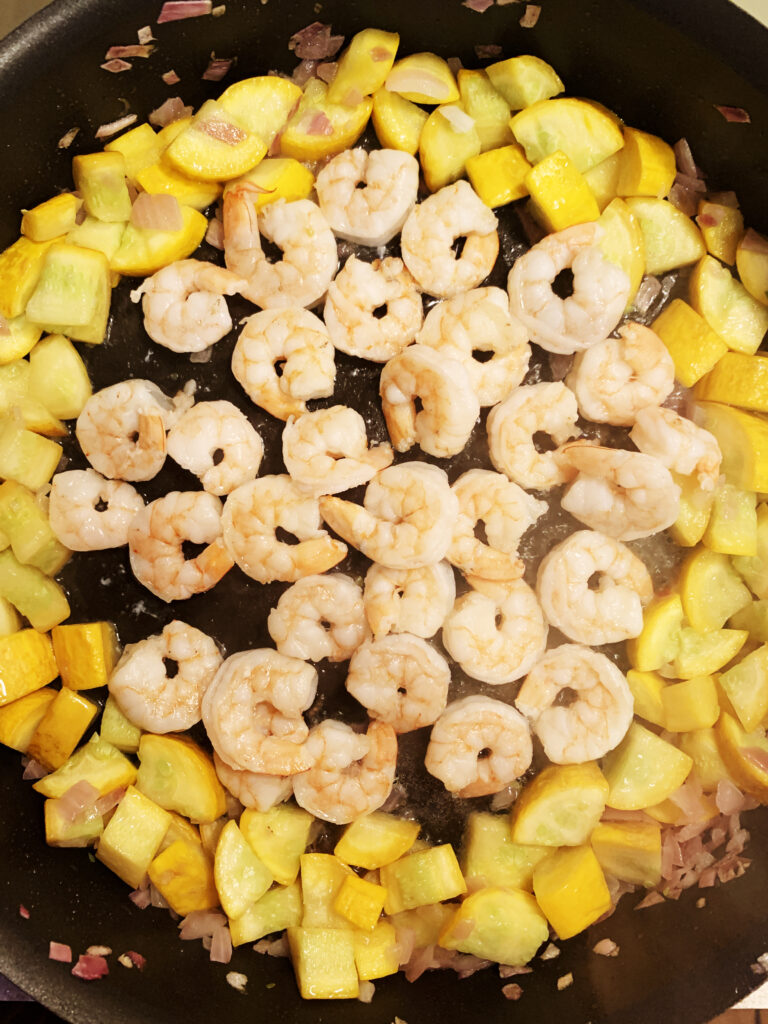 At this point, it's almost done so we want to start building out our flavor. I add the lemon juice, lemon zest, and all of the herbs. It's going to look a little something like this!! ( I added some extra crushed red & pepper)!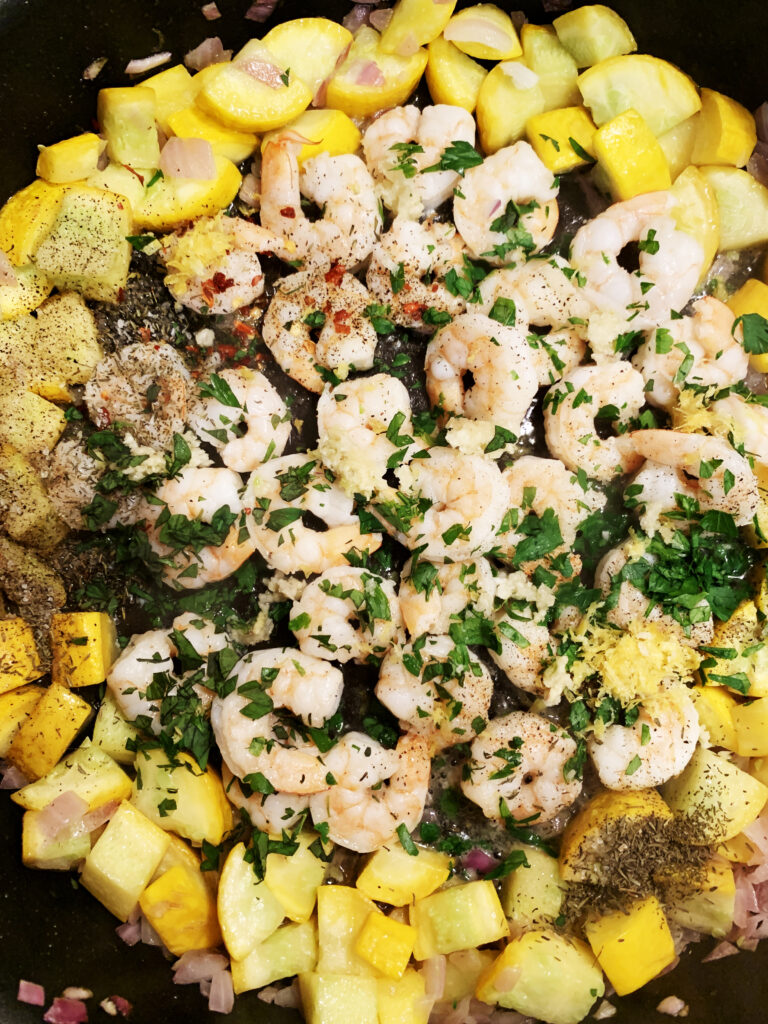 Now mix it all up!…
So now it's time to plate and almost eat! Dress the arugula with a little extra oil and lemon because why no and add to a dish. Top that with the couscous, followed by the shrimp/yellow squash mix! In a matter of about 20 minutes or so you have all the components a good dinner needs- some veggies, your protein, and some good carbs!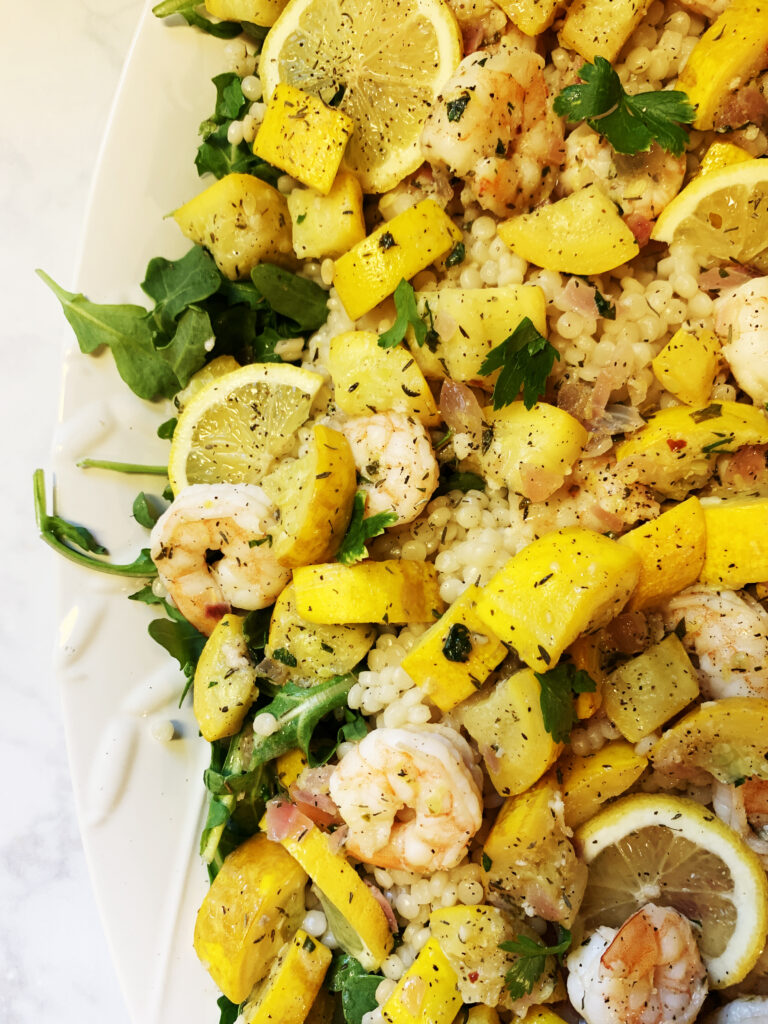 Summer Shrimp Couscous Salad
Course: Dinner
Ingredients
1 LB shrimp

2 cups dry couscous

5 oz of arugula

2 green zucchini or yellow squash

1/2 cup of lemon juice plus 2 tbsp

3 tbsp plus 2 tbsp olive oil

3 cloves garlic

1/2 small red onion (about 1/2 cup chopped)

1 tbsp fresh oregano (roughly 1/2 tbsp dried)

2 tbsp fresh parsley (roughly 1 tbsp dried)

1 tsp fresh thyme (roughly 1/2 tsp dried)

2 tbsp lemon zest

Salt, pepper, and crushed red pepper to taste
Directions
Cook 2 cups of dry couscous according to the box directions. This will make about 3-4 cups of cooked couscous.
While couscous is cooking, add 3 tbsp of olive oil to the pan and heat it up. Add the onion and squash with salt, pepper, and crushed red pepper, letting it cook until almost tender on medium for about 10 minutes.
Once onion and squash is cooked, add the shrimp directly to that pan, cooking it on both sides for about 2-3 minutes. Shrimp should be white opaque with pink when it's fully cooked.
When shrimp is done, add 1/2 cup of lemon juice, lemon zest, and all the herbs.
On a serving dish, add the arugula (toss it in 2 tbsp olive oil and 2 tbsp lemon juice), then layer the cooked couscous on top, and finally the cooked shrimp/squash. Finish it with extra lemon juice, lemon zest, and parsley on top.