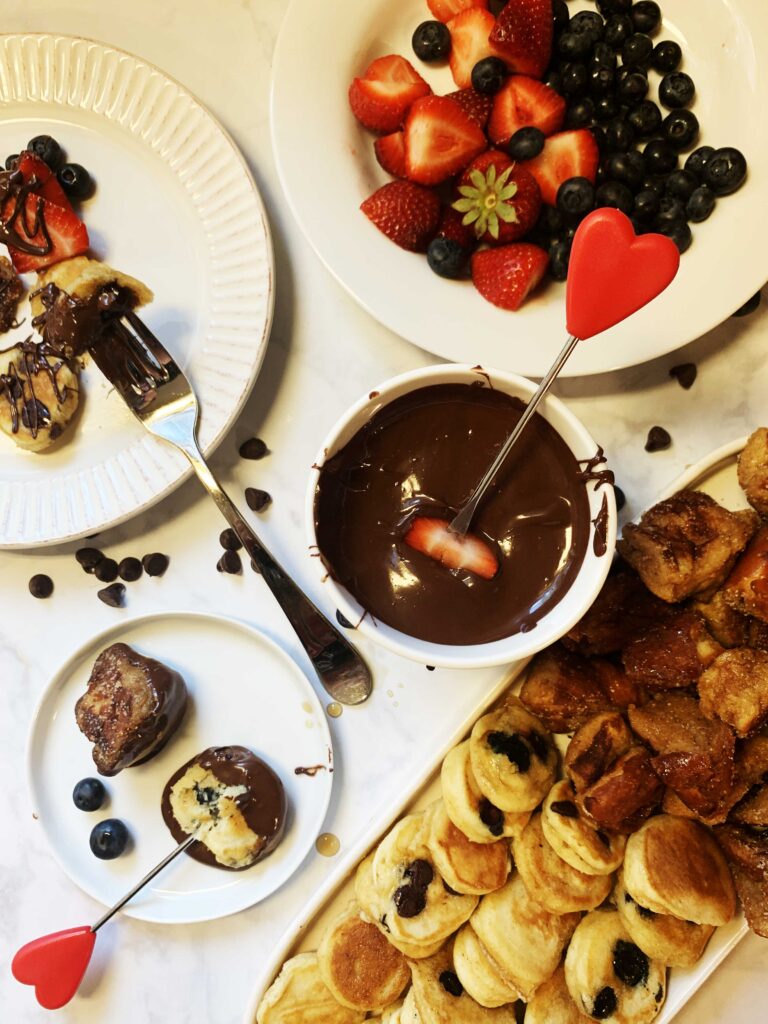 A fun way to brunch! Fondue is one of my favorite things. Whether it's savory or sweet, I think it's just a fun experience for all and if you're a parent, it's a great way to get your kids involved with prepping, cooking, & eating of course. And what's great about fondue is the limitless options you really have with it. In this case, I made mini pancakes in 3 different flavors, mini french toast bites, and cut up some strawberries and blueberries. I drizzled everything with some maple syrup and our fondue dip of choice was chocolate, of course!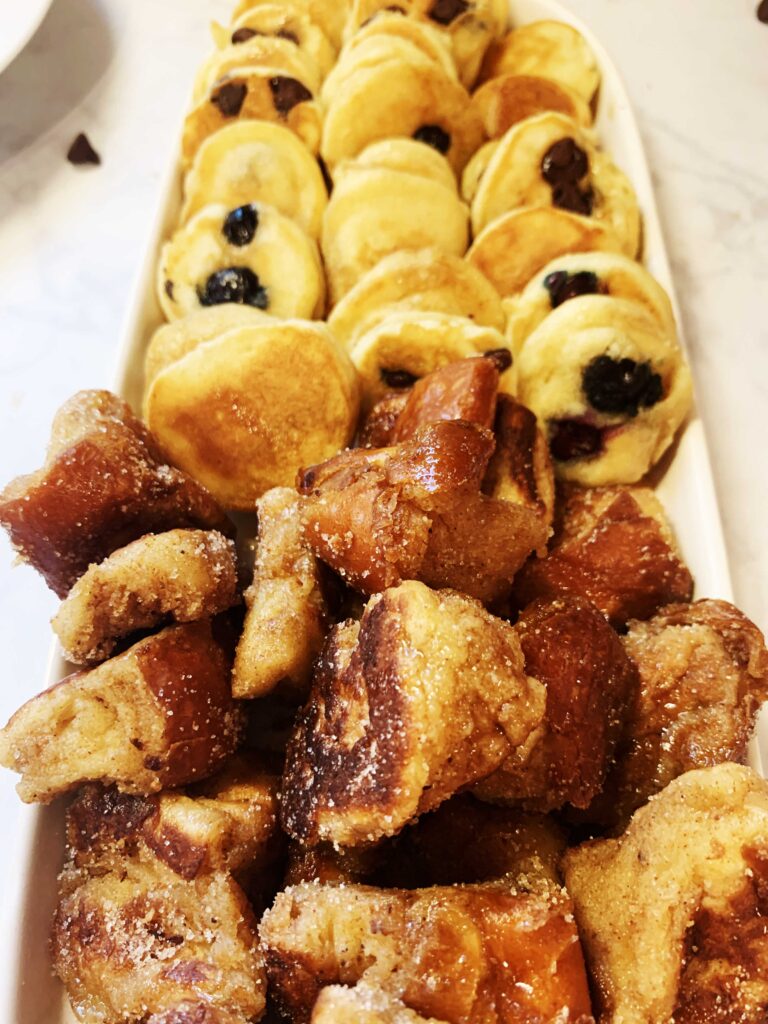 When I put this brunch together, I prepped everything first before cooking because the cooking goes super quick when it comes to pancakes and french toast. So first let's go over the french toast. Full of cinnamon, sugar, and buttery greatness, these guys are the perfect bite, literally. Bite size make these a fun way to eat french toast and the exact size you want for that chocolate french toast ratio. It's soo good.
You can use any kind of bread for this but I do suggest a brioche or a challah, I used challah. I didn't get a chance to make my own this time but I got mine from Wegman's, which has an awesome bakery section. Their breads are delicious, I really suggest their sourdough too!
So start by slicing your loaf of bread into 1- 1 1/2″ inch slices and then into cubes. Next, you're going to whisk together heavy cream or milk (I used heavy cream), eggs, salt, cinnamon, sugar, and nutmeg in a bowl large enough to fit the bread cubes. When whisked up, add the cubes right to the bowl and coat bread with your hands or a spoon until all sides are covered!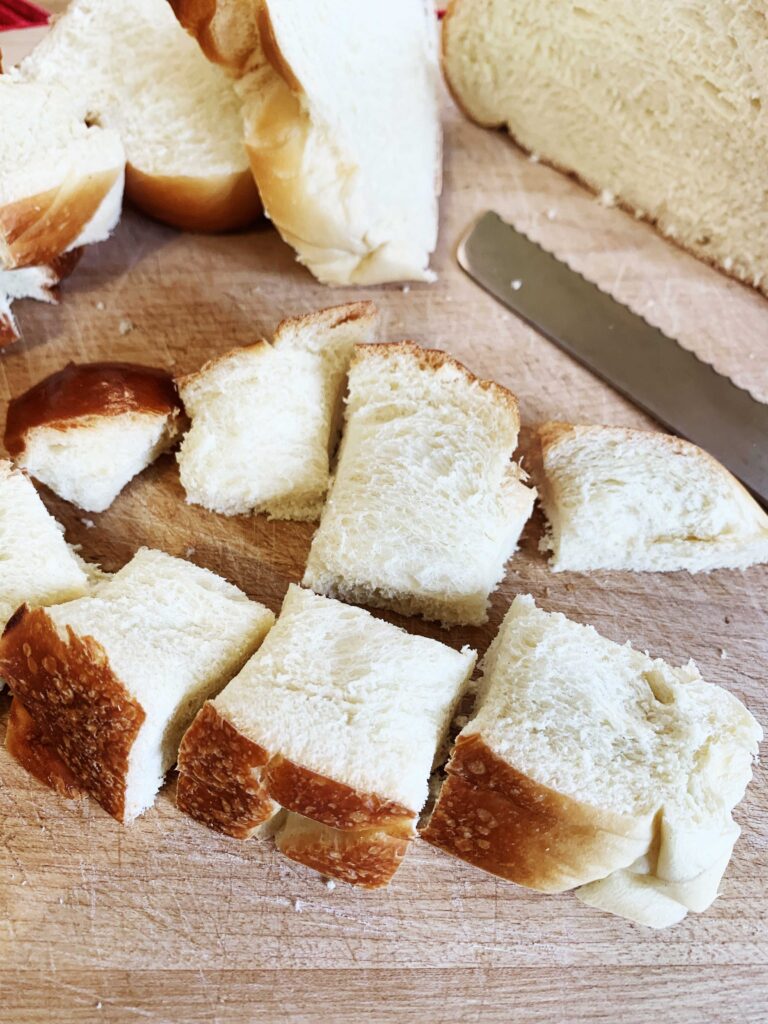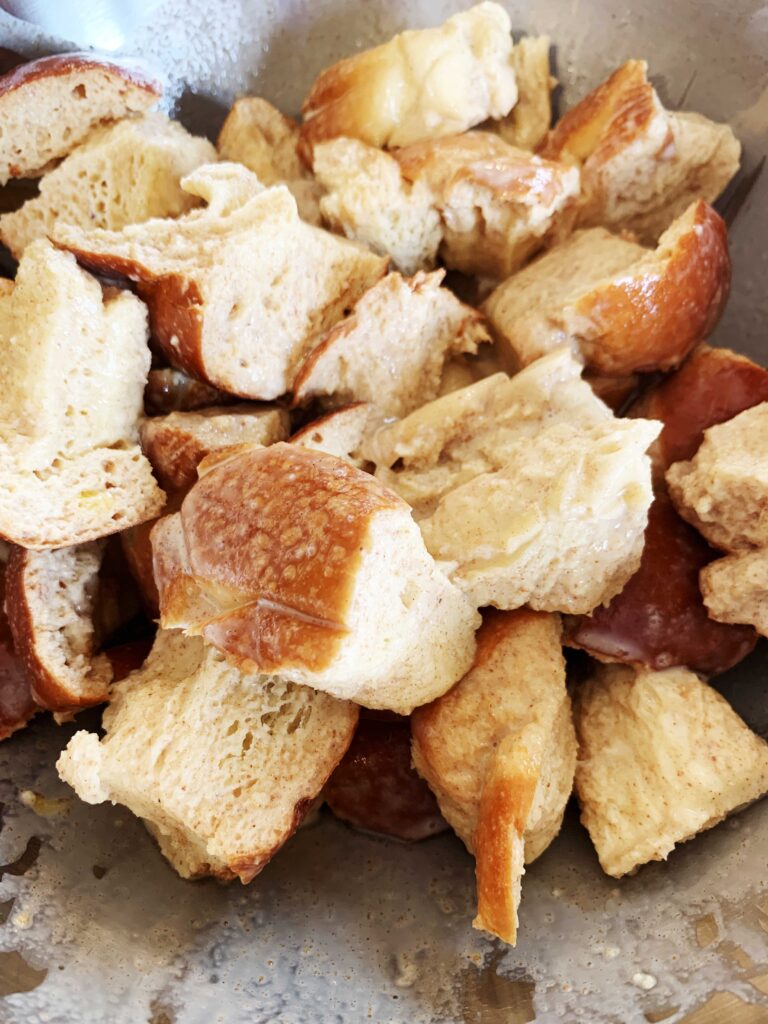 While that sits, start on the pancake batter! Whisk together flour, sugar, baking powder, baking soda, and salt. Add the milk, egg, and melted butter and stir until combined! So since these guys are mini pancakes and this batter is a little bit thicker, I like to put the batter into a large freezer bag and snip the end off. I kind of pipe the pancakes onto the pan in circles, which I think is a super easy trick for pancakes in general!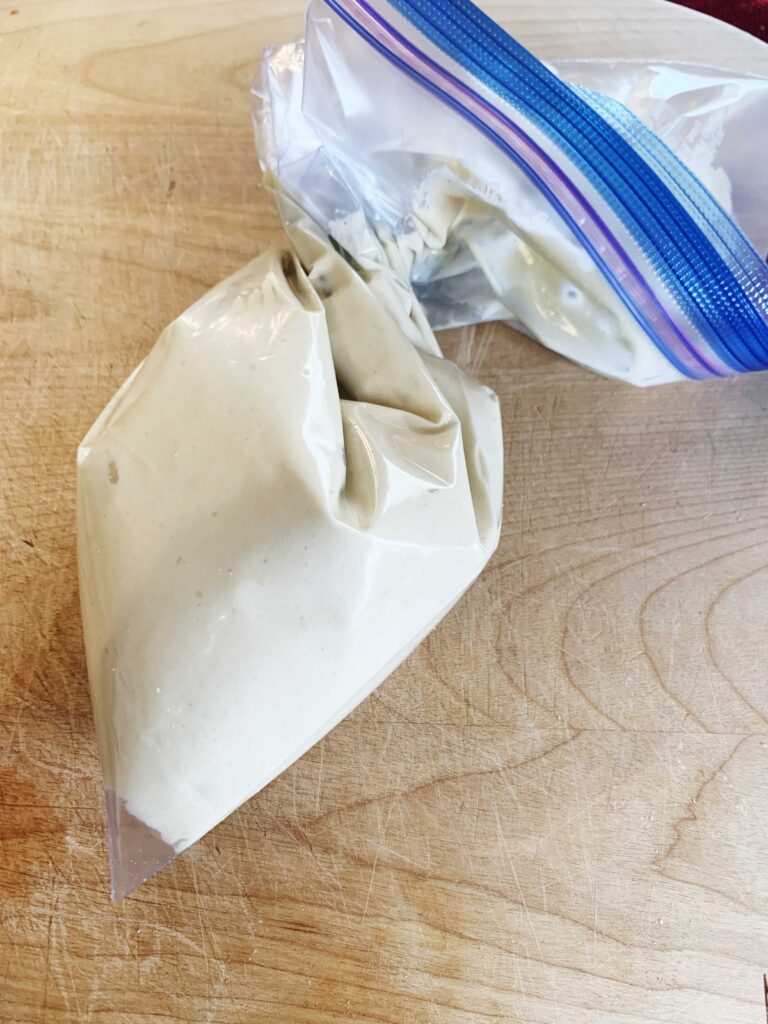 When I finish making both, I start to heat up the pan with butter. A little trick I like is to brown the butter before cooking. It adds a warm, nutty flavor and bonus, it makes your kitchen smell delicious I promise. So when you brown butter, you just let the butter warm up, get melty, and you know it's done after a few minutes when it bubbled a ton and the butter in the pan turned a caramel golden color! Super easy and such a flavor elevator!!
Also, since everyone loves different flavors of pancakes here, once I pipe on the pan them I add toppings. I left some plain, added some blueberries to some, and some with chocolate chips because it's just a known fact you can never have enough chocolate!!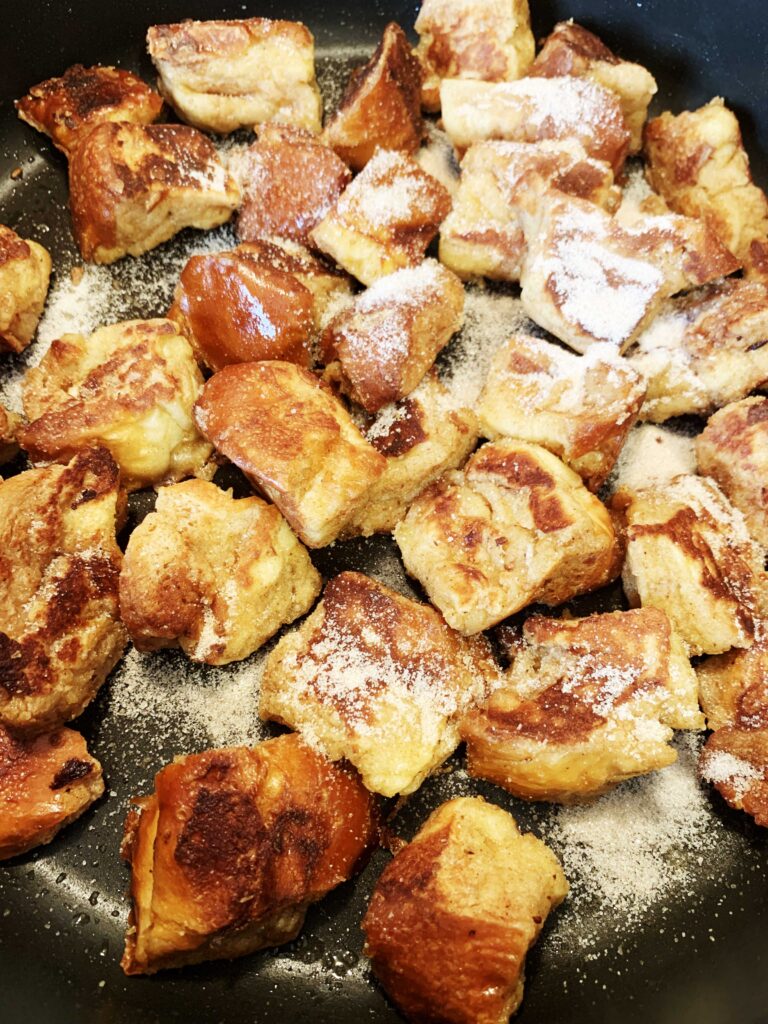 Side note, when I fry the french toast up, I usually add a bit more butter as I go and right before I take it off the heat, I add some extra cinnamon/sugar and coat the pieces! We're also big cinnamon/sugar people here, the more the better!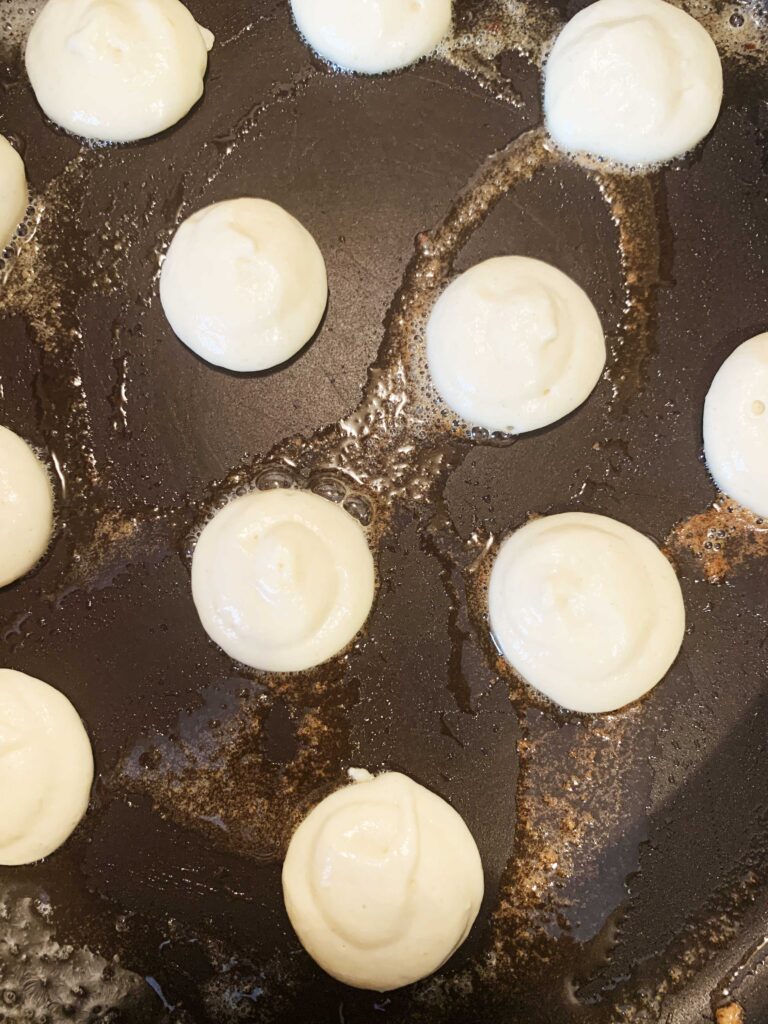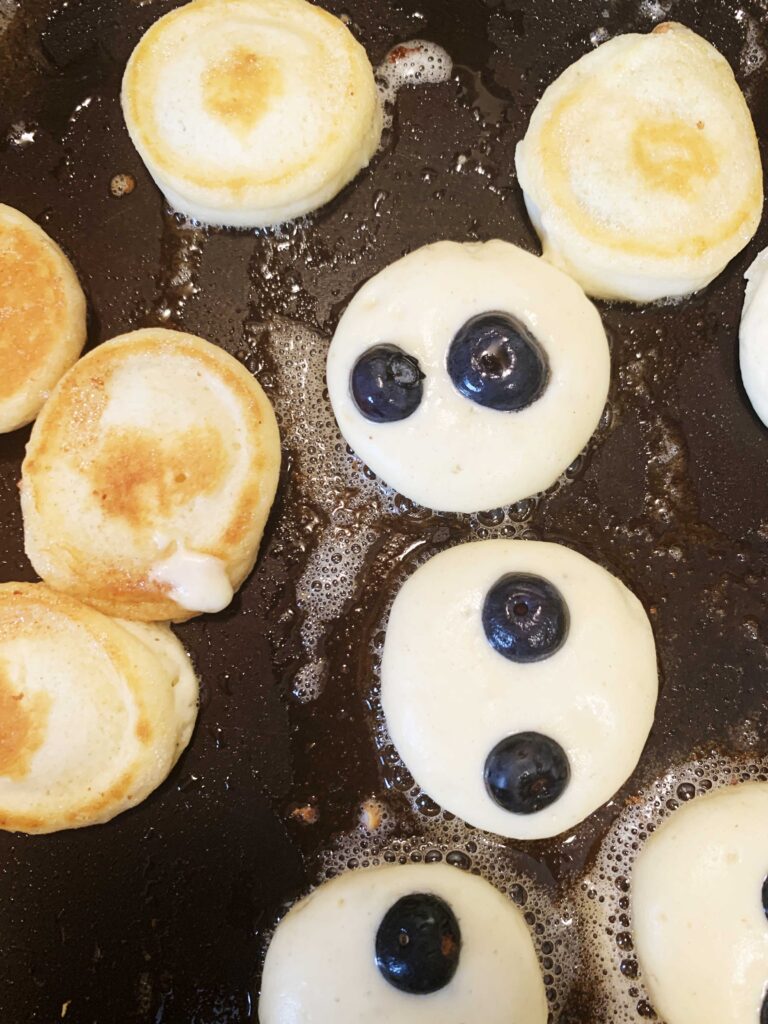 So when you're done cooking, it's time to plate and melt the chocolate or whatever other toppings you might like for the fondue! Sprinkles are a fun addition, caramel sauce, or cutting up some bananas! Your imagination is your best tool in the kitchen!
And if you don't have an actual fondue set, that's totally fine! Melt the chocolate in the microwave or over a double broiler, and using forks or wooden skewers to dip works just the same!
Happy dipping! Let's eat!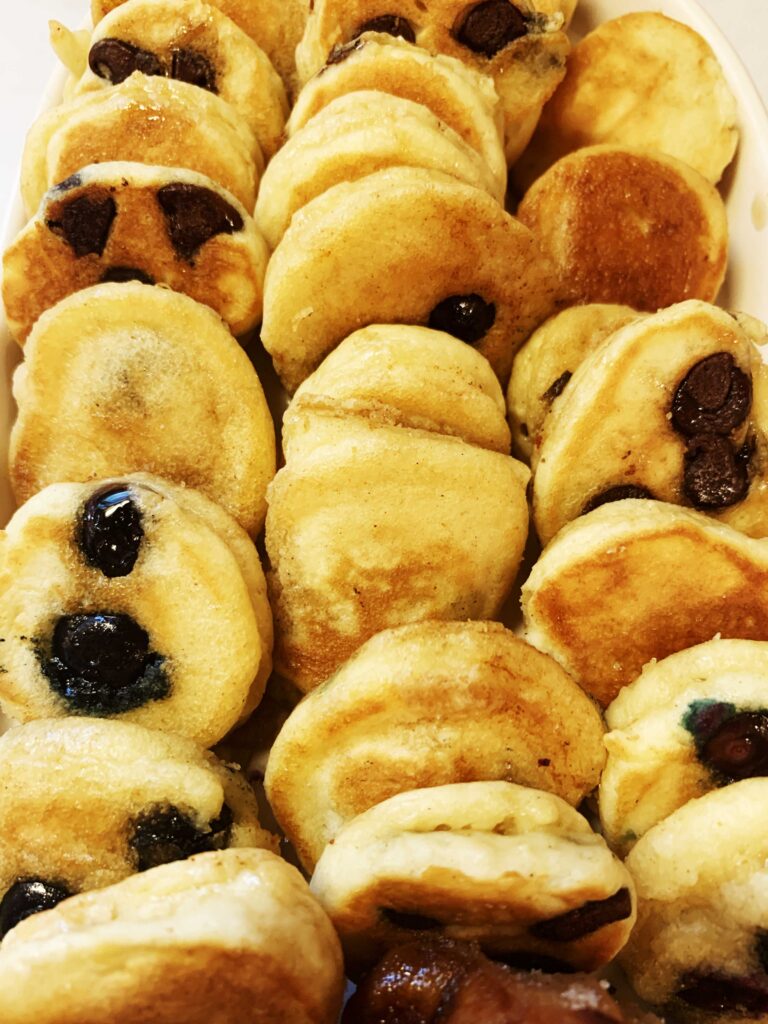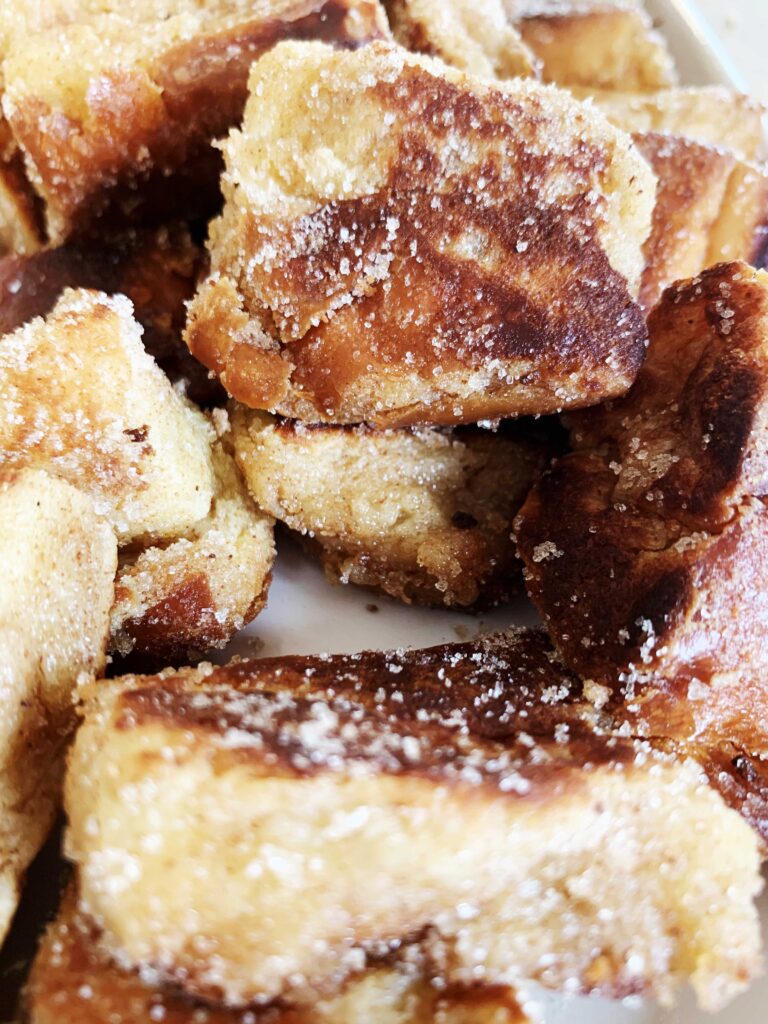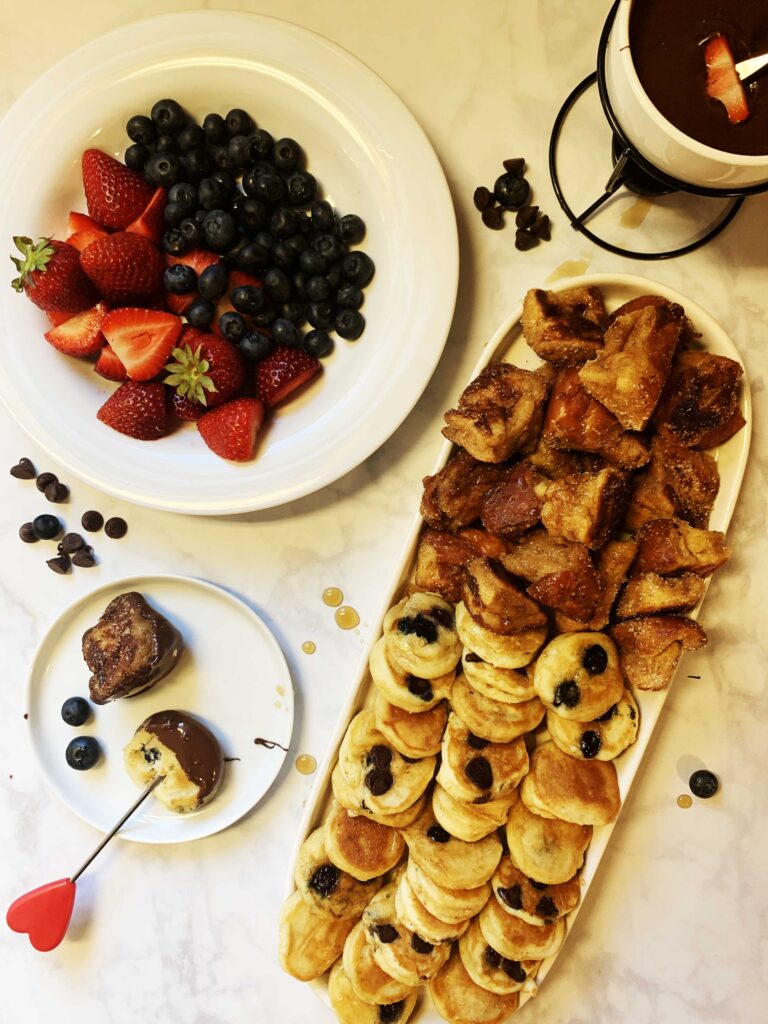 Recipe below!
Brunch Fondue
Course: Brunch, Breakfast
Cuisine: American
Ingredients
French Toast Bites

5 slices bread of choice, challah or brioche preferred

3/4 cup heavy cream or milk

2 eggs

3 tbsp sugar, plus extra for topping

1 tsp cinnamon, plus extra for topping

1/8 tsp nutmeg

Pinch of salt

Butter for frying

Mini Pancakes

1 cup flour

2 tbsp sugar

1 1/2 tsp baking powder

1/2 tsp baking soda

1/4 tsp salt

1 egg

1/2 cup milk

2 tbsp butter, melted

Butter for frying

Chocolate chips, blueberries, or other optional toppings for pancakes

Fondue Assembly

1 1/2 cup chocolate chips

Fruit for serving and dipping
Directions
Prep the french toast. Cut the bread into 1 – 1 1/2″ cubes. Whisk together the heavy cream, eggs, sugar, cinnamon, nutmeg, and salt in a bowl large enough to hold bread cubes. Add the bread cubes and coat evenly. Set aside.
Prep the mini pancakes. Whisk together the flour, sugar, baking powder, baking soda and salt. Add the melted butter and milk, and mix until combined. Optional, but add the pancake batter into a ziploc bag, twist the top so there is no air in the bag, and cut off the tip to pipe pancakes in circles into the pan when cooking.
Heat up butter in a pan. Cook the french toast until cooked thoroughly. Next, cook the pancakes until cooked thoroughly. Add toppings such as blueberries or chocolate chips into pancakes if desired while cooking before flipping over to finish.
Heat up the chocolate or other dips of choice for the fondue. If you do not have a fondue set, melt the chocolate in the microwave or in a double broiler.
Assemble plate for fondue and enjoy!