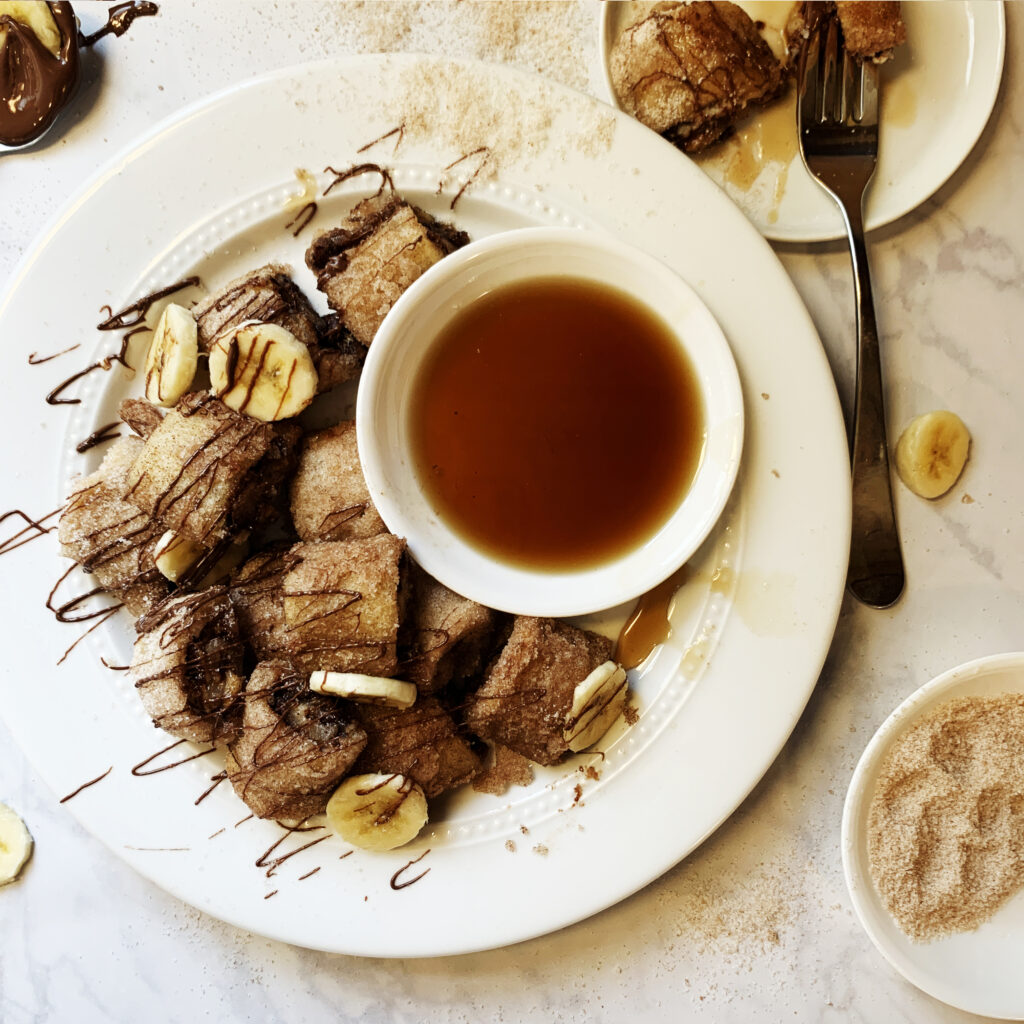 Happy Sunday everyone! So moving forward, Sunday's are going to be my "Brunch it Up" days on my blog! I mean who doesn't LOVE brunch and this will be the perfect way to celebrate Sunday's. Let's be real, Sunday Scaries are not so scary with brunch on the plate and a mimosa in my hand.
So these guys are SO good and sooo easy to make. It's not even great for just brunch, it's a tasty sweet snack or dessert option and a really fun thing to make with your kids because they'll love putting them together and eating them too.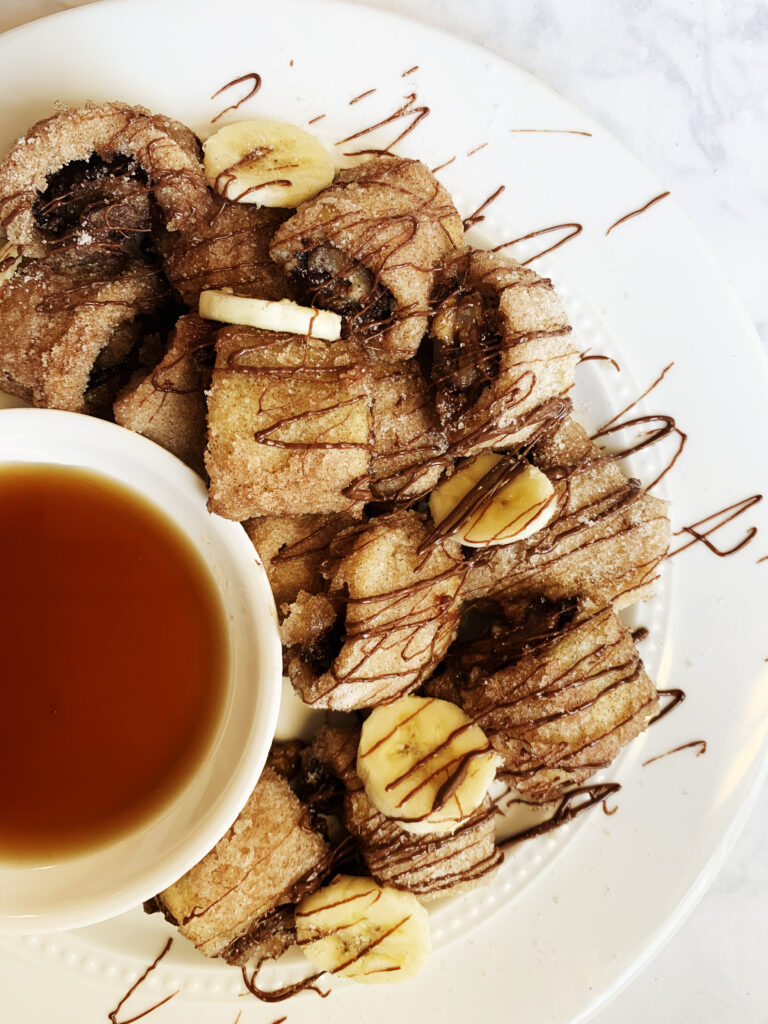 So these little bites of literal heaven are actually inspired by the treat I always used to make in the kitchen when I was younger. They might have actually been the first thing I truly made on my own. Not sure where my 90's babies are at but did you guys ever watch the show Zoom on PBS?! They had arts & crafts, science experiments, and a cooking segment and this was something that evolved from there. Something so simple but it clearly stuck with me for the past 15 years , gosh I'm getting old.
First Steps!
So to begin (and this recipe doesn't really have exact measurements and you'll see why, it's just based on how much you want to make), you're going to take some white bread, cut off the crusts, and roll them out with a rolling pin. I used 5 slices which will make 15 bites!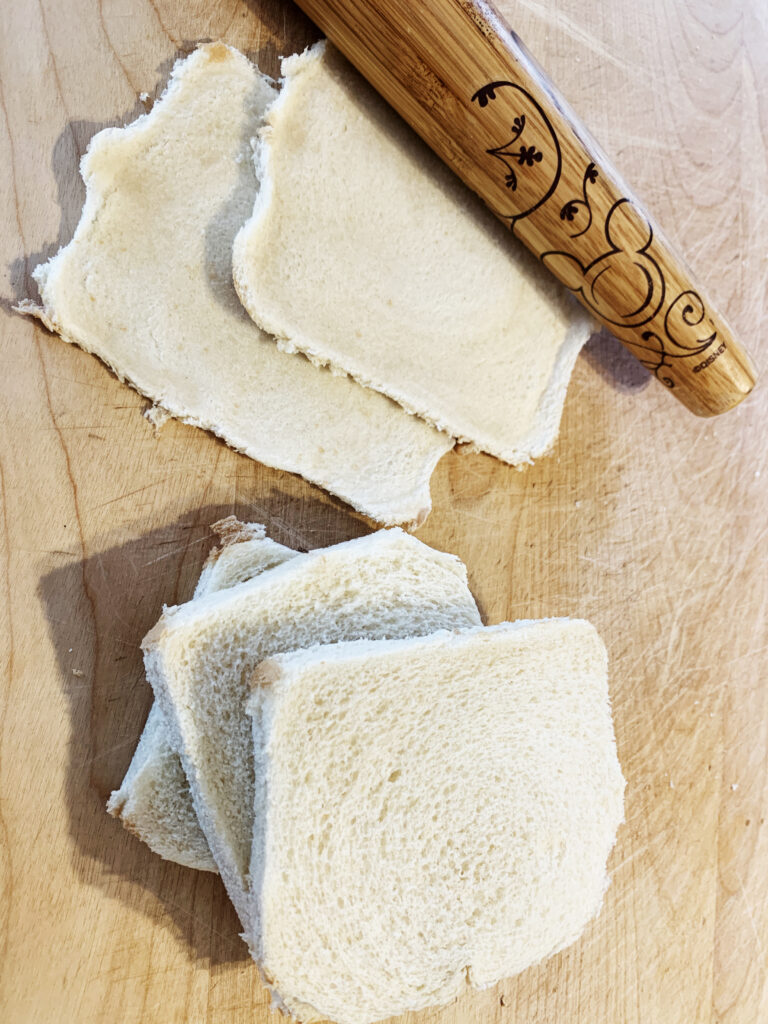 Next, when those are rolled out pretty thin, you're going to put a layer of cream cheese on and then a layer of nutella. Once that is done, slice up a banana pretty thinly also and add around 6 slices to each piece of bread. Make sure you leave a little bit of bread edge without any of the toppings because when we roll it up it'll be less messy and easier to pinch together.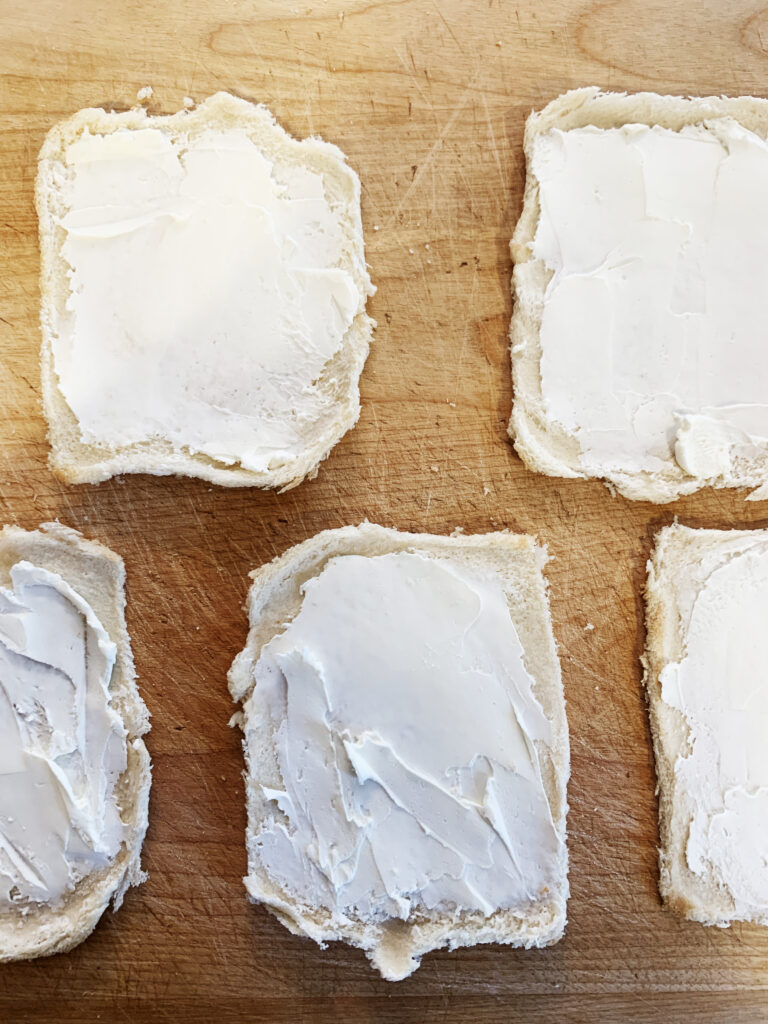 And then the bananas!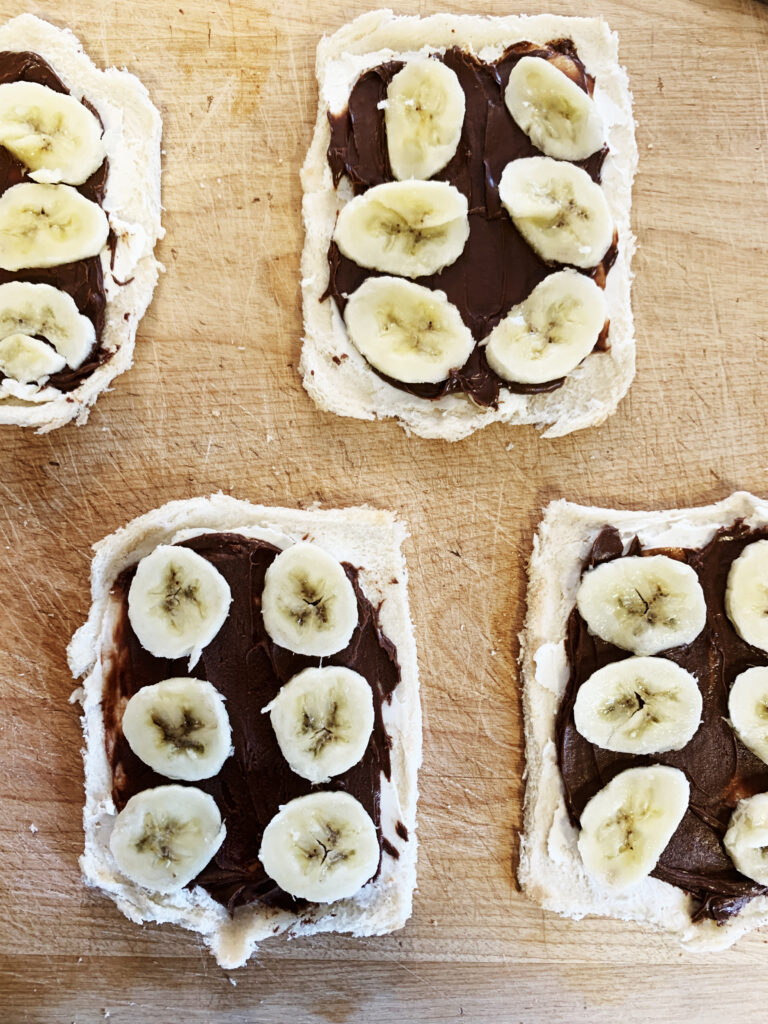 Let's roll
So now it's time to roll. We're going to roll them up from top to bottom length wise. Once they're rolled, pinch the pieces of white bread together so they hold their shape!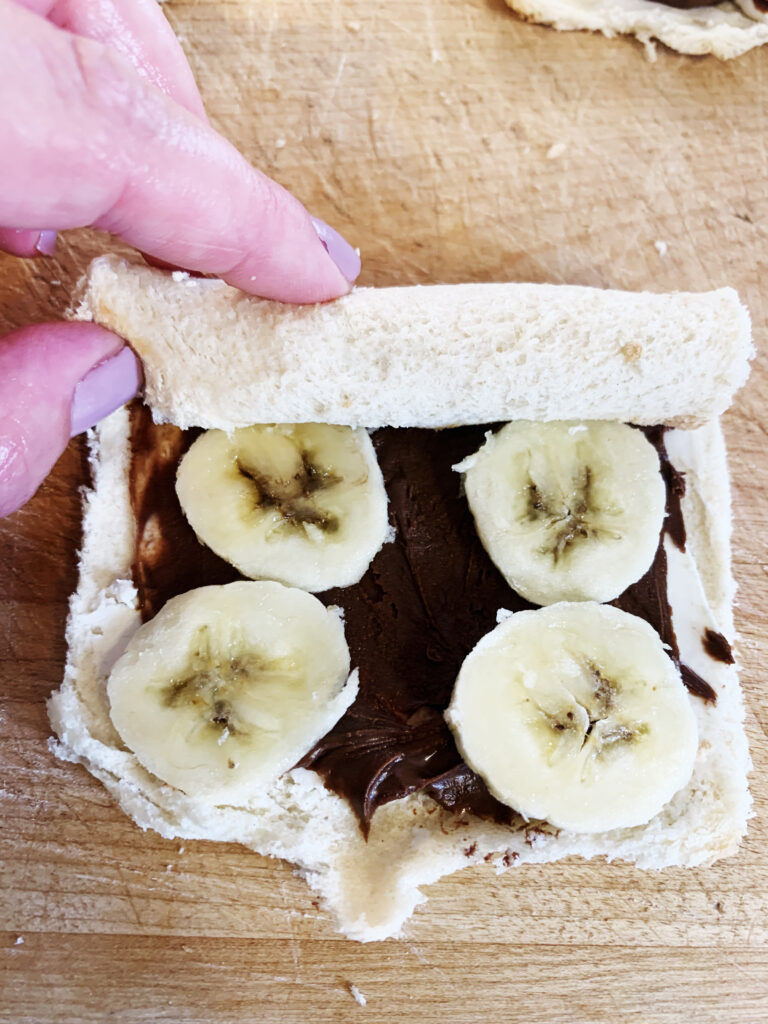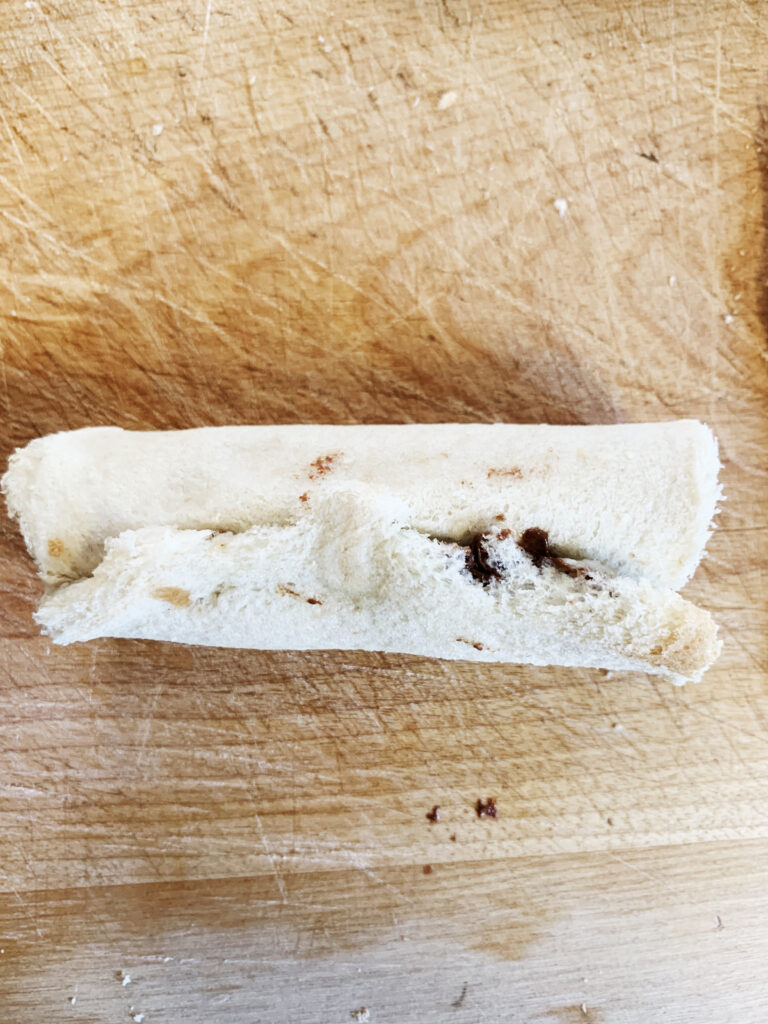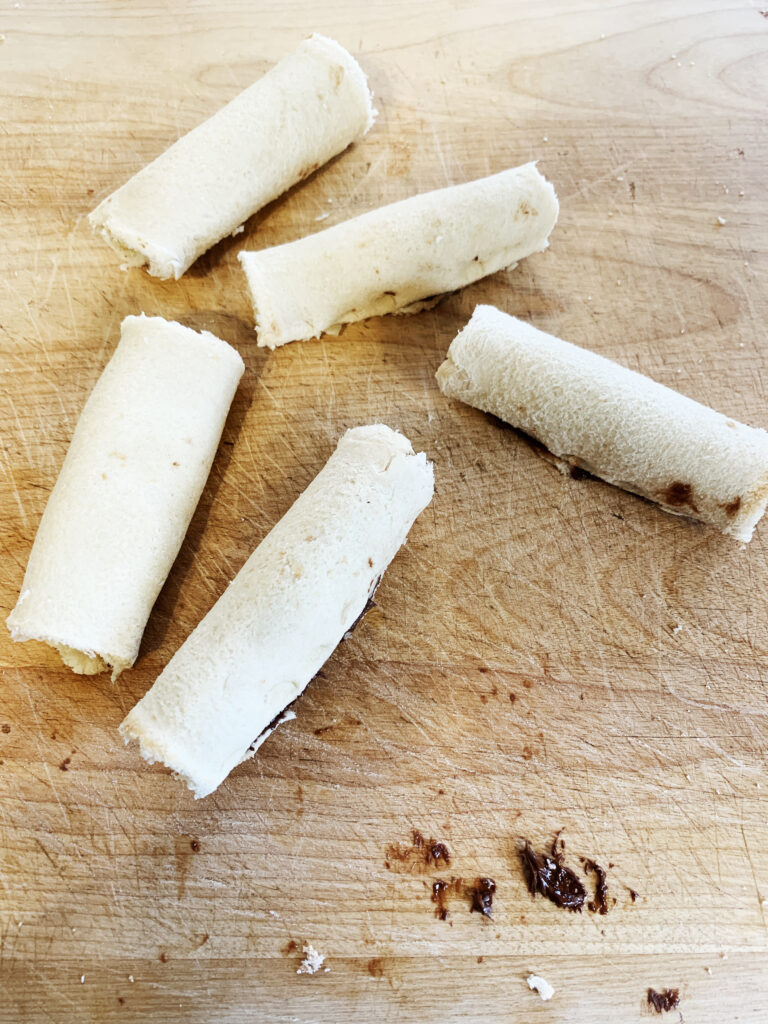 Once they're all rolled up, cut each log into 3 pieces like below. Then we're going to take those pieces and coat them in melted butter and then a cinnamon sugar mixture.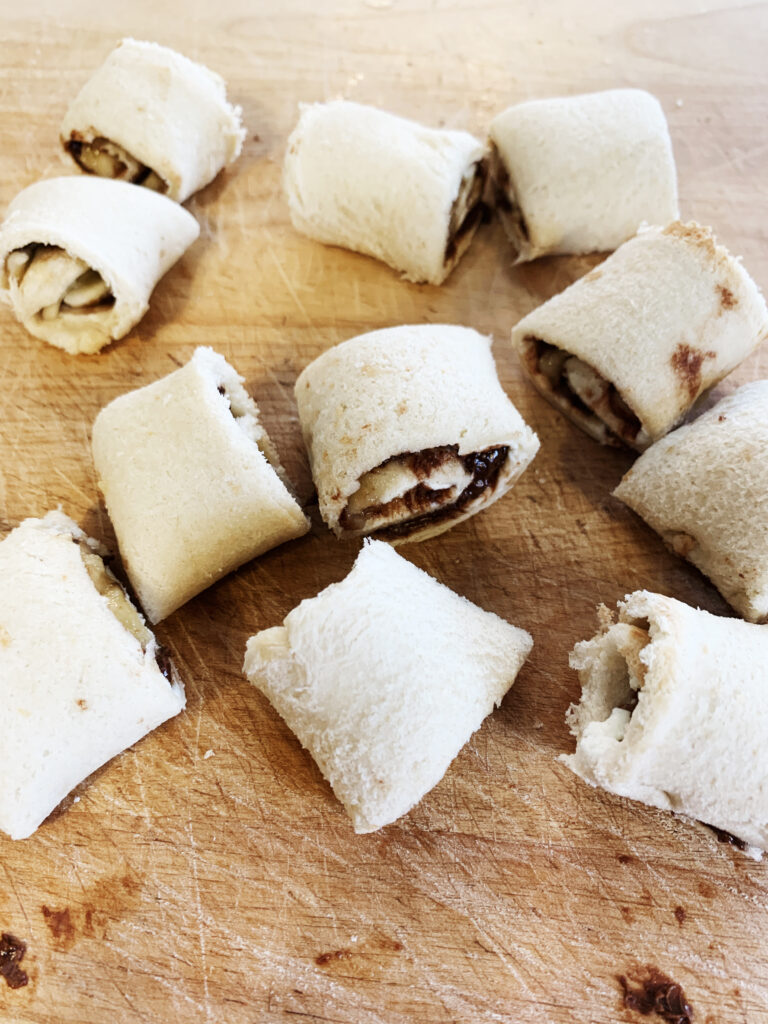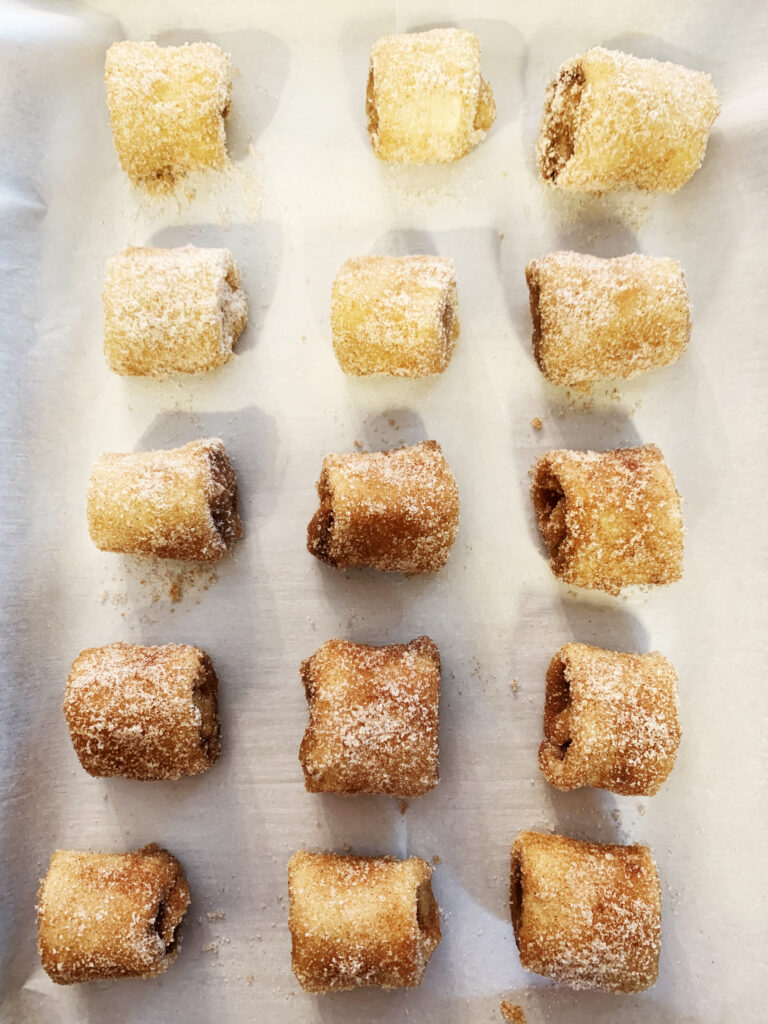 Pop them in the oven for 15 minutes and they're done! I highly suggest drizzling them in warm nutella and maple syrup at this point, or actually definitely do it because it's like the tastiest finishing touch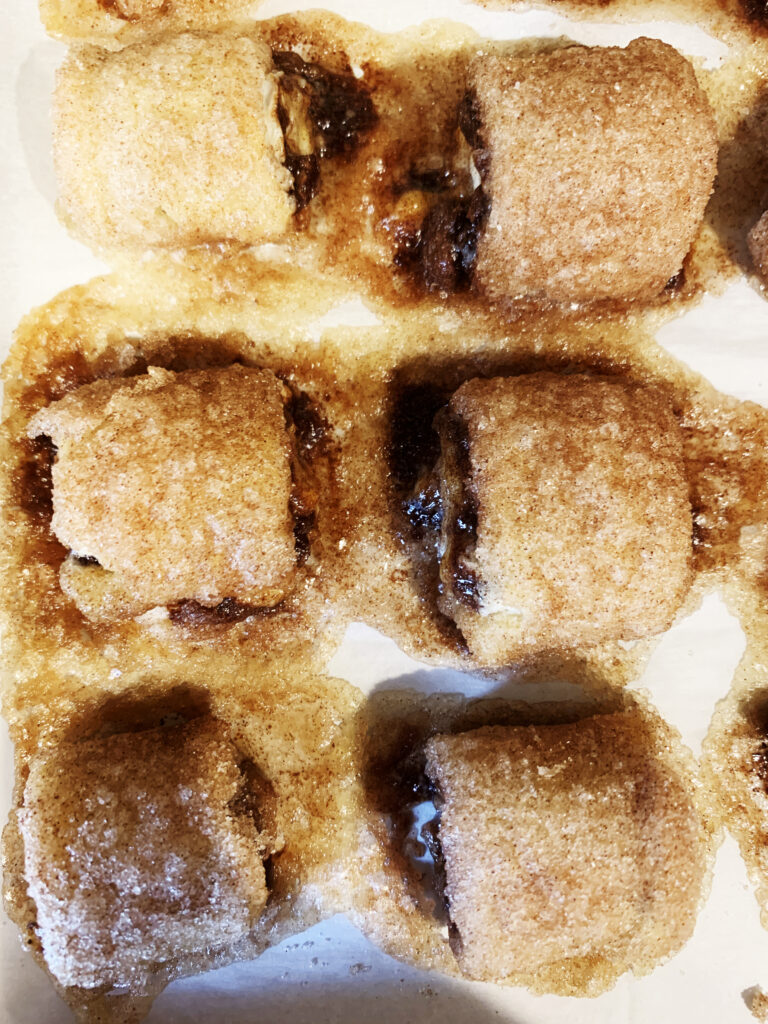 Your kitchen is going to smell soooo amazing at this point. And the taste of these remind me so much of bananas foster. The bananas kind of caramelize and bubble together with the butter and cinnamon/sugar. So little tip, when you plate these guys (or eat them right out of the pan, it happens) take the caramelized pieces of sugary goodness that are left on the pan and sprinkle them right on top of the plate. This is also a necessary finishing touch, trust me.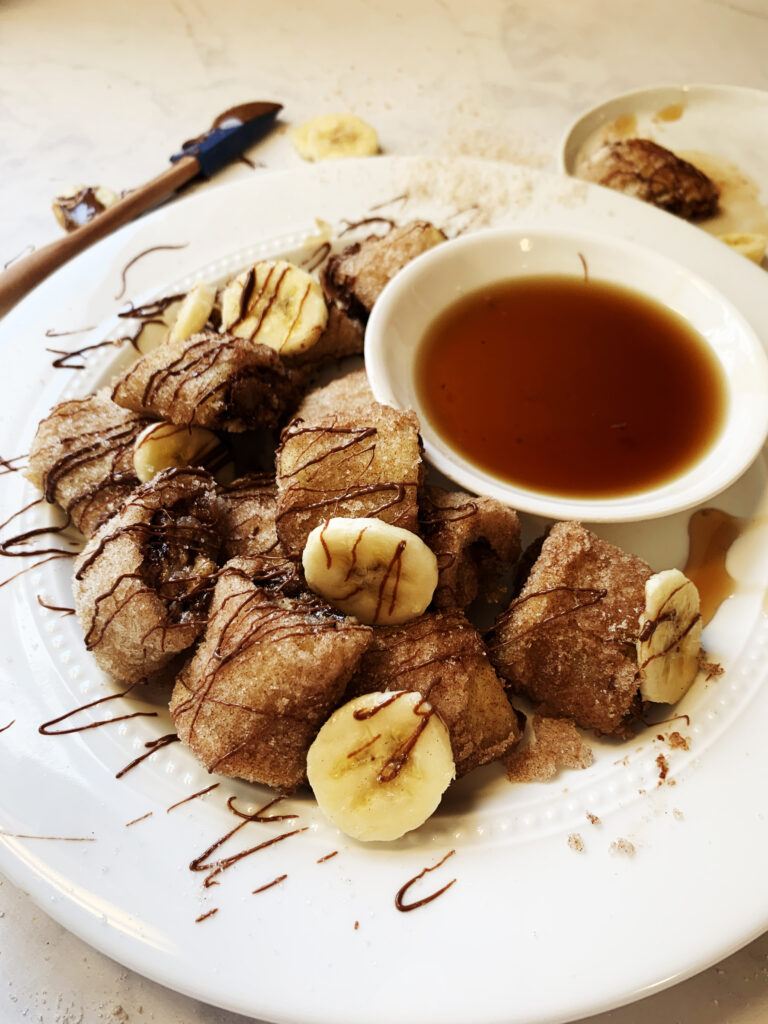 Recipe Below!
Oven Nutella Banana Cream Cheese French Toast Bites
Course: Brunch, Dessert, Snacks
Cuisine: American
Nutella, Banana, Cream cheese, and cinnamon sugar french toast
Ingredients
5 slices of white bread

Cream cheese

Nutella

1 Banana

4 tbsp melted butter

Cinnamon Sugar Mix (1/4 cup sugar and 1 tbsp cinnamon)
Directions
Preheat oven to 350° F.
Cut the crusts off of the bread and use a rolling pin to roll out the bread until thin.
Put a thin layer of cream cheese on the slices and then a thin layer of nutella. Top each piece with 6 thin slices of banana. Remember to leave some edge of white bread without the toppings at all sides, it will help when rolling up the bread.
Roll the pieces of bread lengthwise and pinch together the white bread so it stays rolled up. Cut each roll into 3 pieces.
Dip the pieces into melted butter and then the cinnamon sugar mixture.

Bake for 15 minutes and enjoy!