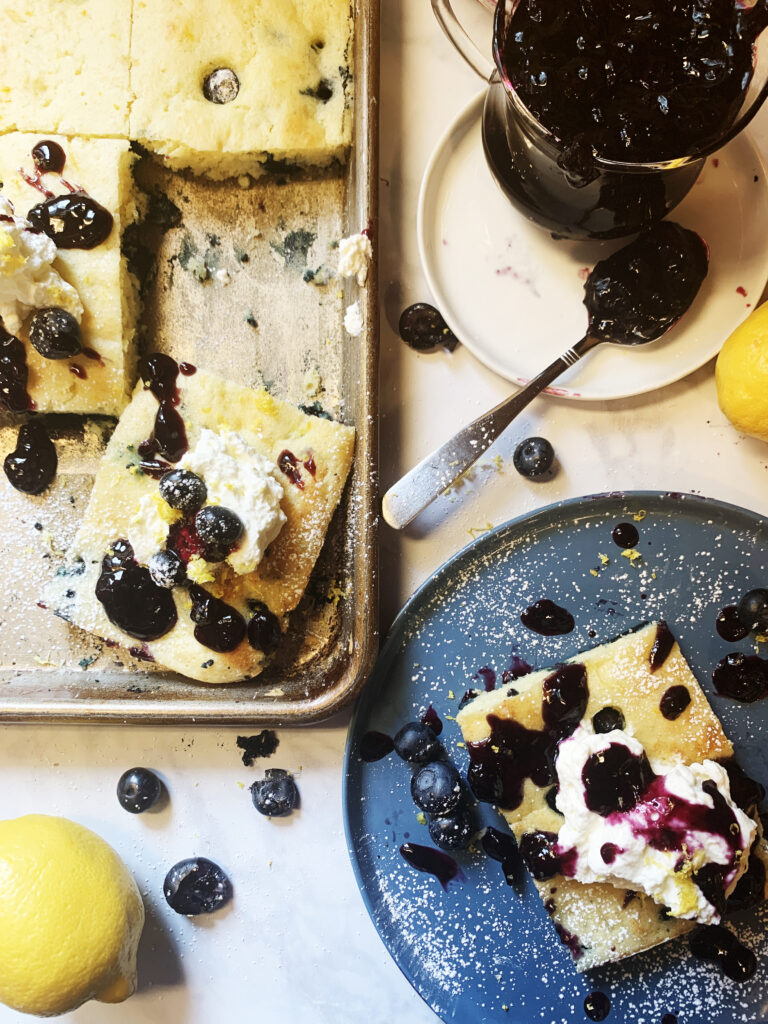 Hi all! With this being my first recipe post and all, figured I'd introduce myself! I'm Danii, and in case you can't already tell I'm so excited about this pancake recipe. These pancakes are baked in the oven, bursting with all sorts of fresh flavor, and anything that contains lemons or ricotta I could basically live off of. I'm a self taught cook & baker from NJ and I own a small baking business called Eat S'more where I make a lot of marshmallows, graham crackers, and other desserts! By trade I'm a
fashion designer, I went to the Fashion Institute of Technology in NYC, and spending time in the kitchen is just another huge creative outlet for me.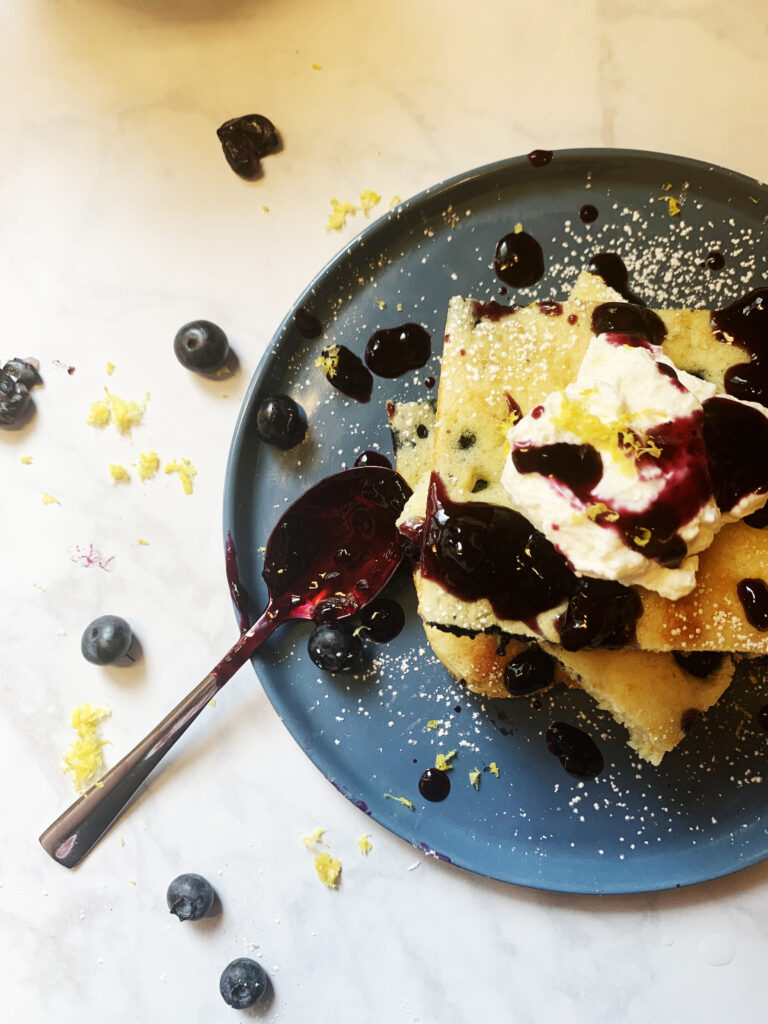 I live right near the shore- the beach is one of my favorite places and I love spending time there. Nothing beats the sun and the sand, truly! The boardwalk vibe, fresh food, and the shore are some of my biggest inspirations. I love anything that makes me feel like a kid again, which means jumping in the ocean, the arcade, a good rollar coaster, and some salt water taffy… gonna share my recipe for that soon!
ANYWAYS, back to the pancakes. These pancakes are really delicious. They're the perfect morning breakfast, bursting with goodness, and the combination of lemon and blueberry is the absolute best!
Let's start cooking…
So first things first, there's a couple different recipes in one. There's a fresh blueberry syrup and lemon whip cream that are totally optional, but completely worth it in my opinion because it really ties the recipe together and both are super simple to make! But let's start with the pancakes!
So these are made in a quarter sheet pan, but if you want to make it in a half sheet pan size just double the ingredient amounts in the recipe to follow! First I preheat the oven to 400°- the pancakes are going to bake for about 15 minutes and then I usually turn the broiler on for about a minute to get the top crispy and brown. I then start by greasing the pan. I like to grease mine with a little butter and flour, but lining it with parchment paper or cooking spray is another great option!
Before I start mixing, I put my blueberries in a bowl and toss them with a little flour like below. This is going to help them from all sinking right to the bottom of the batter when they're baking!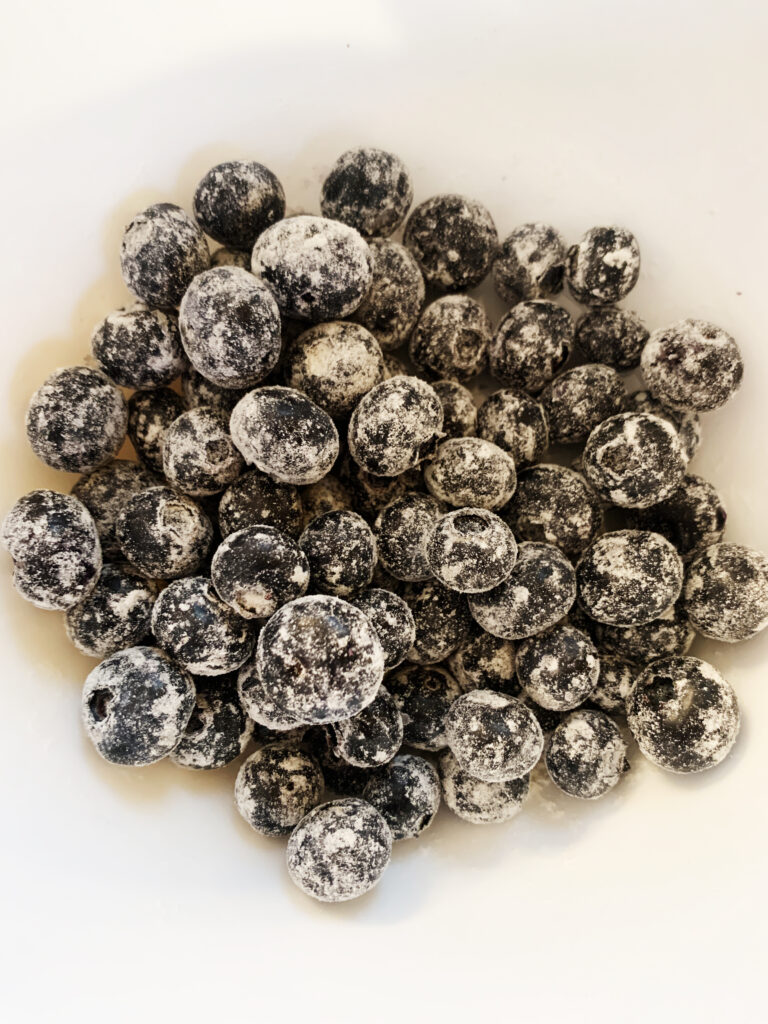 Next to prep, I separate my eggs. We're going to use both the yolks and the whites, but what helps create an even fluffier batter is whipping the egg whites and folding them in later on. So separate the egg whites and use either a whisk and a lot of muscle, or a hand held beater, which I used, to fluff up the egg whites. They're done after a couple minutes of whipping them on high speed and stiff peaks form.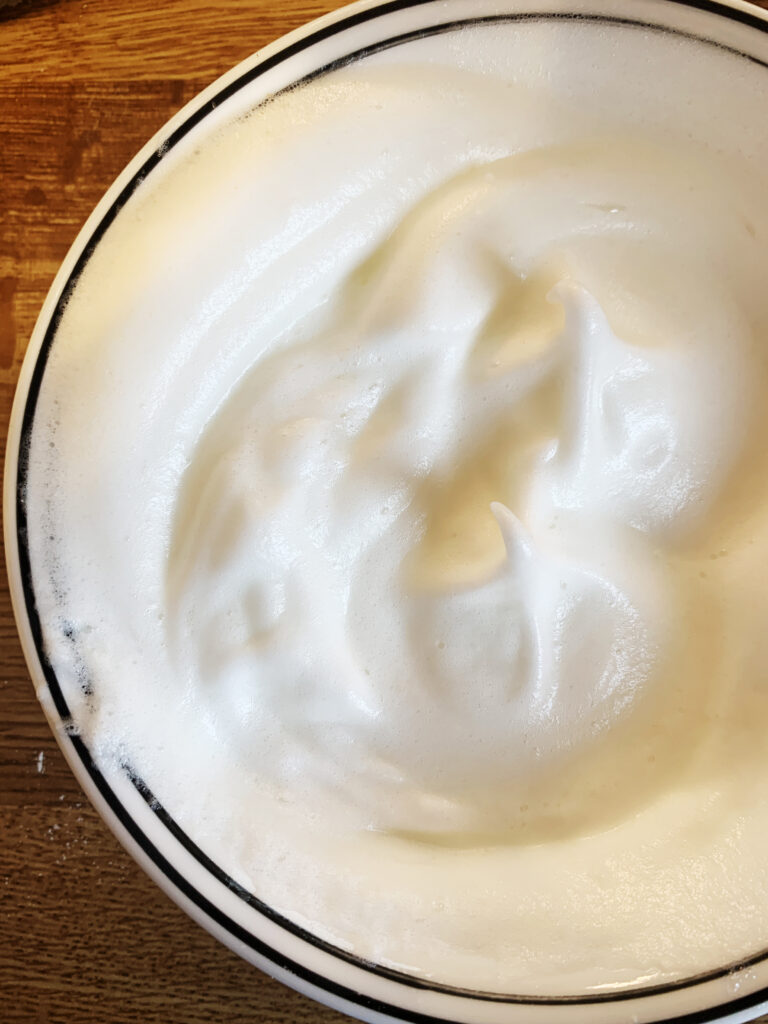 Then in one bowl, I combine all the dry ingredients which are flour, powdered sugar (if you don't have powdered sugar you can substitute it with an equal amount of regular cane sugar for this recipe), baking powder, baking soda, and salt.
Now for the wet ingredients, start by combing the milk, lemon juice, lemon zest (but save a little to sprinkle on before baking), melted butter, egg yolks, and vanilla. Next add the ricotta and stir until combined. Once that is assembled, add the dry ingredients and combine. Now, take the egg whites we whipped earlier and fold them into the mixture and last but not least, once all that is incorporated, carefully fold in the blueberries (I save a few of these to top on the pancake before baking too). You are now officially so close to tasting the yummiest pancakes!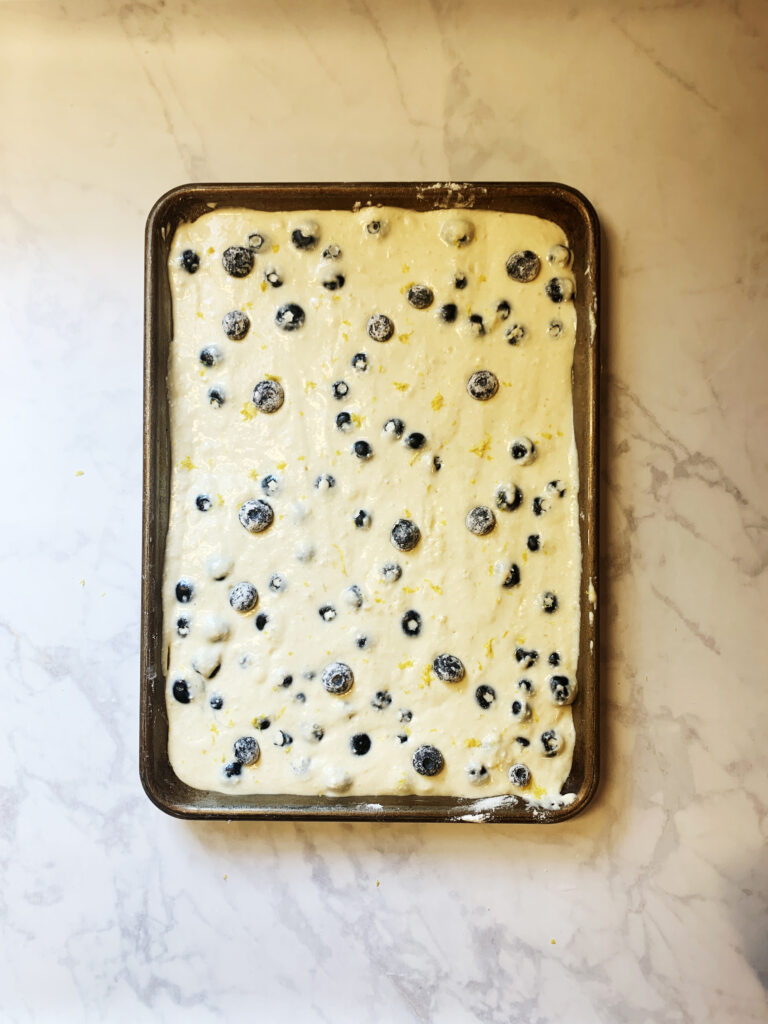 So once everything is mixed, it's basically good to go! Pour it in the sheet pan, top with a few blueberries and lemon zest you put aside! Pop it in the oven for about 15 minutes, or until you stick a tooth pick in and it comes out clean! Totally optional to put the broiler on and brown the top slightly, but I definitely recommend it!
Now while that's baking I get together the fresh blueberry syrup and lemon whip! Both are super easy and quick to assemble! Let's start with the syrup!
Making the blueberry syrup & lemon whip
In a sauce pan on medium, add blueberries, water, sugar, and lemon zest. Stir so everything's combined. Without a lid, let it come to a boil. Once it comes to a boil, lower the heat slightly and with lid off still, let it simmer for about 10 minutes, stirring occasionally. All the yummy flavors are going to melt together and your entire kitchen is going to smell like summer (I really like blueberries/ blueberry pie during summer when they're in season!!) After 10 minutes, add the cornstarch and lemon juice mix to the pan and stir for another minute. The cornstarch/lemon juice slurry is going to help thicken it and add a really nice hint of lemon flavor along with the zest! At this point, I add a pinch of cinnamon but that's optional depending on your taste. And remember, with this recipe and all recipes, it's all about your flavor profile and what you like. You can totally leave out the lemon if you hate lemon, or add in vanilla if that's your jam. That's what's so great about cooking, it's all about your imagination!
Now you can take it off the stove and let it cool slightly before serving! (Side note- if you double the cornstarch/lemon juice in the recipe, increasing the thickness of the syrup, you can make a really tasty blueberry jam! ) The syrup will stay good for about 2 weeks in the fridge! Just heat it up on the stove or in the microwave if it thickens while keeping.
When that's done or even while it's simmering for ten minutes, let's make the whip cream! This is super super simple to do and definitely elevates your whipped cream game, if that's even a thing but it's SO good. I promise you, you will never want to buy the canned whipped cream ever again because it's that worth it.
So in a cold bowl (I freeze mine for about 10 minutes before), I add the heavy whipping cream and whip it on high until almost fluffy. Right before it's almost done, add the powdered sugar, lemon zest, and lemon juice. Now whip until peaks form and bam, you're DONE. And did I mention, literally the best whipped cream ever and it was that quick?! YEP.
At this point I'm sure you're smelling the faint scent of deliciousness coming from the oven and when it's all done it's going to look a little something like this!
Top it with the fresh syrup, whipped cream, and more blueberries and you're all done! I personally love sheet pan pancakes because it's such an easy, no fuss idea when you're trying to make breakfast for friends and family. Instead of standing over a hot stove, making pancake after pancake because a skillet can only hold so many at once, this literally cooks them all at once and you can have the time to sit down, talk, and eat with everyone too, so everyone wins!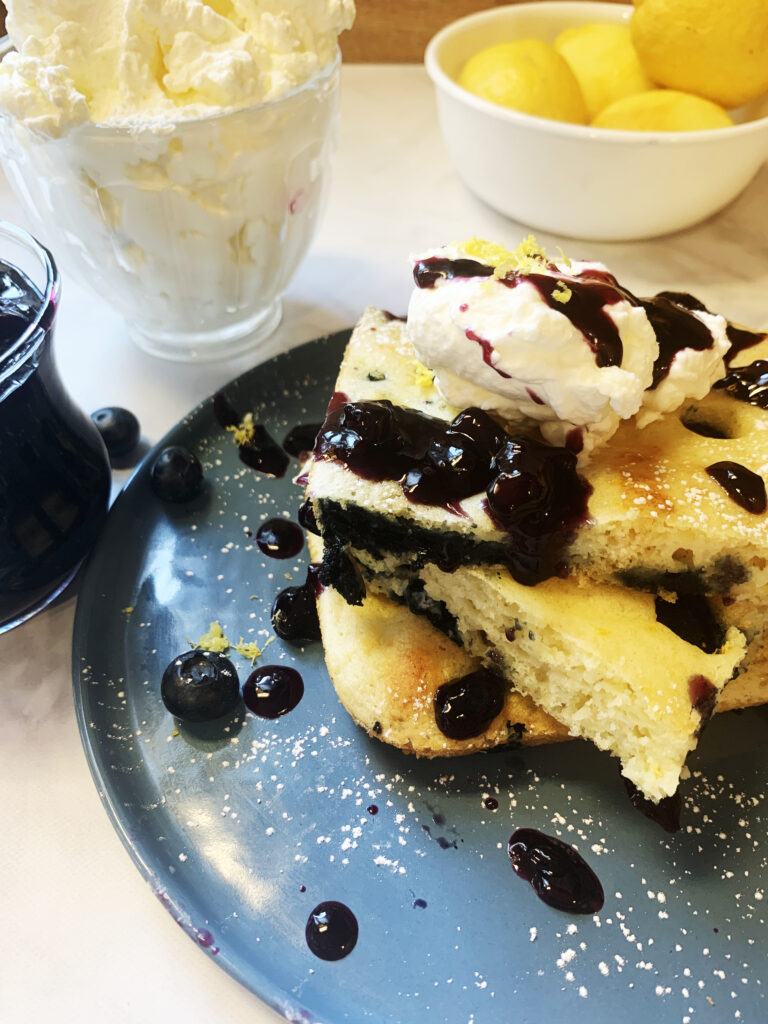 Recipe below!
Blueberry Lemon Ricotta Sheet Pan Pancakes with Blueberry Syrup and Lemon Whipped Cream
Course: Brunch, Breakfast
Cuisine: American
A delicious combination of fresh blueberries, lemon, and ricotta
Ingredients
Lemon Ricotta Pancakes

1 1/2 cups flour

1/4 cup powdered sugar

1 tbsp baking powder

1/2 tsp baking soda

1/2 tsp salt

3/4 whole milk, if not any type of milk will do

2 tbsp melted butter

1/2 tsp vanilla

1 cup ricotta

1 cup blueberries

2 tbsp lemon juice

1 tbsp lemon zest

2 eggs, separated

Blueberry Syrup

2 cups blueberries

1 cup water

1/2 cup sugar

1 tsp lemon zest

1 tbsp lemon juice

1 tbsp cornstarch

Dash of cinnamon, optional

Lemon Whipped Cream

1 cup heavy cream

1/4 cup powdered sugar

1 tbsp lemon juice

1 tsp lemon zest
Directions
Preheat oven to 400° F. Grease a quarter sheet pan with butter and flour, parchment paper, or spray. Set aside.
Toss blueberries in bowl with flour so they are lightly coated, set aside. The flour will help prevent them from sinking to the bottom.
Separate the egg whites from the yolks. Whip the egg whites with hand whisk or electric beater until fluffy and peaks form. Set aside.
In a bowl, whisk together flour, powdered sugar, baking powder, baking soda, and salt until combined.
In another bowl, whisk together milk, butter, vanilla, lemon juice, and lemon zest. Once combined, add the ricotta.
Little by little, slowly add the dry ingredients into the ricotta mixture. Once combined, fold in whipped egg whites and then fold in the blueberries. Add the pancake batter to the sheet pan and top with a few extra blueberries and lemon zest. Bake for 15 minutes or until set. Turn on broiler and let brown for about a minute.
While pancakes are cooking, make the syrup. Add blue berries, water, sugar, lemon zest, and cinnamon to a pot. Without the lid on, cook on medium until it boils. Lower the heat and let simmer for 5 minutes. Combine cornstarch and lemon juice into a paste, then add to the blueberry mixture. Stir in and let simmer for another 5 minutes, while stirring occasionally. Once done, let cool down until serving.
To make the lemon whip, chill a bowl in the freezer for about 10 minutes. This will help whip the cream. Add heavy cream to the bowl and whip on high for about 3 minutes, until almost set. Now add the sugar, lemon juice, and lemon zest. Finish whipping until peaks form.
Serve pancakes with blueberry syrup and lemon whipped cream. Enjoy!