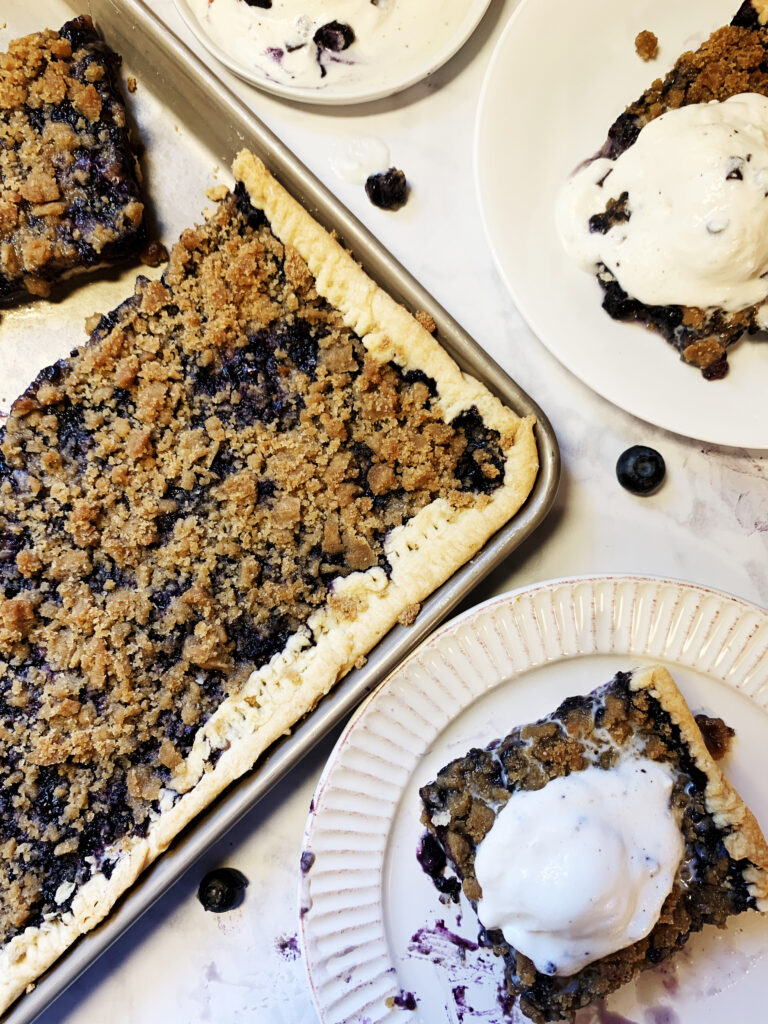 Happy Tuesday everybody! With blueberry season ending near, or for Jersey that is, I've been trying to make the most of the blueberries. They're one of my favorite fruits and they're so versatile in cooking and baking. Besides sweet dishes, they're great for savory also. I have a super yummy blueberry chicken dish coming next week!
Soooo, I also LOVE slab pies because it's basically one giant pie and it's perfect for a bigger crowd. But if you don't have a bigger crowd, it's basically just a reason to eat a lot of pie and that's never really a bad thing. This slab pie was a request from my mom for her birthday because blueberry pies are one of her favorite desserts, and this hit all the notes of what a good blueberry pie should taste like in my opinion. It was sweet but not overly sweet (that also depends a lot on the blueberries you buy) and it was topped off with a crumb topping, which is one of my favorites ways to finish off a pie. You still get so much flavor from the bottom crust, so instead of adding more crust on top you get this buttery, crumbly topping of goodness.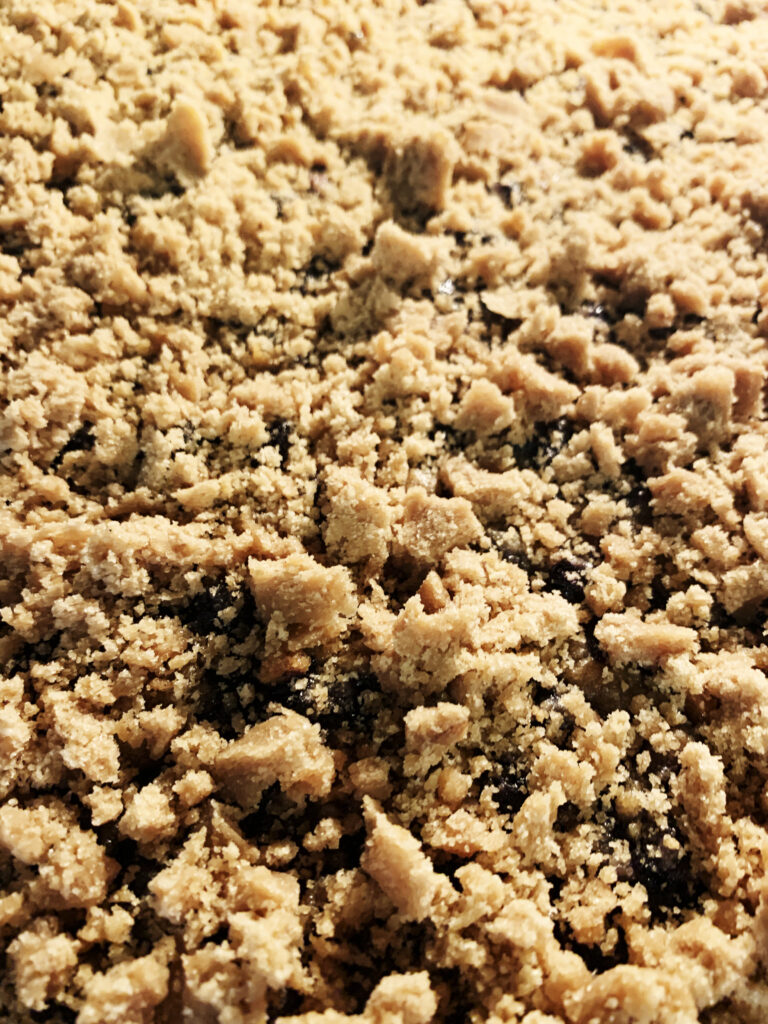 First, the dough
So first we're going to start on the dough. Premade dough would work perfectly here also, but I love making my own because how experimental you can be with it. When I make this recipe, I'll sometimes add lemon zest to enhance the flavor of lemon in the undertones of the actual blueberry filling.
When making dough, you're going to need really cold butter because cold butter is what's going to help create the flakiness of the crust, which is super important for a good dough. My preferred method to this is actually keeping the butter frozen and using it straight from the freezer. I usually have some frozen at all times for this reason. Also, instead of using a pasty blender to cut the butter into the dough, I use a cheese grater and grate the butter straight out of the freezer, which I think is easier when incorporating it into the dry ingredients!
So to start, whisk the flour, salt, and sugar together. Add the grated butter and shortening (you're going to want cold shortening for this also) and coat the shortening/ butter in the dry ingredients until evenly distributed. Make sure to break up the shortening when combining so it turns into pea sized pieces also.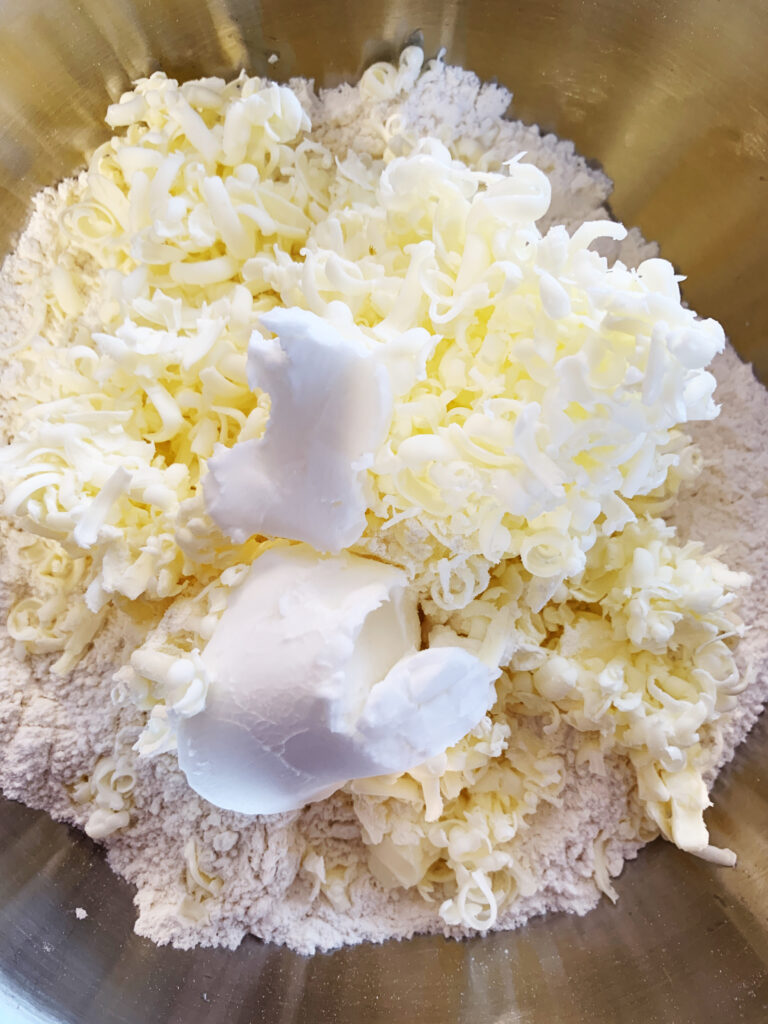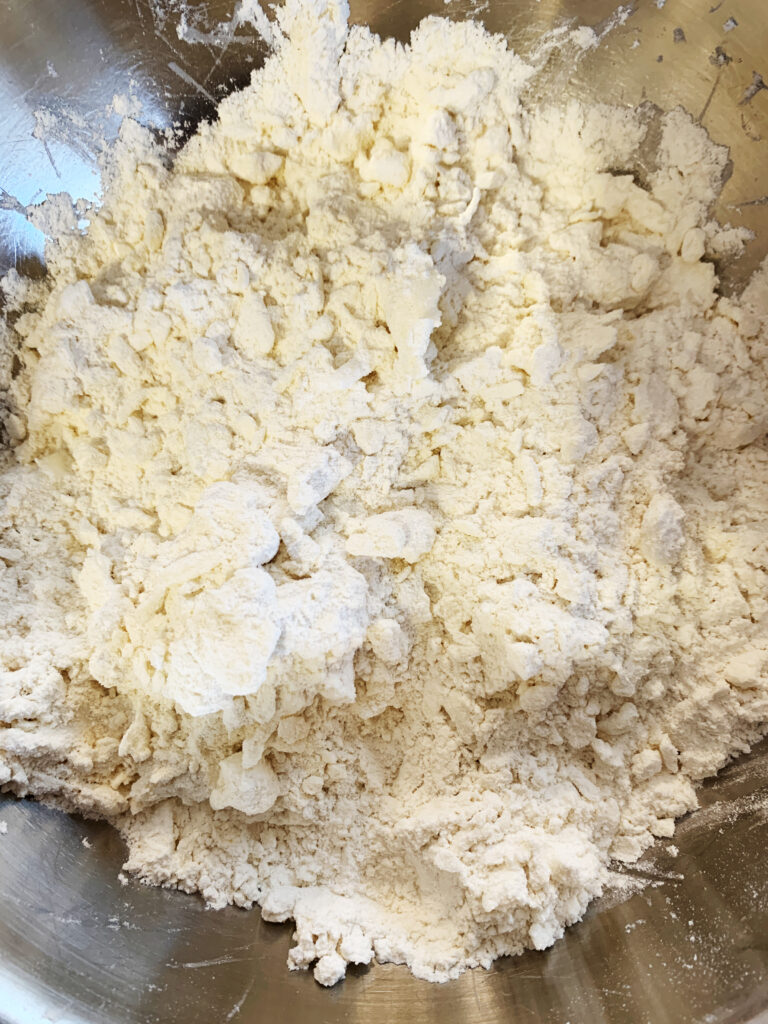 Add the very cold water (I put some water/ice in a cup and measure it out from there) to the mix and knead until combined. It'll look a little something like this and it's totally normal for there to still be pieces of whole butter throughout the dough. When the dough bakes, that's going to help it stay flaky and it's going to melt into the flour mixture and create something super delicious. So make sure not to over knead the dough to get this end result! At this point i'll wrap it up in some plastic wrap and let it chill in the fridge for about 30 minutes!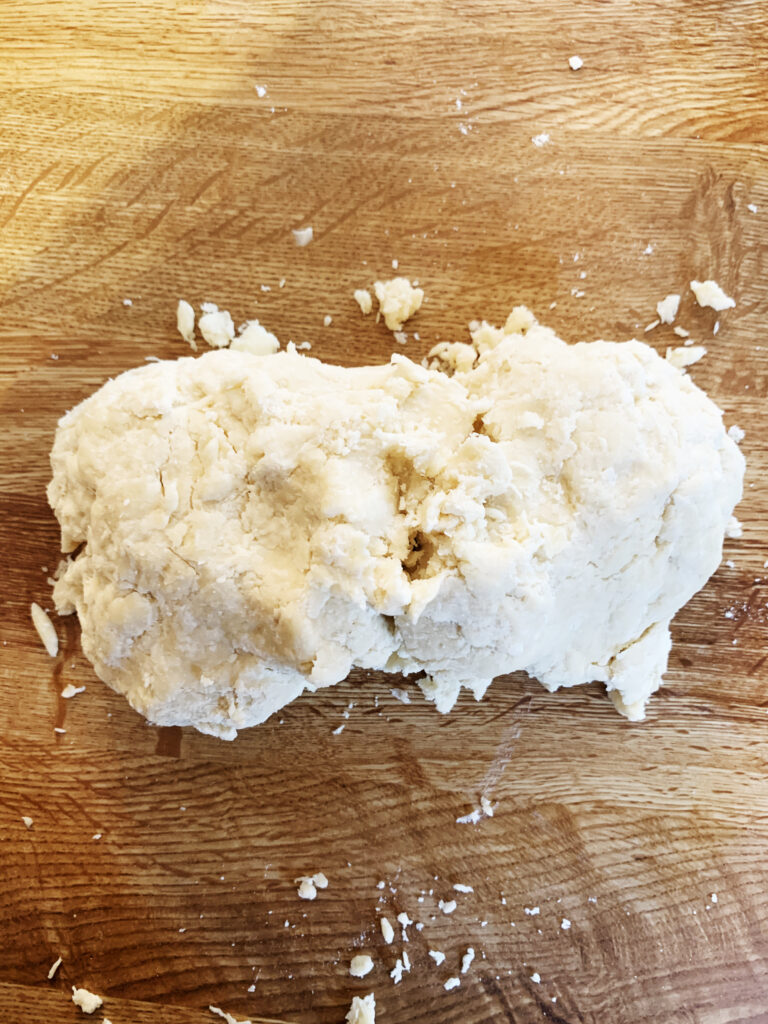 Pie filling time!
While the dough is hanging out in the fridge, it's the perfect time to get together the blueberry filling and the crumb topping. You're going to combine the, sugar, lemon juice, lemon zest, flour, and cinnamon. Once combined, add it to the blueberries and toss them until coated. I always seem to have extra sugar mixture at the bottom of my bowl, but I sprinkle that on top of the blueberries once in the crust.. too good to go to waste!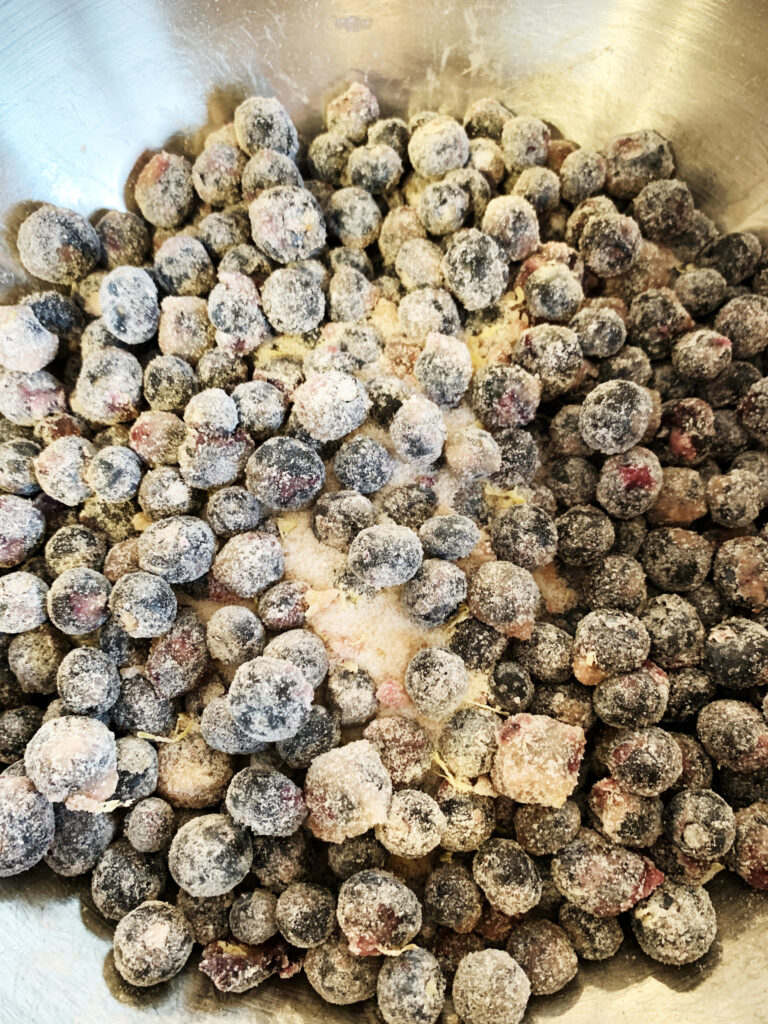 Now for the crumble on top, you're going to combine the melted butter with the flour, brown sugar (I like dark), sugar, and cinnamon after they were whisked together. I use my hands for this and basically combine it until literal crumble pieces form.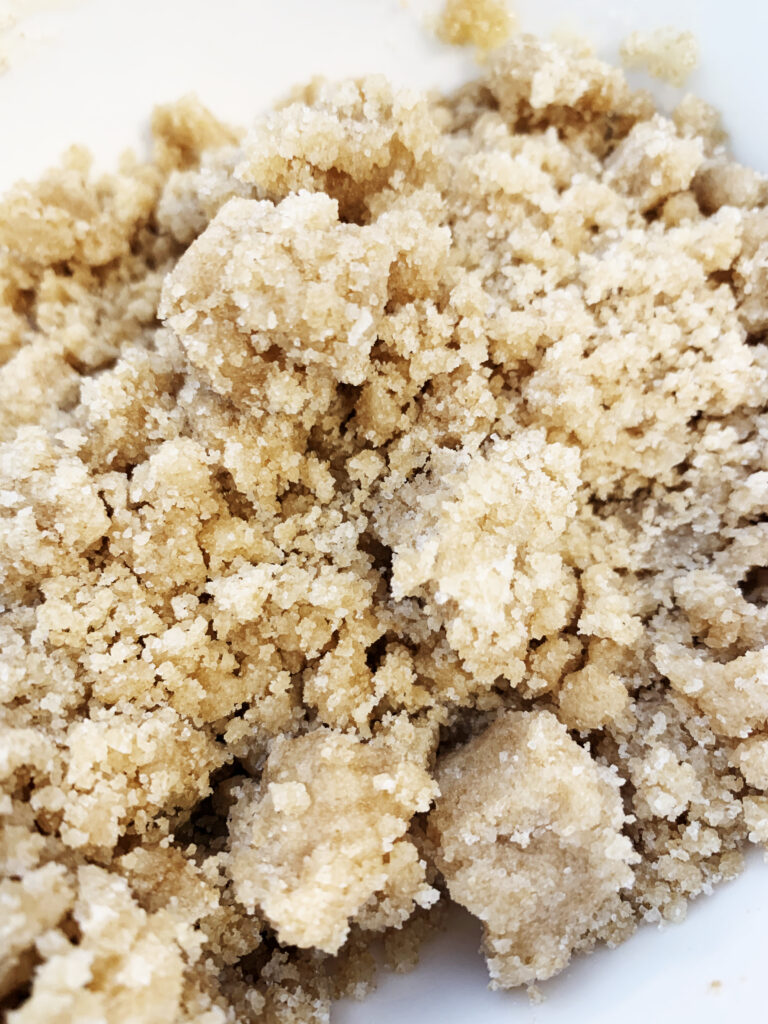 Let's assemble & bake!
Now it's time to put the pie together! Start by rolling out the dough. Roll it out to the size of the sheet pan (I used a half sheet pan for this recipe) and try to leave about 2 inches of excess rolled out dough on all sides. This is where it get's a little tricky for me because I am not the best pie dough roller LOL, but it all tastes the same going down, right?! Anyways, when you get that all rolled out, transfer it to the sheet pan. And what I love most about dough is how easily you can kind of patch it back together. Don't do what I did because I actually dropped my dough when transferring it to the pan and completely took off a corner of what I rolled out. Who knew pie dough could be so aggressive, BUT dough is so forgiving so don't stress if it's not picture perfect worthy. Hence the below.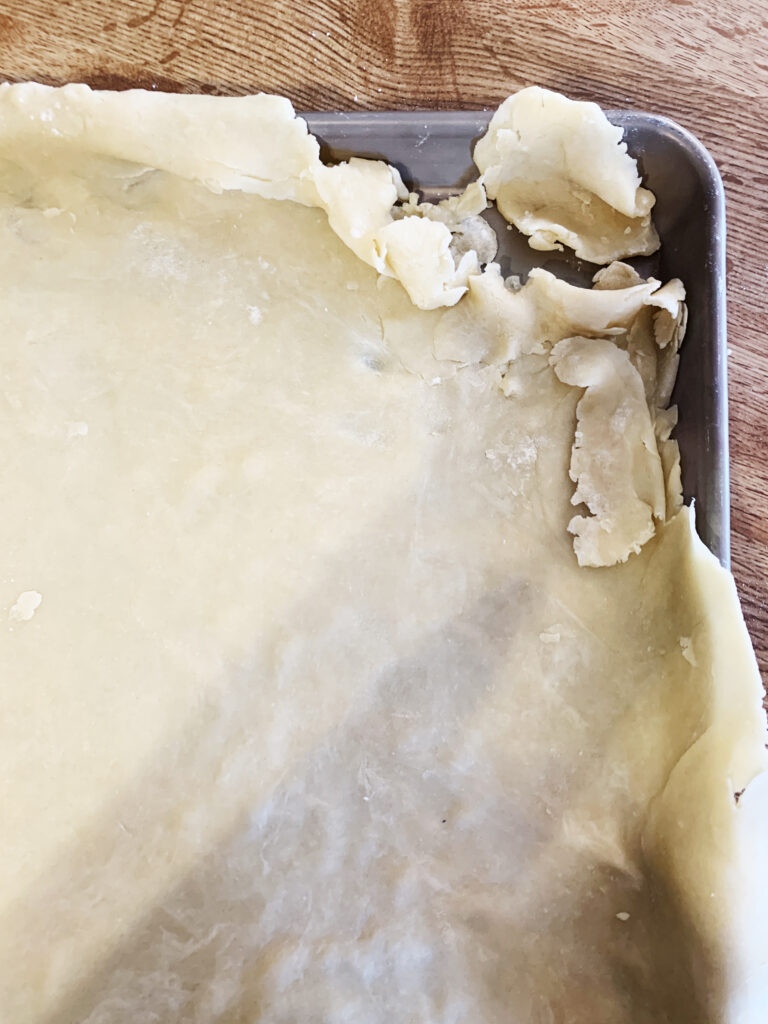 So now you're going to press the dough into the sides of the sheet pan and let the excess pieces hang over. Now, add the blueberry filling!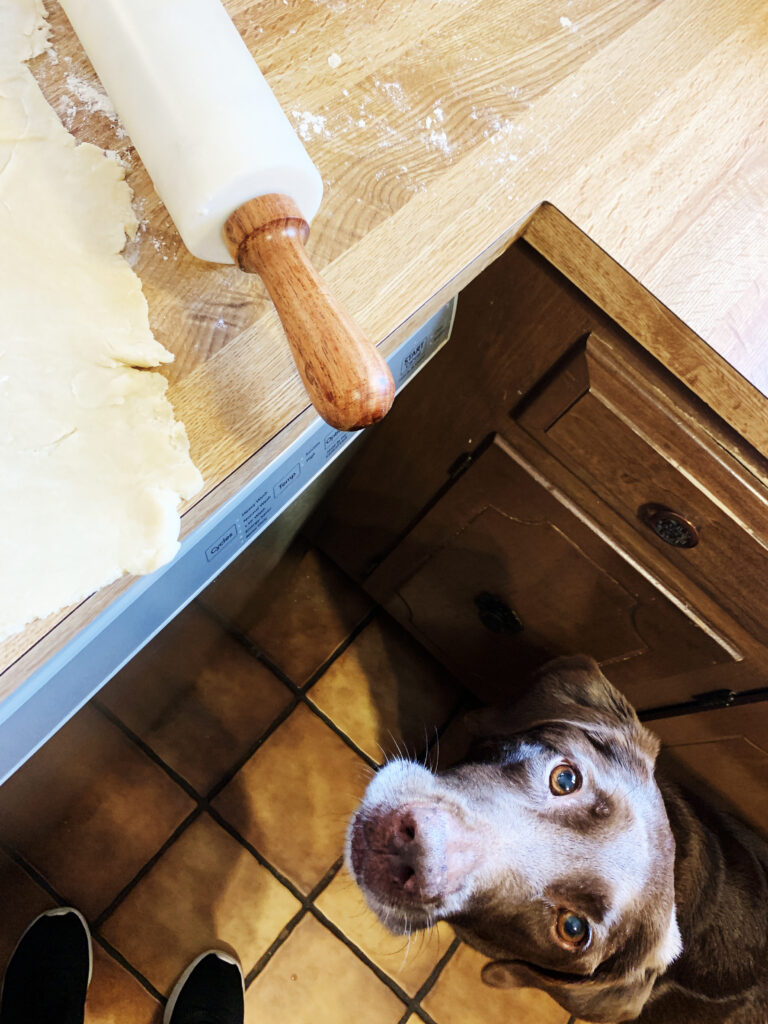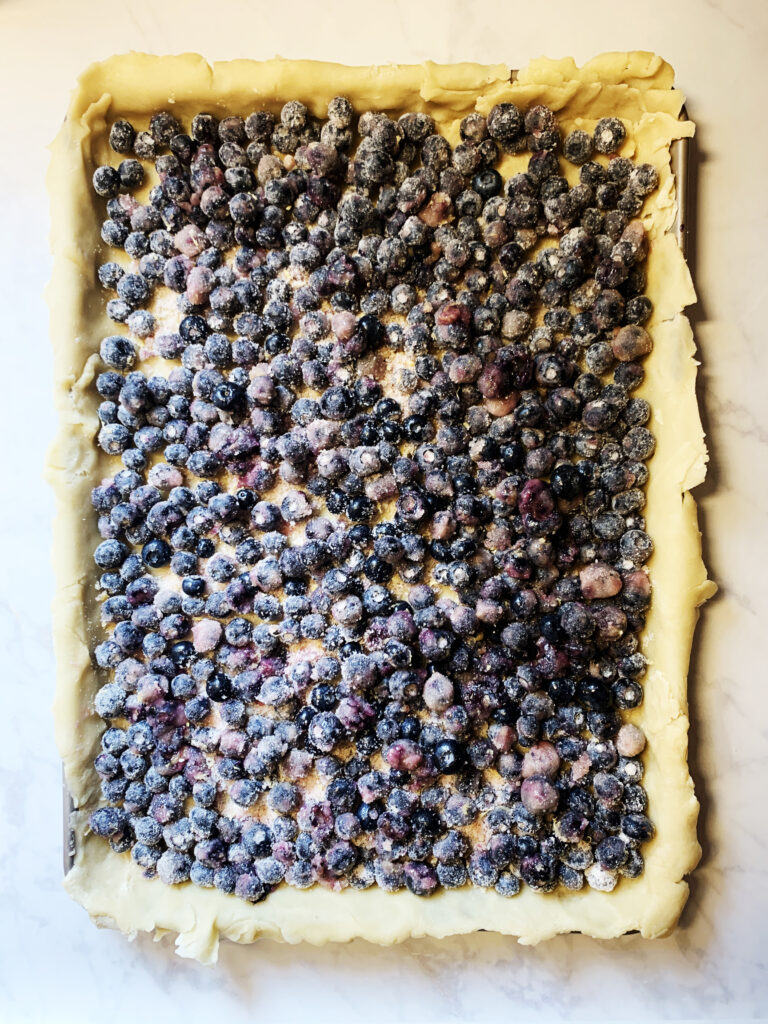 Next, top the blueberry filling with tiny diced pieces of butter. When baking, it's going to melt into the filling and add even more buttery goodness.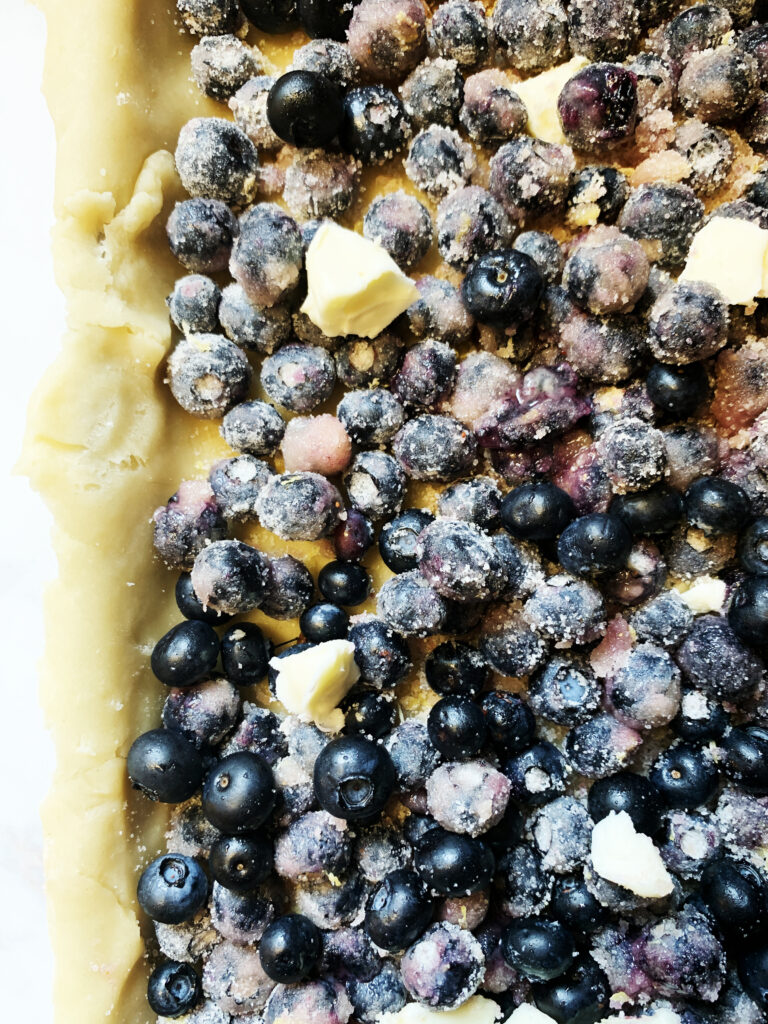 Last, we're going to top the pie off with the crumbs, BUT only half. I love getting the crumbs that stay "whole" because you get so much flavor in that bite. When they melt from the heat in the oven, they kind of melt into the pie which is great also but I rather the crumbs stay crumbs. So about 10 minutes before the pie is done baking, I add the rest of the crumbs! But before we get there, I'm going to fold over the excess dough and use a fork to create the forked edge into the pie. Now, let this beauty bake for about 45 minutes, or until the crust is golden. And remember, 10 minutes before it's done, take it out and top with the rest of the crumbs. That extra step is so worth it!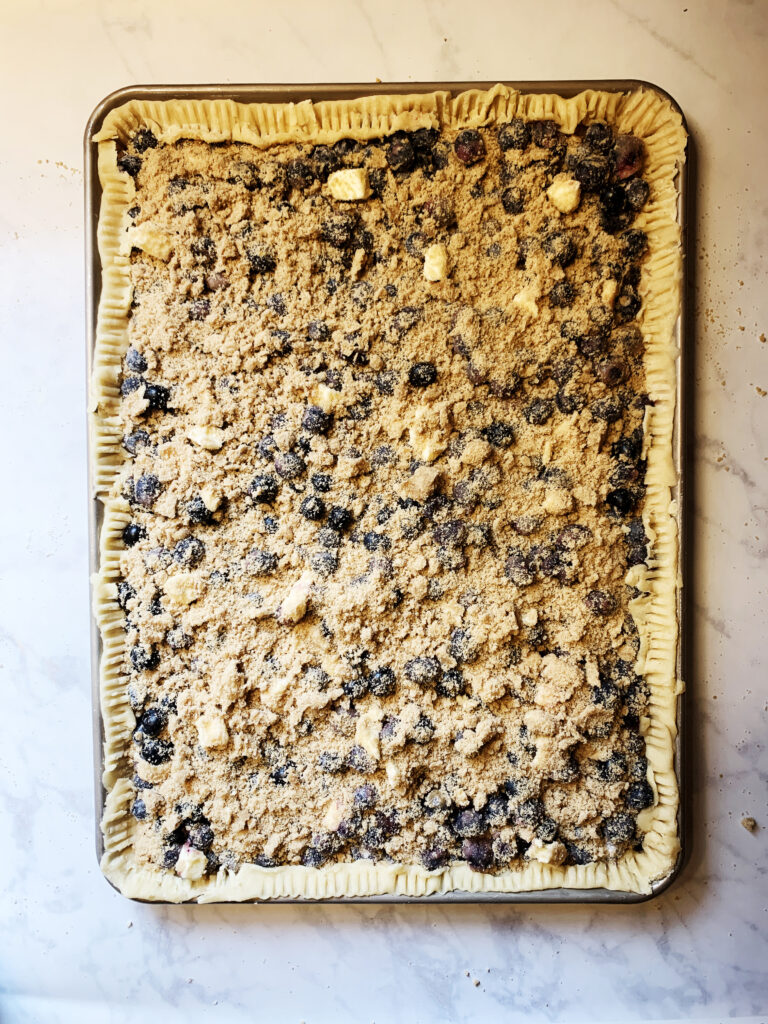 I mean, c'mon, look at those crumbs and that blueberry peaking through, it's soo tasty and literally screams summer dessert to me.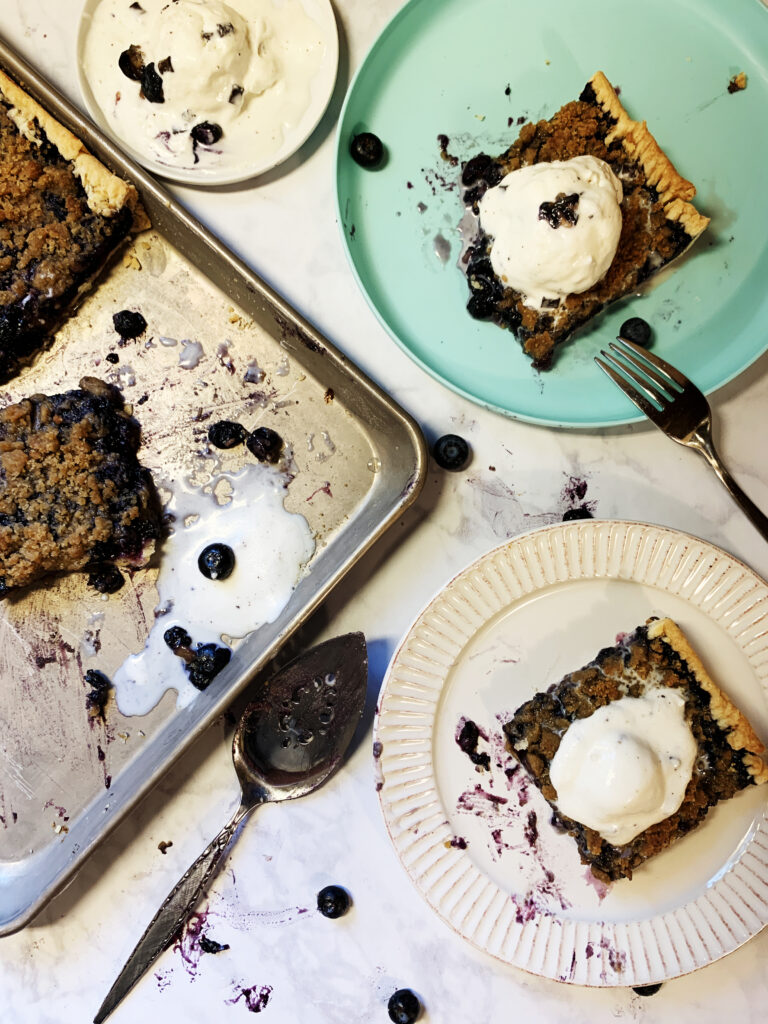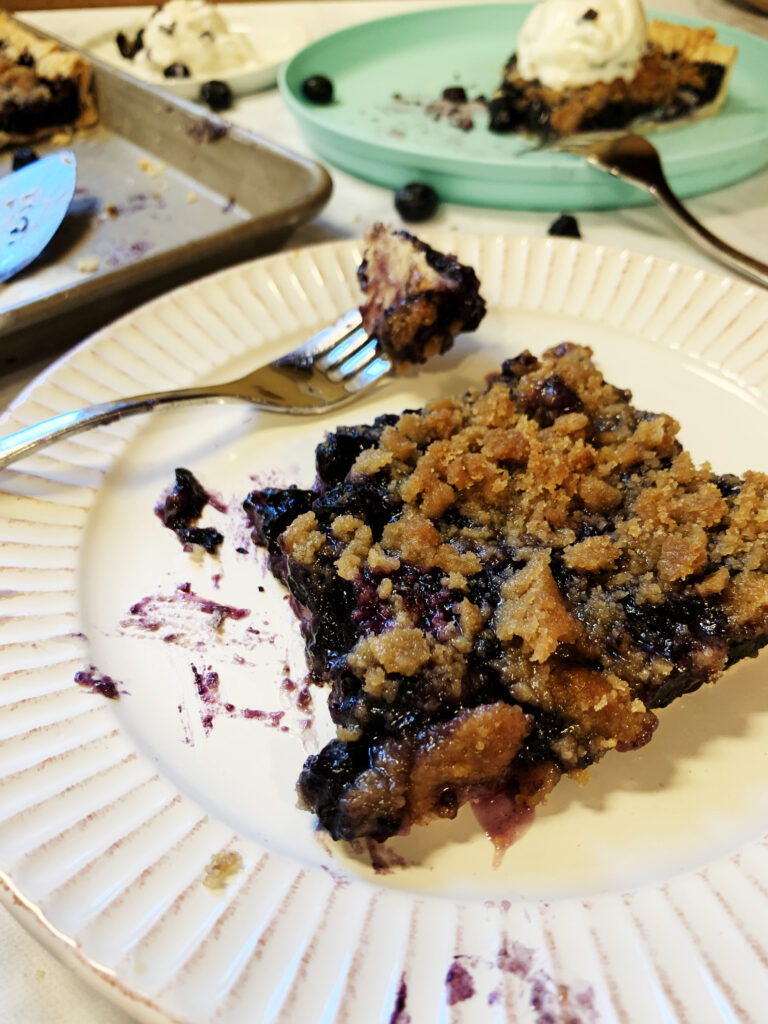 Recipe below!
Blueberry Crumb Slab Pie with Homemade Crust
Course: Dessert
Cuisine: American
Ingredients
Crust

4.5 cups flour

3 tsp sugar

3/4 tsp salt (double if using kosher or sea salt)

2 sticks + 2 tbsp of unsalted butter, cold

1/2 cup vegetable shortening, cold

3/4 cup ice water

Blueberry Pie Filling

8 1/2 cups of blueberries (2 LBS + 1.5 cups)

1 1/4 cup sugar

1/2 cup flour

2 tbsp lemon juice

Zest of 1 lemon (about 1 tbsp)

1/2 tsp cinnamon, optional

3 tbsp butter, cold and diced

Crumb Topping

2 cups flour

1 cup sugar

3/4 cup brown sugar

1/4 tsp cinnamon, optional

2 sticks unsalted butter, melted
Directions
Preheat oven to 425° F.
To make the dough, start by grating super cold or frozen butter. Set aside. Whisk together flour, sugar and salt. Add grated butter and cold shortening to dry ingredients. Toss together until butter/shortening is coated evenly in mixture and shortening is also broken up into pea sized pieces. Add cold water and knead together until formed (do not over knead- dough is done when formed together but can still see whole pieces of butter/shortening throughout). Let dough chill in the fridge for 30 minutes.
To prep blueberry filling, mix together sugar, flour, lemon juice, lemon zest, and cinnamon. Add blueberries and toss until evenly coated. Set aside.
For the crumb topping, melt butter and let cool slightly. While cooling, whisk together flour, brown sugar, sugar, and cinnamon. Add melted butter to dry mixture and form into crumbs with hands.
After 30 minutes, roll out pie dough until the size of a half sheet pan with roughly 2 inches of excess dough at all sides. Place in sheet pan and press dough gently into sides of pan with extra hanging over.
Add blueberry pie filling and top with the 2 tbsp of diced, cold butter. Top with half the crumb topping.
Fold hanging crust over and use a fork to create edge.
Bake pie for 35 minutes. Top pie with the rest of the crumbs and bake for another 10 minutes until done.